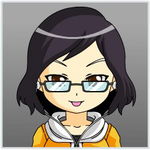 Ah yes, time for another travel blog! Woohooo! Of course I will also share a bit of history here. It's more fun to travel when you learn something about the location's past right? After all, it is still our history month. 😊
Guess which Visayan city did I go to before the pandemic was declared last year? Well I recently checked on the official website and found out this slogan. Haven't heard of it before but now we know Iloilo City is the Most Loyal and Noble City!
I have never been to this place until I went there for Dinagyang Festival last year. Oh it was a spur of the moment trip because I haven't been outside of Luzon for years! Well I'm glad I went there before the pandemic lockdowns happened. It will forever be one of my travels to remember.
Iloilo province is found in the Visayas group of islands. This is in the middle part of the Philippines. One of the islands there is called Panay (precolonially called Simsiman), the sixth biggest isle in the country. It is comprised of several provinces including Iloilo whose capital is the City of Iloilo. The native language spoken in the entire province is Hiligaynon and Kiniray-a.
Did you know, the mentioned city tagline was from the Spanish colonizers? A Spanish Decree declared it as "La Muy Leal Y Noble Ciuded de Iloilo". It's actually inscribed in the coat of arms of the 1896 Royal Decree. This was given due to their loyalty to the Spanish crown.
Last month I also learned that this is where the oldest golf course in the Philippines and Southeast Asia is located. (Our oldest golf club was founded in Manila.) The Iloilo Golf and Country Club (a.k.a. Santa Barbara Golf Club) was founded in 1907.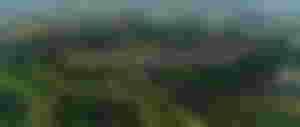 During the American occupation of our nation, the British and Scottish expats who worked in the area created it for their entertainment. They bought some land and converted it to a golf course.
(I don't play the sport but hey it's a nice bit of Philippine history. 😊)
Since the 1970's Iloilo then became known for the Santo Niño religious and cultural celebration that happens every 4th week of January. Dinagyang Festival was even awarded as the best tourism event in the Philippines from 2006 to 2008, thanks to the Philippine Association of Tourism (now known as the Tourism Promotions Board Philippines).
Good thing I was able to experience it last year before the pandemic was declared. Whew. Good job me! 😂
Ah it took me more than a year to finally write this. I dunno somehow I feel like travel blogging is always such a hassle. 😅 I find it harder to write than most articles. Anyway let's go on a travel tour of the Most Loyal and Noble City!
I spent most of my time in Iloilo City Proper. Fortunately I was also able to go to Mandurriao where I watched the float parade. Wasn't able to go anywhere else because the entire travel escapade was rich but tiring. 😅
I've already written about my Dinagyang Festival experience in another writing site. Since I don't have an updated version of those travel blogs yet, watch my half an hour festival video compilation instead.
It's so much better to experience this colorful parade in person. You would feel the energy and the excitement in the air. Oh boy I wasn't even able to eat breakfast because once I got out of the hotel and walked a bit, I saw the parade had already started. 😂
The videos were taken on my 2nd day in Iloilo City. There are other events aside from the Dagyang sa Calle Real activity. That will be a post for another day though. 😃
After going to the festival events I was able to see and visit other places too. Actually I felt quite at home there for some reason. Maybe because some of the streets looked like Divisoria or even somewhere in Vigan.
Anyway I will try to make this short so first things first... I will tell you about the things I saw as soon as I stepped foot in Iloilo City until I left it!
TL:DR;
♦ Tagbac Terminal
Hello Iloilo City! This is the first Instagrammable thing I saw upon alighting the bus I rode. Didn't take a picture of this until I was leaving though. Haha.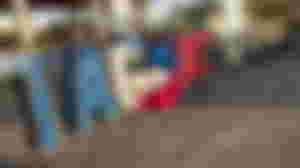 Tagbac (or Tagbak) Terminal is where you go to ride a variety of buses and other public transportation to various areas in Iloilo city.
When I arrived of course I had to find a way to get to the hotel I booked. 😊 This place was still quite a distance away from where I stayed. I thought of riding a jeepney but the people there recommended to ride a taxi instead. Good thing there was another fellow bus passenger going the same way as I was. We booked a taxi together going to Chinatown. Well at least that's where the affordable hotel I booked was located. 😁
♦ The Malls of Iloilo City
Once in the taxi, it took us less than an hour to get to the city proper. Since the festival was happening, some streets were closed. The taxi had to go around. Of course I had Google Maps open so when the taxi driver tried to look for another way in, I told him to drop me off near the mall instead. It was the nearest thing to the hotel.
Oh my. Once I got out of the taxi and crossed the road (I think) hello dear mall! What a familiar façade, er, logo. 😆 I used to work for the developer arm (Robinsons Land) of this mall chain business. The two are part of a big conglomerate the late John Gokongwei, Jr. put up. He was one of the richest Filipinos in the country.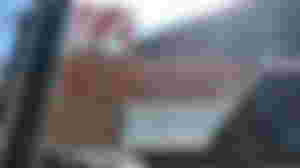 Imagine my slight delight and surprise that it was the very first mall I saw. Hahaha. No escape even in Iloilo City! 😆
I arrived almost around noon on a beautiful sunny day. Walked to the hotel and found my room was several floors up. No elevator so okay, got my basic daily exercise covered! 😂 Well the room I got was good enough for the price I paid. Slept for a few hours and then woke up sometime in the afternoon. And then it was time to prepare to go and witness my first ever Dinagyang event!
Online, the Floats Parade of Lights map showed where it was going to pass by. I asked the receptionist where the best location to watch the parade was. They told me to go to Iloilo Business Park instead and informed me how to get there. Off I went to ride a jeepney. Unfortunately the driver was probably new and didn't tell me he was not going where I should go. The jeep turned around past another familiar mall brand. Good thing I had mobile data and saw what was happening on the map.
Since the driver and the other passengers didn't tell me I rode the wrong jeepney, I ended up in this place. Haha. Eventually when new passengers got on the almost emptied jeep they heard about my concern. They told me to cross the overpass and ride a jeepney with a Mandurriao location sign on it. Oh well, no travel plan goes without a hitch right? 😂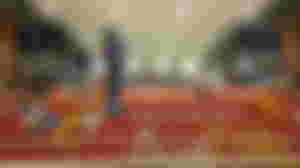 I took some photos around SM City Iloilo first. In front of this mall various floats started to gather in preparation of the parade.
I was tempted to stay there but it didn't look like a comfortable or good place to watch. Once I crossed the street I saw a lot of people waiting to get a ride too. Unfortunately because it was getting late the jeepneys were mostly full. Huhu. Also, I learned 500,000 other people came there to watch the festival so no surprise it was hard to get a ride to my destination. Soon enough I was able to get on a jeep with available seats after 20 minutes of waiting.
Voila, hello Iloilo Business Park!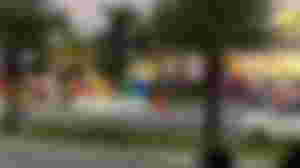 Good thing I left early huh? Didn't want to miss anything on my first day. Lots of people were already gathering on each side of the road. And of course Megaworld had a mall of its own there too. Hello Festive Walk Mall!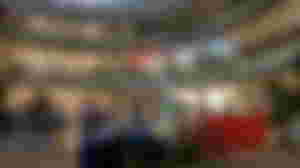 I went back there on another day after the festivities and saw a nice sunset view. There's a church at the top floor of the mall and it has some open spaces around it. At the time there were only a few people there so it was a peaceful place to hang around and enjoy the view.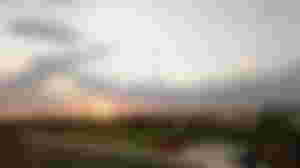 Of course I also went around and ate food in the three malls. That's going to be a post for another day. 😅
I was also able to find something like 168 mall in Divisoria, Manila City. 😆 This is actually a 1688 Mall instead. 😆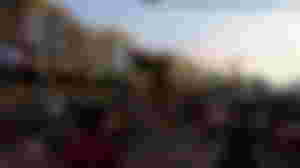 Such fun eh? It's just fun to travel and see similar things in other areas in the country.
♦ Filipino Chinese Friendship Arch and Calle Real
So I did say I stayed in Chinatown right? It didn't look quite like Binondo but I did see this arch near Calle Real (J. M. Basa St.)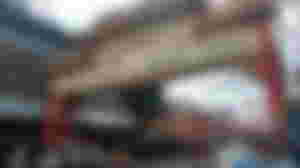 It's almost at the five point intersection where they put a large Santo Niño statue for the Dinagyang parade.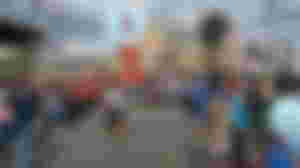 In August 2014, the National Historical Commission of the Philippines declared Calle Real as a Heritage Zone. Why not when it has impressive and old style buildings. It reminded me of Divisoria actually. Why? Well look at these photos.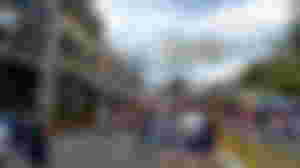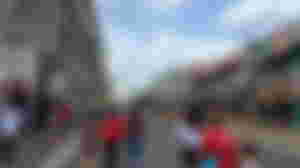 It looks and seems just like Divisoria to me! This is where I watched Dagyang sa Calle Real (the one you saw in my YouTube video above).
During the week long celebration last year, they also lighted up the Art Deco buildings on this street. After joining the Religious Sadsad (prayer dance, see below) I saw the street and structures lit up in various colors. There were also a variety of memorabilia and street foods being sold. Everyone could eat and shop to our hearts content. ❤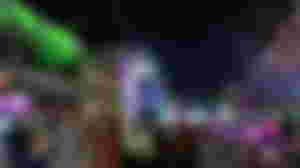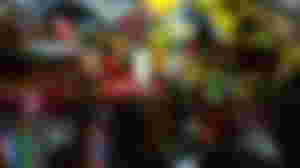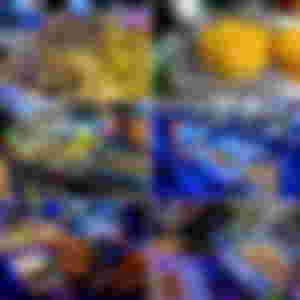 Due to the colorful lights of that night, it really looked like a fun night. See even the food has more colors. Lol. The Calle Real looks very different compared to the morning shots I took right?
There was actually a building where the light show was focused on but I didn't take any photos. Hehe. I did take some videos, see below.
♦ Iloilo City Hall and San Jose de Placer Parish
Walking further along Calle Real you will also find the city hall.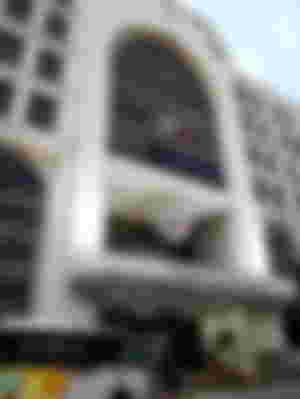 A park is also just across it, in front of the church. That's where the famed dance for the Santo Niño is done during this time. Well not inside it but all around it. Haha. Particularly, it spills over to the entire plaza in front of it.
Basically what people do here is to pray and dance to God, or in this case, the Santo Niño. There are a lot of devotees who have claimed the child Jesus was able to answer their prayers in this event.
Have you ever gone to any religious sadsad? I finally have! Haha. At first I was shy to sing and dance but later on, who cares? Everyone else was doing it so I thought why not join them too. 😆 Well, it was definitely a very freeing experience haha.
Wanna know what happens during this event? Watch this. Get to see the light show in Calle Real and then the singing and dancing in front of the church.
There were a lot of people who attended this religious dance. It was like a Catholic music festival without any booze. 😆 Well it was kinda fun in its own way. Am not a religious fanatic but this is one of those worth having as a once in a lifetime experience.
♦ Plaza Libertad
As mentioned, the park where we danced to the beat is called Plaza Libertad. It was formerly known as Plaza Alfonso XII.
In 2012 this complex was declared as part of the Cultural Heritage Tourism Zone through Republic Act 10555. This place is one of the many historical sites in the country. It is where the 1st Philippine Republic's flag was raised after the Governor-General of Spain surrendered to the Filipino revolutionaries.
Plaza Libertad also has a century old Rizal monument but I didn't take a picture of it. 😅 I noticed four other statues in the four corners of the plaza instead.
Apparently according to Silvana Ancellotti-Diaz (a researcher on the sculptor's works), these were made by the late Italian expat Francesco Riccardo Monti. He was commissioned for various works in Manila and other places in the Philippines. Monti lived in the country for 25 years until his unfortunate demise. I don't know what these statues are but the four are quite interesting to look at. Haha.
♦ Graciano Lopez Jaena Mural and the view of Iloilo River
On my third day in Iloilo, I walked to the Iloilo Dinagyang Grandstand. Along Muelle Loney Street, I saw a mural. Actually I didn't know whose painting it was but I just took a picture of it. I mean, why not when it's such a wonderful sight.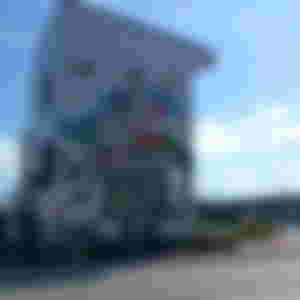 Graciano Lopez Jaena is one of our known heroes and was born in the 19th century. in Jaro, Iloilo. No wonder there is a mural of him here. He was the founder of the newspaper La Solidaridad, a propaganda paper published in Barcelona to help free the Philippines from Spain. This guy is also known as an eloquent orator.
Today I found out the building with his mural is a viewing deck of the Iloilo River. Man if I had known I might have gone inside just to see what the view is like. Haha. But it's okay, as I kept walking I did see this wonderful view.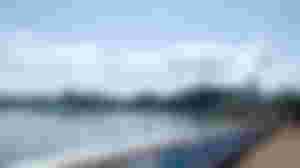 This mobile photo doesn't do it justice at all. In the distance is the Bureau of Customs building but I didn't reach that since it was getting hot. I decided to walk away from the riverside road towards the inner paths.
Eventually I found out I needed a ticket to watch the Dinagyang 360 Tribal Competition inside the Grandstand. Heck I didn't know that was what the tickets being sold online were for. Sadly I didn't have one. 😅 Oh well.
I was able to watch some upon further walking but that's another story. Hehehe. 😁
♦ Iloilo Provincial Capitol and the Museums
Well all I can say is I walked a lot everyday I was in Iloilo. Haha. In the afternoon of the day I wasn't able to watch in the Grandstand I decided to go to the Iloilo museum I saw on Facebook instead. They were having some kind of exhibit that I got curious about so since I was there, why not drop by too right?
I used Google Maps to look for the national museum but got confused when I saw this jail instead. I mean, come on where the heck is it? I thought, "Why is there a Prison of Iloilo building here?" 😅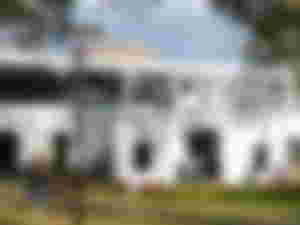 I asked the guards I saw there on where the museum is but they didn't know where it was. Seriously? I even messaged the Facebook Page but they told me I was in the right location! Huh. I even saw the capitol building but the one I was looking for was nowhere to be found!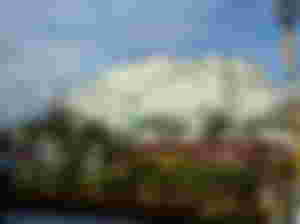 To the side of the capitol structure you can see there were people busy taking pictures with parade costumed individuals.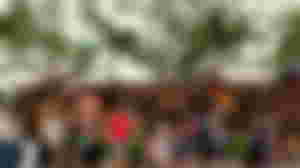 Because I couldn't find the museum I walked farther, almost reaching the bridge going across the river. Even in that area there were a lot of people walking in the street. Whew. So many people gathered in this city almost two months prior to the worldwide pandemic lockdowns in 2020.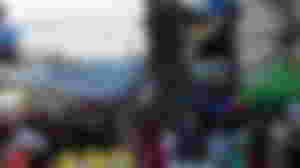 This was the point where I decided to turn back and walk back to the hotel. Too bad I wasn't able to go to mass at the church because of what happened. Ah well.
On my way back I passed by the prison building again and insisted on another guard that the museum is in that area. The guy said I could walk around inside and lo and behold, look what I saw!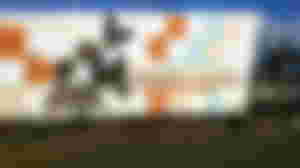 Unfortunately by that time it was already closed. I was already too late as 5 pm was their closing time. Ugh. How terrible I wasn't even able to get in. I remember I was able to get in some building and ask if they knew where the museum I was looking for is located. They told me they also don't know about it. Huh?!?
Turns out the jail was actually an old one and not used as such anymore. 🤦‍♀️ The century old prison was converted into the museum I was looking for back in 2016 but the guards didn't even tell me about it?! 🤔 What the heck the people there didn't know it is called National Museum Western Visayas? Imagine how frustrated I was at the time. 😂
Ah well... FYI, it's also known as the Western Visayas Regional Museum. Sad I also wasn't even able to see what's in it.
In the end I told the one responding at the National Museum Western Visayas' Facebook Page regarding my ordeal. The person said they will improve and communicate such to the guards. Hopefully people in the area are already aware on how to direct tourists towards the museum. I mean, how can non-Iloilo residents find it if the guards and the rest of the people around it are unaware of what it's called? Lucky you dear reader, now you know!
That's actually the last tourist area I went to during my 5 day stay in Iloilo. The rest was spent inside malls and eating Batchoy and such. Hehehe. 😃 I mean, as far as I know, Iloilo is known for it's Batchoy so I had to eat some of that too.
Hopefully next time I can go to more places in Iloilo. I actually like Iloilo City and even considered moving there. If I could, I would. Haha. Maybe soon? I dunno yet. Who knows. For now I am just sharing the places I visited.
Have you ever experienced the Dinagyang Festival? Or have you visited Iloilo city before? What do you think of the city so far? 😁
XOXO,
* * *
All photos are mine (Art x Stephanie Rue) unless otherwise noted.
Other travel and history articles I wrote:
Not a member of read.cash yet? Come join us!
Sponsors of LucyStephanie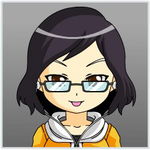 Enjoyed this article?
Earn Bitcoin Cash by sharing it!
Explain
...and you will also help the author collect more tips.