Reduce, Reuse, Recycle.
Date: 30th May, 2022. Monday
Beautiful morning dear. I'm feeling little sleepy. Couldn't have proper sleep yesterday night as I was in the hospital. No, no, I'm completely ok but my neighbour was not. He was admitted to hospital after suffering from heavy stomachache. The whole afternoon and evening he cried and finally the family members decided to shift him to hospital. I returned from office in the evening then after having rest I went to see him. He is one of my favourite neighbour and it's my duty to check him in his well & woe. So when I went to check him in the hospital, I was informed that his pain was not healing and he was losing his consciousness every now and then. The doctors gave him a pain killer and then shifted him to another hospital. I went along with him. The reason of this pain was later revealed by the doctor. Having too much junk food and beverage. My neighbour friend was not health conscious. So it was going to happen anyway.
My thought was there, stuck. What would be better for us? We, the human beings are totally surrounded with different kinds of problems and guess what! We have created them all. Better we should learn from our mistakes and find a solution. I have an idea. It will not only help in one way but two more extras will be added on the solution list. So, it is called RRR treatment. Don't laugh, please. I'm not talking about renowned film director S.S. Rajamouli's film RRR. It is another one which means Reduce, Reuse, Recycle. Let's talk about it.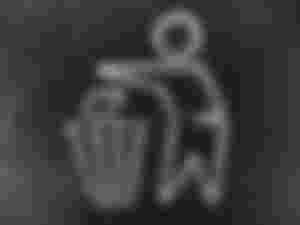 Ok, the topic started with my neighbours stomachache and junk food story. Well, we need to reduce unhygienic food menus from our food habit. Those foods are taste soothing and look very appetizing but that's how we are fooled. We have them and make it as our habit. Having it once, is not that problematic but making it as a part of life and food habit will definitely affect us. So we need to reduce that habit. Most of the hospital are highly visited with those issues. If we change our food habit and reduce the amount, then it will be helpful for us.
I know it is not connected with the topic but it is part of the RRR segment and the second R stands for reuse. Reuse means using a thing again and again. It not only reduces the cost but also saves the time. For example, water bottles can be reused again and again. If we all want to do something better for this world in this 21st century, reuse option will definitely help. Maximum things around us are reusable but we feel so lazy to reuse them. We throw away things and buy another one. Waste of time, money and materials. Make it worthy my friend, reuse it. Be smart. Some think that reusing things don't suit their personalities. They have enough money to buy again. But my mate, having vast money to spend don't make you people smart. Working for the benefits of human beings make you smart and intelligent. Reuse dear. No shame on that.
Last part of the topic ends with another R and it glorify the word recycle. Recycling things around the world will decrease the rate of pollution. Recycling means making a new thing from the used materials and ensure to use it in a same or different way. The world is currently suffering from pollution and we search the reason of it, we will find out our misdeeds with planet earth. Dumped plastics, cans, bottles, wastage are here and there. They are polluting the environment. Better we should make them usable again by recycling them. Every big factories are now providing recycling process of their materials. It's better for them, better for us and for the environment.
So these are my opinions towards you people. This RRR will help us a lot. We must follow it. We must Reduce bad things, Reuse materials and Recycling wastage. Remember the slogan, Reduce! Reuse! Recycle!
All the pictures are used from unsplash.com