No to Ghost: Yes to Ghosting
Date: June 16, 2022
Author: JustMaryel
I am still in the process of wondering if I will continue looking for work or apply co'z I know I am not yet ready and I wanted to rest for awhile before facing reality. I am not ready for this kind of struggle and it really stresses me out. Thanks to my kabit @Probinsya article who saved my Thursday.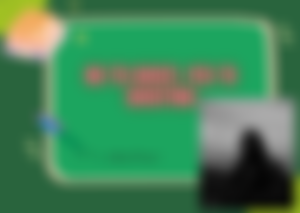 ---
No, I am not but my parents are the superstitious believer but I slowly adopt believing that every time we/I go in vigil. We should not bring any food from the vigil, step ash before entering the house and change my clothes before getting into bed to make sure the spirit didn't follow us. Aside from that, my parents told us to always say "tabi-tabi po" as a sign of respect to those unseen creatures that we might encounter but now I never apply this one. If you only know that Filipinos have tons of superstitious beliefs from our ancestors and I am not even familiar with others.
It could be my father and his side because of the influence of my grandmother who is a semi-albularyo or a herb doctor that is known in town. All the beliefs she believed are still in practice today, especially her daughter, who is my auntie on my father 's side. While on my mother's side , it is a different thing because of their unique beliefs.
I never did but way back in my senior highschool one of the school takers was a fortune teller which we didn't know. In the middle of our conversation with my friends, she interrupts and we become curious about her life and suddenly one of my friends offers her hand and tells me things but I never give mine because I don't believe it. Still, she tells me based on my aura and hand saying " I will marry someone who is able to provide my needs not that rich but in average living status and if I enter business it will succeed" upon hearing it overwhelm me but still I don't believe it because everything will depend on our hard work.
I never read one co'z I  am not interested in horoscopes and if I read I also don't believe in them.
I am proudly the present year of the rabbit, 1999 babies labas hahaha. I knew my Chinese zodiac because my siblings like to tease me by calling it a "crazy year" because of the triple 999 on it. And I try to explore with my siblings and parents the Chinese zodiac to figure out if it reflects their attitude, lol.
Yes, last Tuesday after our graduation pictorial. My classmates contacted our previous professor who made a promise to treat us and he chose a Chinese restuarant and I must say they offer very delicious foods but I never taste a fortune cookie.
I don't believe it unless I witness it with my very naked eyes. So far I haven't seen one but I experience ghosting, lol. Are you a believer in ghosts?
---
Recent Articles:
Lead image is mine edited in Canva.