People say, "First love never dies." And so, here is my first love story.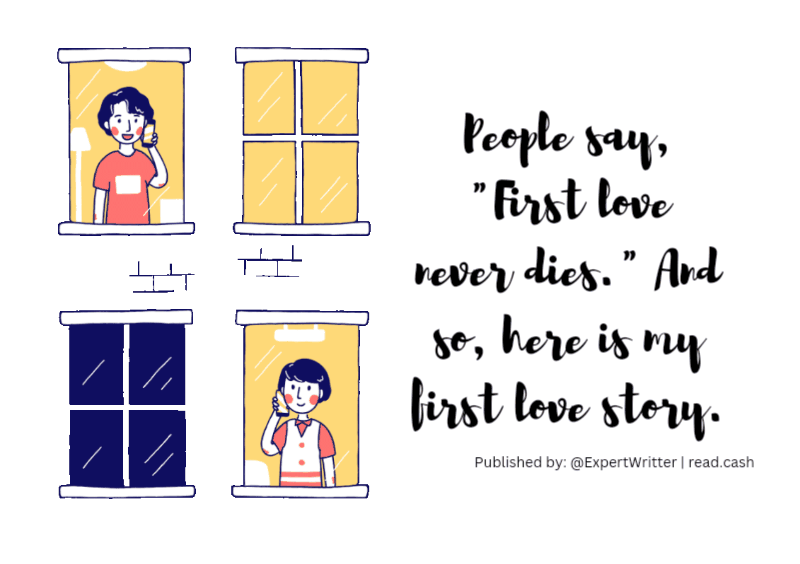 This past few days, I have been sad; I can't even eat well; and I act as if I am in a breakup relationship with someone. Well, it's not because of the people around here. And if there's anyone I can blame for this, it's none other than myself. Because it's my fault that I act like this. Did you notice that I haven't published some blogs every day? Well, this is also the main reason why.
Are you wondering and guessing the reason why? But before I tell you why, please don't laugh! Because I am being serious Charought
There is this one Japanese drama Netflix series that I have been watching the past few days. It was aired on Netflix on November 24, 2022. Actually, I've been waiting for this for years now because Takeru Satoh is one of my favorite Japanese actors, but since I don't have some time to watch it, I decided to just save it and watch it when I have some time. However, when the time comes that I finally have a schedule to watch it, I am so excited because I can finally see and watch Takeru Satoh act again, but then, my Netflix subscription was ended. FUCK! 
So, I don't have a choice but to just write and read some blogs and just watch it next time, but my inner self couldn't stop, so days later, I searched for it on Facebook. I searched the Facebook group page where I always watch some Japanese drama, and I am glad because my favorite admin has this series! PHEW! 
Do you know what this Japanese Netflix series is that I am talking about? It's the First Love, also known as Hatsukoi in Japanese. 
I didn't expect what would happen in this drama because I have this habit that when I read some stories on Wattpad or watch some dramas, I don't really read the synopsis because I don't like to be spoiled by what will happen. So, if I watch some series, I will just look at the poster, the genres, and/or the actors that will be the protagonist or antagonist of the series.
In episode one, I thought it would be boring. Same thing happens when I always watch some romance dramas, but then, I liked it! Because it was so different from how the director conveyed to his viewers the story. So I have a hint already as to what I will feel while watching this one. I became aware of it, and I admit that I really don't like watching this kind of series because I know what will happen to me after I finish it. I warned myself already, but I still continue to watch it. 
You know I don't like to spoil things for everyone who's reading this because I know that you will lose interest in watching it because you already know what will happen if I tell you, so I will keep my mouth shut. Just bring your boyfriend or girlfriend to watch this with you! Oh No! You can't watch this if you are in a relationship because I think another world war will happen after you watch this with your loved ones. So, just watch it on your own like I did. 
So as a result, I don't have energy to do anything for how many days now, but I am glad that I still participated in the event for HPUD on HIVE yesterday. Because of this series that I watched, I look like a zombie, and my inner self and thoughts are still in this series, and it's hard for me to move on. If you'd like to watch this series, you can do so on Facebook if you don't have Netflix. 
Now, after watching this series, I remember my first love, way back when I was in elementary school.
There is this person I met. According to our parents, we have been close since we were young. We don't remember, though, because we were still kids back then, but the pictures that we have prove to us that we have been close to each other since we were in kindergarten. Not only us, but we also have another friend, which is his cousin. 
Fast forward, We were in grade 4 when we started to become close to each other again because, if I am not mistaken and if I remember correctly, he had been transferred to another school in Nueva Ecija, Philippines, when we were in grades 1-3. 
I met new friends during that time, but when we were in Grade 4, he finally came back! It's so very awkward for us to communicate again. He was in my front and I was on his back, but because of a display beside us, we communicated again.
And while the days past, we are again close to each other, and even our classmates tease us. I know, I am still an elementary school kid who doesn't know about the words "love," "like," "crush," and "boyfriend" or "girlfriend." Even our grandparents and parents still cover my both eyes when there is a kissing scene or something else prohibited for a kid like me. 

I don't know how this feeling started, but I woke up just one morning with this kind of weird feeling, and it was kind of hurting me when everytime he was close to other girls around, when he was absent, I always looked for him, when I didn't realize that I wrote his name on my answer sheet paper and passed it on to our teacher without realizing it, and it's a reason why I received a punishment, but we just both laughed about it. 
I remember those memories because it's the first time that I feel that, and I also remember that there was this one girl who was wearing our high school uniform back then. I don't know her, but I still asked her a question since she's older than me. I told her about my situation, and she said that maybe I had a crush on him and even congratulated me because I finally have a first crush.
I was so young back then, so I don't know if I will tell him my feelings, and I don't want our friendship to be ruined, so I didn't confess, but my classmate who knew my feelings before that I have a crush on him was so noisy and told it to him. I don't remember his response at that time, but we were still close to each other after that, and we are still friends. Until one day, his cousin was transferred to our school. This cousin of his is our best friend too, but I don't remember him and just remember when he said it. 
When we are in Grade 5, I am supposed to study in Valenzuela because my parents are working there, and they are worried that I am not taking care of our grandparents well. I told him this before I went there: I would be transferred to another school. I already have a phone, and we also have an old phone from our parent's boss, and he also has a keypad phone, so we can still communicate with each other. When I was in Valenzuela City before our school year started, I changed my mind not to study where my parent's boss's children studied, and I asked my parents to continue studying in our home town. The reason behind that is because he told me in the call before that he would court me at the right time and at the right age.
The reason behind that is because he told me when we were on the phone before that he would court me at the right time and at the right age. We had a conversation about our futures and our promises to each other. That's why I always told you that my first dream when I was a kid was to become an engineer or an architect, so I went home and studied again there. But when I got home, I came back to our school. He changed. His personality, and he acts as if we are not best friends anymore, and I didn't know why, and that's why I was left hanging in the air, but I still wait for him, and I liked him for 10 years, and everyone knows that I liked him the most; I was tired of being the only one who is just hanging on to our promises together, so I did try to move on and fall in love with other guys around, but at the end of the day, I was still thinking about and loving him.
Then, one time, we have our elementary school reunion. It was the year 2018. Our classmates tease us and remember the so-called love teams in our batch. That is also the first time when he was drunk; i mean, they are all drunk, and I was just tipsy because I was already used to drinking liquor.
His cousin, who is our best friend, talked. I was in the waiting shed before and was lighting my cigar (I used to smoke before too, and I also said that to you before). We talk about happenings in the past until his tongue slipped and he told me this: 
You know when we are still in Grade 4, I admit that I have a crush on you. I told him that, and he was a very supportive cousin. Though I know that during that time, he liked you too. 

He finally admitted that to me back then, when you were at the Valenzuela. You remember this, right? You both are still communicating with each other, and I was in their house at that time. looking at him while texting and calling you while smiling. I was also the reason why he told me that he liked you, but he is still not allowed to have a girlfriend, and what if you liked somebody else since you are studying there? So I told him that he should confess his feelings to you and promise to court you in the future at the right time and at the right age. But you know the reason why he changed his attitude toward you when you came back? It was because of his mom. She read his messages and conversations with you, and that's also the reason why he doesn't communicate with you now and why he didn't have a phone until now.
I was so very dumb back then because I didn't fulfill my promise to him that he would become my first boyfriend. I should be patient and believe in him. But what should I do? If only we'd had a proper conversation in the past and he hadn't neglected me. Right? I was also hurt by his action.
I was so very hurt in the first love movie because I could relate to the situation. If we can turn back the time and her mother doesn't prohibit him from talking to me, what will happen to us? Are we going to become lovers, though we are just in fifth grade, like my younger cousin and her girlfriend right now?
He hasn't had a girlfriend until now. I wonder if he still wants to fulfill his promise to me. Though we can still talk about our past, I was scared to ask. I know, it's very impossible now because, look at me, I am just a plain woman who hasn't achieved anything yet, and next year, he will graduate from college, and her mom was right: he didn't deserve a girl like me. 
I think this backstory of mine from the past about my first love was already written here, but I don't remember what blog it was on. Having your first love in your life was very painful because you will carry the heartbreak for the rest of your life and ask yourself the what ifs and think that those past years were a waste for the both of you.
Right now we just know each other as acquaintances. We did communicate last month via chat asking his opinion about my art, but we just talk as if we were just classmates.
All I can say right now is that whoever will be her girlfriend and wife in the future, I hope she will take care of him well.
---
My Previous Articles:
Let's draw using my Xiaomi pad 5's smart pen
Don't forget that we also have selections like this here at read.cash
My Iphone 5s is finally back after years of not touching it!
My First experience drawing using my xiaomi pad 5