Blog #74
November 21, 2021
Last night, after reading some articles here, I was browsing my gallery to check some old photos that need to be deleted because my phone is now complaining that it almost ran out of storage.
Looking at those photos gives me a suggestion as to what I need to share with all of you today. Thanks to my phone's reminder about the storage thing, I can write something today and while doing it I am also reminiscing those beautiful moments with my little sunshines.
Today, I will just share a few photos that I kept for a year or two. So I won't prolong this any longer, let's start!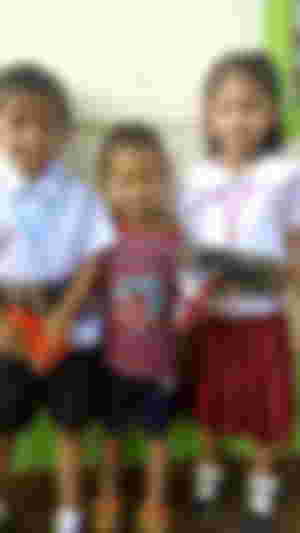 The photo was taken: June 2019
This is the first day of school for my twins and my eldest. My eldest was not included in this photo because he entered his classroom since their teacher was there already while for my twins? Their teacher arrived late on her first day of class due to the heavy traffic she was experiencing!
While waiting for their teacher we were busy taking photos coz I want them to have a remembrance of their first day as a kindergarten. This was also their first time studying in this school because it was at the end of 2018 that we transferred to this place where we are living right now.
After taking this photo I send it to my sister to let her know what we have been doing at that time since we miss each other. She said that my twins are growing too fast and that I agree with her. By the time I take this photo my twins were 5 years old while my youngest was 3 years old.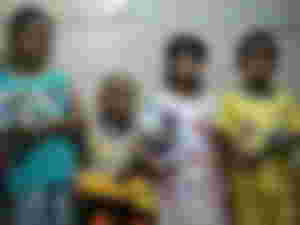 The photo was taken: November 6, 2020
This photo is so special to me coz this is taken on my birthday. Hubby went to the city to get the parcel. It was the books that he ordered online and after he went to the mall to buy toys and clothes for our little ones. He left early in the morning and went home almost 6 pm already. I think he enjoyed buying at that moment. When he arrived, the kids were so happy to know what he bought for them, and not only that, he also bought Jollibee fried chicken, burger, fries, and the mango pie.
We didn't eat directly, we opened the plastic bags where the toys and the clothes are since my youngest kept on bothering his father to open all those.
Adam got a car and a pair of yellow Sando and shorts, Aeron got his cooking sets and Sando and shorts too, my Xandra had her Hello Kitty stuff toy and a dress while Xander has toy animals (elephant, carabao, cow) and a pair of yellow Tshirt and short.
Their father took a picture to send to their grandmother in Manila.
Indeed, it's a happy day for all of us.
This photo was taken last 2019
It was afternoon when I decided to go out and buy clothes for my kids since my partner gave me money. I chose to buy "Ukay-ukay" clothes coz it's a lot cheaper than those displayed in some stalls.
Each pajama and jacket cost 15 pesos. The total expense I spend that time was just 300 pesos or 6 dollars.
When we went home, I checked those jackets and pajamas I bought. I was surprised to see that the one I chose for Adam is a pair (Mickey mouse pajama and jacket) and so too with my Xander (a robot-designed pajama and jacket).
After checking they tried fitting those and this was the photo I took. The pajamas are not included when I captured this.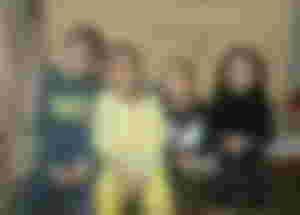 This photo is kinda blurred coz my phone doesn't have a nice camera at that time but even so, I am still thankful for it coz I was able to capture this beautiful moment.
The time that I capture this was before they were about to go to bed. Since they like their outfit they asked me to take a photo of them and I gladly did it. Those precious smiles of them make me smile too. I can see how happy they were at that time.
Going to bed with a happy heart will let us sleep peacefully at night.
Flexing my generous sponsors! Thank you so much guys for your support in me.
To everyone (upvoters, commenters, likers) who takes the time to read this article today, thank you so much.

This is BCH_LOVER once again. Have a good day to all.
Keep safe and God bless!
Don't forget to click the like button, thank you so much!