Blog #44
October 22, 2021
I came up with this topic after I read @G_lenahhh 's article "Never love a broken person".
After commenting on her article, I decided to write my experience in loving a man who Is not yet fully moved on with his ex. But I didn't finish it on that day because I am having a hard time trying to figure out how to narrate it.
I once loved a man who is so much older than me. Our gap is 9 years so I thought that loving a man who is much older than me is mature enough to handle a relationship and that he will not take my feelings for granted. I thought that he had fully moved on with his ex-girlfriend but I was wrong.

In our first to the third month, we were okay. We went on a date when he had no work and we talk about our future. But on our fourth month, that's the time that our relationship was in chaos. He became cold and I don't know what happen. I asked him what was wrong but he never told me anything.

One day, the thing that I feared, happened. I saw the exchange conversation between him and his ex. The exchange of " I love you's" and "I miss you."
After knowing that cheating thing, I still accept him. I act as if he didn't cheat on me. I still treat him the way I treat him before but the time came when he left me without proper explanation.

I heard from his sister that he had a comeback with his ex. I was broken at that time. I cried and I even made a way on how to communicate with him. I want him to come back to me but the things I wanted didn't happen.

He left me wounded and hanging. I wanted to hear some explanations from him but he didn't come to see me.
Knowing the fact that there's no chance for him to come back, I learned to let go of him. It was painful at first for we already shared many happy memories but I was left with no other choice but to let go of him. To let go of the feelings that I have for him.
"To move on, one must have to let go of the painful past."

The wounds that he had caused in me are so deep. But I don't want to be imprisoned in that painful past so I decided to move on by letting him and my feelings go. It takes many years for me to be fully okay but it's worth it. I learned not to rush things to be in a relationship again coz the first is so painful and that I should be more cautious to whom I will give my heart and love again.
---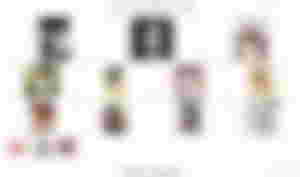 Flexing my generous sponsors. It will be nice if you take the time to read their wonderful works.
To my sponsors, upvoters, commenters, and readers thank you so much for the effort you take every time I published my works.
Happy Friday!
God bless and keep safe everyone!
---