In my hometown, we have many pets in our house. They are our companions in our daily life. They are our friends, our family, our helpers, and at the same time, our security guards 24/7. They have been faithful to us for all these years. They never leave us until their last breath.
Our dogs bark when strangers are coming towards our house. Our cat catches rats and mice at home and in the fields. Our dogs help us watch out for the flocks of small birds feasting on our crops. The goats and chickens will scream as loud as they could when thieves are trying to steal our poultries and crops. Then it will alert the dogs and they will chase them or worst, bite them if they will be caught.
They are like a team working together. They fend us as to what they can do. There are also Geckos on the trees and sometimes they are hiding at our ceiling. We never chase them nor catch them. My elders believe that they bring good luck and they can also help in controlling insects inside the house to reproduce because they eat them. There is also a belief that my elders often watch out for –it is the sound of the gecko. Every time it sounds, they would count it. If it's even, the weather would be fine. If the number of sounds ends in an odd number, there would be rain coming soon.
I know it's a superstitious belief but sometimes it came true so they still believed in it and there's no kind of argument to change their minds.
____________________________
When I left home to work and live in another residence, that is when I encountered this dog which looks like a Shiba Inu but fatter. Honestly, I laugh so hard when I saw this dog because he truly looks similar to the dog in the Shiba Inu Coin and Dogecoin.
See this. This is him.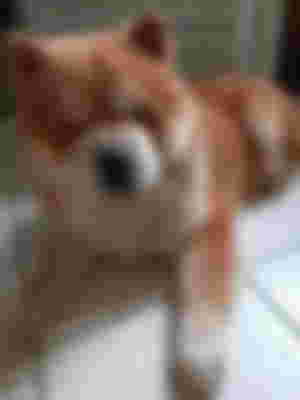 His name is King and his breed is Chow Chow, a kind Chinese family dog. He is my Madam CEO's dog. He was treated like a family and by the term "family", literally like their child.
He was being pampered since he was a puppy. He stays in a room with an air conditioner. He has quarterly checkups and grooming. He eats a branded dog food and he must have always cold water. No one complains since he is adorable and there is no child in the house. The only thing that is somewhat off about this dog is its attitude.
He is moody.
He sometimes acts as if he can understand us but is very lazy when you ask him to do something, such as asking to do some tricks like rolling over, sitting down, and lying down. He does handshakes with me, though, just sometimes.
This is him, always lying down and sleeping. He is like a fluffy ball or a stuffed toy. I still remember that I have a puppy toy when I was a child and the color is similar to him.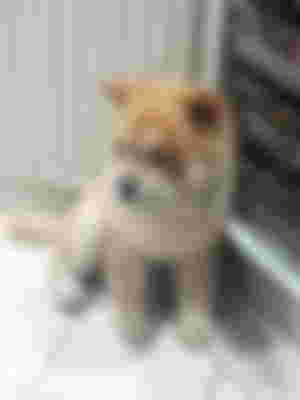 That is him feeling guilty at the corner. He peed on the pot so I scolded him. He looks at me like that in his saddest eyes and I got defeated by his charm instantly. Awww 😍 He looks like an overgrown puppy.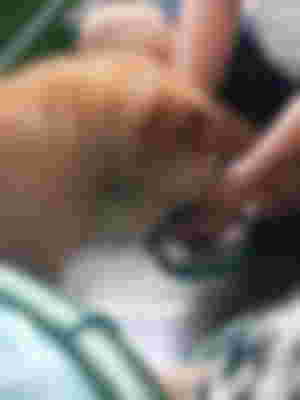 He is being spoiled too much by them that he wouldn't eat sometimes when no one will feed him by hand. Sometimes he still does not want to eat even though it's noon already when there's no one to feed him.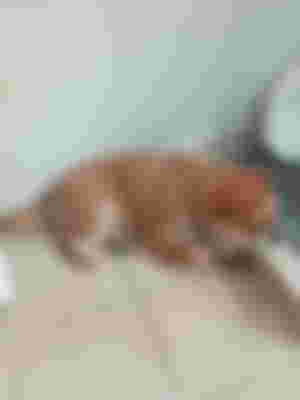 That is him being moody and ignoring everyone. That is his favorite spot to lie down, it is the laundry area. Maybe, because it's cool right there.
Just this morning, we got out and went to the park. He peed on every corner there and keep running and running. He is panting so much when we got back and drank water 3️⃣ times his usual drink.
____________________________
I do love pets as long they are not exotic and not scary. I'm passionate about taking care of them. Now that we are talking about these pets, I'm missing my hometown now where all my pets are there. I hope they're all still well when I get back.
This is my entry for the prompts that Miss @JonicaBradley hosted. I hope you can enjoy reading this one.
Thank you for reading until the end and for all your support. If you enjoy this one, maybe you can enjoy my other prompt entries too;
Cheating:
Nature:
Success:
There is no such thing as failure when you're aiming for success.
Stay safe and God bless us all!