Tales And Lessons ··· Never Give up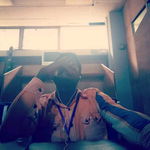 I spent the last hours of yesterday listening to my uncle who I had not seen in over 2 years now. The reason is that he isn't based in our country, and only usually comes to spend Christmas with his family here in Nigeria. Unfortunately, he couldn't come home in December 2020 because of COVID restrictions at the time, and had to reschedule his return from last December to now. It was good to have him back as he is one person whom I get along with very well. His principles as a person and ideology about life are worth emulating, and I have learnt a lot about life from his experiences. For some reason, he always enjoy regaling me with tales about life and because they are usually stories based on his experience, I am often paying very close attention.
I believe there is a lot to learn from life, and a lot of those lessons won't necessarily be learnt from your experience. You'd find that you learn these things from other people's experience. It didn't take my uncle up to 3 hours to start his tale-telling yesterday, you'd think after a long journey across continents, he'd be tired and resting but that wasn't the case. He talked about being focused on what you want in life, remembering where you are coming from and humility. He also emphasized that success can be fickle, and that making money isn't the same as managing money money. Simply put: not everyone who can amass wealth can sustain it.
The secret is simply to invest your wealth to multiply it. But, many taste wealth and lavish it within a period of time. This is common especially for ill-gotten wealth. I still remember one of the first things my uncle said to my at the beginning of our 'bromance'. He had specifically said that never should I marry a woman who is extravagant. All his stories are connected, and maybe one day it will come to an end. Until then, I'll learn as much as I can and connect the dots.
As we journey through life trying to chase what brings true happiness and all the comfort of life; The best things we can get. Life does its fair share of battering and hope-dashing. That doesn't stop us though, at least the best of us doesn't let it, we continue to push forward and strive for what we want.
What you'll come to notice is that the world we live in has its patterns, and while some are only perceived, some are real and immutable and can only be altered and not changed completely.
Have you noticed the seasons?
Even though human activities and the emissions of greenhouse gases and carbon into the atmosphere is affecting Earth's climate, seasons in the various regions of the world have managed to stick to a particular pattern. In Nigeria for example, we have two distinct seasons in a year, the wet (rainy season) and the dry (harmattan season) and while this has been constant for as long as I can remember, differences have only come in either the time of the year they start or end, and with the intensity at which they manifested.
In the path to success, things may not be all positive, there are times that you'll want to lose hope because you feel you're not getting the reward for all the hard work your putting in to achieve something, never give up, even when the odds seem to be against you, keep chasing your dream and you'll find that even success when achieved is sweeter when you take a bite of it with the struggles that lead to that moment.
Remember that tribulations would last forever, the best you can do is learn what you can from those times and hold on to the lessons.
WHAT DOESN'T KILL YOU MAKES YOU STRONGER
Thank You For Reading 🖤🖤