Family Time and Bonding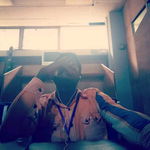 Today has been a drag for me. It had started as early as 4am because I slept early yesterday due tiredness and only realised I had not published any article yesterday 🤣. Can you believe me?? Well, don't blame me. My day yesterday was a hectic one as I had a lot of work to do and no rest. Let me not bore you with that details but instead with today's.
I woke up 4am with the hope to write an article and post before 6am, but it turns out my phone was not on the same page as me. I tried unlocking it but couldn't as the touch was malfunctioning and doing its own unlocking like it had changed the pattern while I was asleep. After several trials, I decided to let it be and just go back to sleep as it was too early to start quarrelling with the phone.😅
I went back to sleep and woke up around 7am and saw that the one-sided quarrel was still on. Then I knew I was in for a long day. After trying many times and even opening the panel to see if I could solve the problem, I realized I didn't have glue for the screen even if I manage to open it, so I screwed it back and just turned the phone off as it was not useful for anything at all.
Seems I had no choice but to Bear the excruciating torture of being phoneless. I decided to go old school, bring back the time when everything wasn't so digital. It was time for bonding. For the past 4 years, I have barely been home except for the lockdown period. And that was the time many of us spent in solituted with our phones and digital friends. Though, people (young males especially) in my community saw it as a time to play all the football adulthood had starved them off.
So I spent a lot of the lockdown playing football or exercising. I know you're thinking: that violates the whole purpose of the lockdown. Aside the fact that many of us were unconcerned about the pandemic, some others saw it as a way of maintaining their sanity.
Back to the recent past, I decided to use the time to bond with my family, I had first gone to my parents to indulge them in a conversation, after which I just sat there observing them has they changed the our conversation into their conversation. It was good to see that they have grown to become best of friends as that's the only way I can describe their relationship 😅. I also realized that I am a mixture of both of them and not just in my physical appearance, but also in character.
My dad I took his wittiness and sarcasm as well as his sense of humour. While my mom I took her penchant for anecdotes, self awareness and her tendency to pick her words carefully. For a moment, it seemed like I was in a game of showcasing your psychological prowess where in I was to be the referee. It was fun watching them tease each other and predict almost what the other person would say next.
From there, I decided to have a chat with my little brother, and bond with him man-to-man. He's the last child in the family and my only brother too. So I felt we should connect. We used to be closer when he was much younger, but it seems like adolescence killed and buried the closeness that exists between us. Although, there are times we work together because we have a common goal.
He was sent on an errand and I decided to accompany him so we could have a chat on the way. At least I got to hear how he feels about me being around but feels like I bosses him with all the admonishing I do. I made him understand that I do that mostly because of his stubbornness and because I care about him. And asked if he'd rather I was quiet when I saw something going wrong?
In conclusion, it was a good day, and I probably wouldn't have had one like it if my phone had not gone bad. Seems to have gotten a bit better late this evening, so I caught up on some articles and will continue with the others soon with my sisters phone. Hopefully, it was only a day thing and I don't have to experience it again tomorrow.
Thank You For Reading 🖤🖤
Special thanks to my newest sponsor @Oyinwrites I am sorry it's coming late. Thank you for the support, I very much appreciate it.