A Realist Who Became an Optimist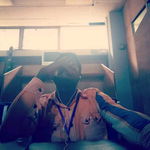 It is the start of a new week. Yes, I am one of those who believes the week starts from Sundays, so I think it shouldn't be included as part of the weekend. After service in church, I went out to visit one of my aunts, and it's always a pleasure to visit her. Actually, she is my favourite aunt.
During my time there, we engaged in off and on random questions and answers mixed with what some would call conversations. Well, I got to find out that a burial ceremony I had thought I'd likely attend because I will likely have the time to, although I have been caught between going and not going because it will likely involve me being busy with work and all we the youngest person in the 'gang'.
Although, nothing is certain yet, and there is a chance I'll probably go, I have decided not to force anything to play out how I want it to. Lately, random events that I would have termed a misfortune are proving to be blessings in disguise. Because school is not in session, every day is now more or less the same to me. Stay at home and do what you can do as it comes. Nothing substantial whatsoever to take me out of the house daily unless of course errands or a conscious decision by me to do so.
The good side to this is that; I get a lot of time on my hands to do what I want to do, but the problem with this is that all the things I want to do require me having a phone. As I have said in previous articles, I am currently without a phone and this great misfortune has enabled me catch up on a lot of sleep and given me enough time to indulge in actual one-on-one conversations with people as well as think deeply. I like to think, only if it wouldn't be weird to say thinking was one of my hobbies. Although it is considered bad for one's health, I can't think about just shutting off my mind from wandering streams and chains of thoughts with the most unusual connections.
I have found myself being optimistic these days, and that is a far cry from my usual self: who is a realist – A hybrid of a optimist and a pessimist – or so I like to think. But it is easy for people to tag people like me a pessimist. Wait! I feel like I am drifting off into something else. Could this be the side effect of l your mind having so much time to roam different dimensions of thoughts?
Not like I particularly had something in mind to write about when I started this particular article, although, there are many other pending articles I had initially planned to write, and wanted to use this night as my article night to write as many articles I had thought of writing during the day. The weird thing about this one I am writing right now is that it had initially started normal and Midway became a challenge to see how many words I can type in a space of four minutes. Could I type a four minutes read article in four minutes? Which do you think is easier to do, Writing or Reading?
Wait, I drifted out of the line again. Pardon me. Okay I was talking about the benefits of being without a phone for over a week now. Asides better sleep and better conversation with people physically, I think I have actively been tilting towards my optimistic side. I am seeing the positive side of everything and even when I don't see the positive side, I just believe there is one and move on. I won't deny that it has been a much easier way to live, as there is something less burdening about it.
Whatever the case may be, I look forward to the rewards of my optimism and maybe it is optimistic of me to think there is a reward for optimism. If there is no future reward, at least there is an instant benefit of being free and feeling light. Oh, allow me to drift one last time, I just want to say that I haven't been on Twitter for over a week, and I feel like I have lost my connection to the world. Hehehe.
Thank You For Reading 🖤🖤