6th day- Geese- a- laying 🦆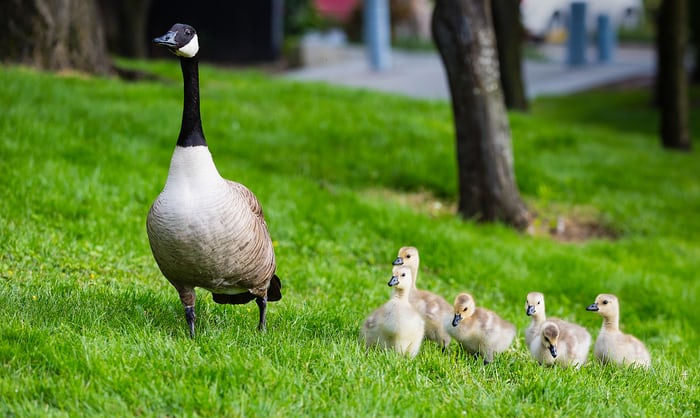 30-12-2021
Thursday
10:25 pm
#86
On the sixth day of Christmas🎵
My true love gave to me🎶
Six geese a-laying, 🎵
Five golden rings,🎶
Four calling birds,🎵
Three French hens,🎶
Two turtle doves🎵
And a partridge in a pear tree.🎶
Today is the sixth day of my writing about what my true love gave to me. We have just a day and a few hours to enter into the new year. May God see us through
Geese are a symbolic and meaningful part of Christmas for many cultures, traditions, and families with the geese a-laying representing new life and creation as well as fertility.
So why do we honor them on the sixth day of Christmas? It potentially has something to do with the fact that in ancient times, people tended to eat goose on December 6th, to celebrate the solstice.
"On the sixth day of Chrismas, my true love sent to me: six geese-a-laying" - and the rest is history! However, this lyric was not always read this way. When it was first written by Caroll in 1853, it actually read "six geese a swimming".
For those unfamiliar with the origins of this song, here's a brief breakdown. Originally titled 'The 12 days of Christmas', the song tells of a married couple exchanging gifts for 12 days on their wedding anniversary.
The first line sets up the order of the gifts and then each subsequent line increases by one in order to express how much more she loved the gift than the previous gift. The true reason behind these lyrics has been debated far and wide.
Whatever the real story behind it, the six geese-a-laying seems to be the most popular Christmas carol, but the story of this song is steeped in controversy.
The song first appeared in a Christmas edition of The Gentleman's Magazine published in 1833. A contributor by the name of Richard Clark claimed to have met an old woman from Exeter who claimed that she remembered celebrating Christmas with her family in 1555, before the Reformation, and before there was a Gregorian calendar.
It was Christmas Eve when as a child she went with her family to visit their elderly mother who was dying in a cottage on the edge of town. On the way home, it started to snow, and so for the warmth, she was put next to the fire, where she fell asleep.
As chimneys were not common at this time, she awoke to find that some geese had made their way down into the house and were sitting on her feet.
A new take on an old classic - While the idea of a 'sixth day of Christmas' seems like a total mystery to us, we're pretty sure that it was never intended to be one of the most annoying bits of song liturgy in existence.
But maybe we're wrong, and actually it's really, really cool that there's a secret day to still celebrate the nativity. That would make the six geese a laying on the sixth day of Christmas really really special, wouldn't it?
According to the Bible, God created the world in six days. Geese lay eggs without human intervention and can be counted upon to do so every year, without fail. Geese-a-laying are a much needed commodity.
The world is a circle of 6 days; starting with Sunday & ending on Saturday. It is symbolic as a circle, because it has no dependence on time & is perfect as such. Every single day is symbolical of God's divine power that keeps mankind alive.
The 6th day, depicts a day of rest, when everything comes to halt & takes the initiative to rejuvenate itself.
Compliments of the season
However you celebrate, or whether you celebrate at all, I hope your December is bringing you lots of love and laughter.
Do well to check out my sponsors
On the sixth day of Christmas🎵
My true love gave to me🎶
Six geese a-laying, 🎵
Five golden rings,🎶
Four calling birds,🎵
Three French hens,🎶
Two turtle doves🎵
And a partridge in a pear tree.🎶
Thanks for reading 🙏❤️
You might find these interesting
1st day of Christmas- a patridge in a pear tree
2nd day of Christmas- Turtle dove
3rd day of Christmas- French hen
4th day of Christmas- calling birds
5th day of Christmas- Golden rings