Weekend at the beach
Had a wonderful weekend with friends spending our time at the beach and more.
Check out @Bloghound 's post in hive Amigo Cafe.
I have also posted our sunset at the beach.
Here's an excerpt from that:
Chasing the last rays of the light is the perfect way to end the weekend.  We have been to another beach earlier in Luna, La Union but our time there was limited so we decided to go to other places where we can spend a time to view the sunset.
Before heading there, we went for lunch first.  Check out @bloghound's post Amigo Cafe and View Deck.
It was a long weekend that's why the crowd in San Juan doubled in size.  San Juan is known as one of the surfing spots in La Union but also a place to party, drink and be wild.  If you are not the partying or surfing kind, food crawl can be a thing there too.
The initial place we planned to go was crowded.  Parking is a struggled.  We then decided to leave and check out other places that away from the center of the crowd.
Light is fading quickly that's why we had to hasten.
We ended up going to Final Option.  That's the name of the place and literally it was our final option.  While on our way there, it started to drizzle but luckily the rain held up and allowed us to enjoy the sea, sand and sunset.
That drizzle made sunset in San Juan, La Union all the more better.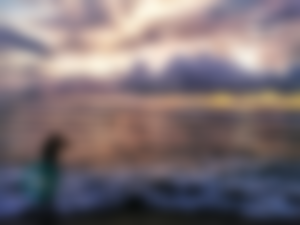 For a long time I can only be wishing that I am also at the beach enjoying my time with the sand, sea and waves. When we got there, I got everything that I wished for and more.
One thing that I find funny though is that I have been looking forward for this for a long time. I wanted to enjoy as much as I can. When we were done with the first beach that we went to, going to the next, I was content with just sitting by the beach an enjoying the view. I would have wanted to swim more but I have my reasons not to.
Even so, I am truly grateful for the experience.
It was already late last night when we arrived home. Good thing I still had the time to power up for Hive. There was not enough time to make a blog before the day ends so I chose to power up instead. There are only three days left before the next power up day/month so I don't want to risk losing one day not powering up or making a blog.
After taking a bath and preparing myself to bed, I then slept like a baby. In fact, spent the whole day in bed allowing my body to recuperate. I was so jaded and my body is relaxed that the only thing I have in mind is to sleep. I have enough to make a blog and to visit some of you before going back to bed again. I want to make sure that I have enough energy saved for the week ahead.
Taking time to relax and rest is important. Yes we have lots of things to take care of but we only have one body. It also needs rest and recuperation. Don't abuse yourself. Rest is good for the body, mind and soul.