To hive or not to hive
I posted a video there about our walk to the Japanese Trail again. You can check it here. I was so disappointed with that because I thought I was recording. It's only now that I saw my mistake when editing the clips.
I might re-upload that in my YouTube channel. I have to make changes like adding photos that I took to make the video longer.
Speaking of photos, I want to share these: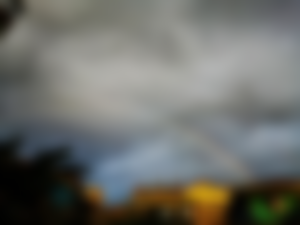 Told you I'm the king of rainbows lol!
The colors were already fading fast when I happen to look out the window. I quickly took my phone and took the first photo. My eyes did not adjust quickly because I didn't see the second rainbow. More often than not, there are always two rainbows in the sky.
On the second photo, there is another line at the bottom right and that's the second rainbow.
I have entitled this To Hive or Not to Hive because that is always what I feel. If not for the daily challenge that I have to meet in order to finish the challenge for this month, I wouldn't have been there. So to my Hive friends, apologies. I don't spend much time there. To be in noise and then here, it's tough to manage. You all know the feeling. Then there are offline responsibilities too.
I'm not complaining. I'm just saying even though we wanted to be in every platform, we just can't and that's okay. We have priorities and other jobs that we have to attend to.
Here in our city, licensure exams have been happening every week. As far as I know, nursing, bar and civil engineering exams were done. I think agriculture will be this week.
What else is happening in our city?
There are creative stuff that I have missed in celebration of the Ibag-iw Festival. I have not been checking the schedule lately. Also, the neighboring town is celebrating their Adivay Festival too.
Lots of festivities going on but I haven't checked them. I really missed a lot. This month is about to end that the festivals will end then too.
It's a cold Monday night now here so it's time to bade you all good night for now.
The lead image was taken from my post about Ili-Likha which I posted in Hive.