________________________
It was a tough day for all of us. I mean, the TAs or for the Teacher Applicants. The gloomy and sunny day, all at once gives off an energy draining vibe. But for those who successfully made it the RQA, its all worth it...
To be part in the RQA or Registry of Qualified Applicants, you need to undergo the so called, "Teachers' Rankings." And the following requirements are these;
- Education (General Weighted Average)
- Demonstration Teaching
- Interview
- Teaching Experience
- Skills and Training
- Licensure Exam Rating and,
- English Proficiency Test Result
And yesterday, all TAs that belong in Area 5A and 5B were required to attend the Evaluative Assessment. It is an activity to determine if the TAs will be qualified to be part of the RQA. The venue was held at Palo, Leyte. It was three and a half hours of travel from our town. Because I still need to travel almost an hour from our barrio to town, I need to wake up early then. I, together with some of the Teacher Applicants agreed to meet up before 3:30 AM at the terminal, so that we can travel early and arrive early in the venue of the said Assessment. But due to the rain, our scheduled time for the travel has changed to 4:30 am instead.
When we arrived at the venue, there were already other Teacher Applicants from the different districts. One of the personnel gave us a priority numbers to determine who will go first inside the gymnasium. They also provide a waiting area outside the venue.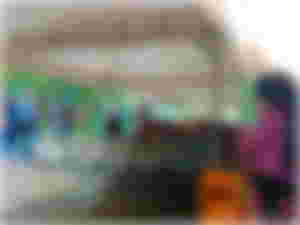 We waited almost an hour before our priority number being called by the personnel who did gave it to us. Then, we waited again our turn to get out initial points from our Education, LET Rating, Demonstration Teaching and Interview. After that, we waited again for the points to be given from our Skills and Training certificates. Then after that, we waited for our turn to get our points from our Teaching experience. As for me, I don't have a teaching experience yet, I still have to get the initial signature of head in that table. And finally, for the last one, we get our English Proficiency Test Result and that's it, we will know our standing and have it sign by the panel head.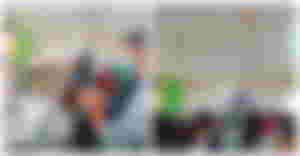 For you to be part of the RQA, you must gain at least 70 points. But unfortunately, I only gained 63.906 points. (Sighing)...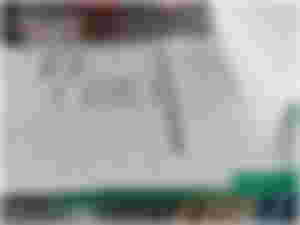 After I finished my turn in that Evaluative Assessment, I just waited for the other TAs to finish theirs. We went home around 7 pm because we decided to have first our dinner at "Jobee". (Jollibee) Fast forward, we arrived at our town around 10 pm and then we bid goodbyes and went to our respective homes. Together with my papa, we arrived home around 11 pm. Then, I spent a little time with Rhed before I went to bed.
________________________
"Congratulations to all who made it to the RQA!" 🎉
"Better days ahead for those who didn't, like me!"
All in all, the experience is just like a roller coaster ride. I honestly felt sad about the results I've got. I am already expecting another nag from the people around me, especially my mama. I know her very well. She will surely be disappointed about it. "Hindi naman sa pinapangunahan ko," but not just her, I know people will felt disappointed about it too, mostly those who expected too much from me. Aigoo! I should prepare myself for that. (-_-)
That would be all for this blog fellas. Thank you for spending your time my read.cash family. Take good care of yourselves, especially your heart!❣️
________________________
My warmest thanks to all my avid supporters; readers, upvoters, sponsors (old, new, and renewed ones). It is my pleasure to have you and become my inspiration and motivation as I go on to this journey as an online writer and a blogger. Thank you for your undying love and support, and for showing how kind and generous you are. Thank you for making my read.cash journey a wonderful one. May this platform last for a long period of time and our friendship, may on virtual or not goes the same. May the Lord our God bless us more days, weeks, months, and years to come!

See you in my next blog!😊
xoxo(。♡‿♡。)
_______________________
"Eliminated Two Times" https://read.cash/@renren16/eliminated-two-times-f4860aed
"It Took me a While" https://read.cash/@renren16/it-took-me-a-while-b69ce411
"It was a Deuce" https://read.cash/@renren16/it-was-a-deuce-278717b9
"We Survived the First Month" https://read.cash/@renren16/we-survived-the-first-month-5813286c
"It Hurts..." https://read.cash/@renren16/it-hurts-3fdb76e0