Home Vacation Ramblings.
It's only 30º Celcius outside, but it's a humid heat, maybe from all the water people are throwing at each other due to the festivities. It's Carnival season, which means 4 days of vacation on overcrowded beaches, or the city, or in the country with pools and lots of beers and rum and loud music, or throwing buckets of water and ballons to all of those who walk by.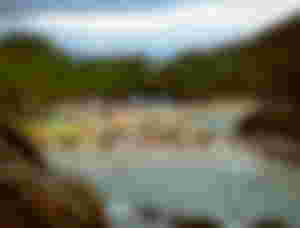 For me and my girls, means staying home resting or getting a few things done, and this year, we are preparing for my brother who is arriving from Peru to spend a few days with us, so we've done a lot of cleaning and cooking to receive him well.
Back to the carnival thing, a few hours ago, mom read an article about a child who died because a water balloon was thrown to the head, the child was twelve years old and the authorities are managing the possibility that the water balloon was frozen, causing irreversible head trauma.
I remember my childhood years, I played with water balloons, toy water guns and buckets of water, and even water hoses, but we never got hurt. Our parents always were involved making sure we didn't get hurt and never allowed us to fill up the balloons with anything more than water, and they were overzealous about us playing with the neighbor's kids who liked to steal their parent's flour and eggs to make a bigger mess to those who walked by their corner.
We knew how to cause that kind of havoc but, our parent's taught us well, so we knew that it wasn't a good thing to do either between ourselves, let alone to others. As the years went by we lost the gist of it, we started to understand less and less the point of those kinds of games, especially if we are aware that people might get hurt, like one time when I was living in Caracas and a guy threw at me a frozen water balloon and it hit me in my back, just were my right kidney is, I got a bruise black as the night and big as the balloon that hit me and had I've been weaker, that could have caused serious damage. I just don't get it, how is that fun? That's why we choose to be at home during those days, it's safer.
I had plans for these days, I wanted to cook several things, a guava marmalade or jam for instance-Guava it's in season and vendors are selling them a little bit overpriced, half a kilo for 1 dollar, which I think it's a bit too much, but two days later at the same place they had lowered the price to 50 cents. I got a bag, and I was planning to do a marmalade but the fruit was rotten on the inside, I still did it, but I got too little, maybe next week I buy more not rotten fruit, and share it in my Food Journal.
The other thing I was going to make was a CousCous, I found it in the supermarket last month but I haven't had the time to take the time to make it right.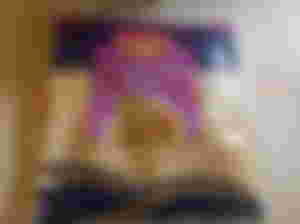 I did my research because I've never cooked it before, all I know is that it cooks similar to bulgur wheat and I've done that, so, easy peasy! Umm, no!
I was doing a Chickpea Couscous Salad, with a Garlic-Oregano Vinaigrette, so yummy!. So very early I cooked my chickpeas until soft, and by eleven o clock in the morning I got ready to hydrate my couscous. I followed the instructions I found on the web, in a bowl of boiling water you pour your couscous and let it sit for 3 minutes.
Since I wasn't making a lot, just half a cup, I used a pyrex and just waited-After three minutes the couscous was still hard and tasted like pasta, PASTA!. It was pasta, not wheat, so I had to put it in a pot and cook it like pasta!. Horrible!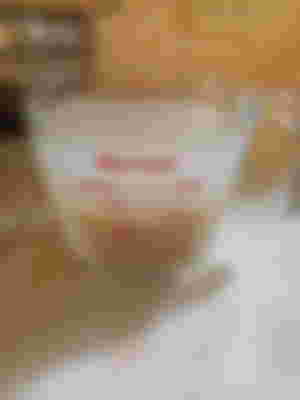 Nevertheless, I moved forward with the plan and still made the salad, only it wasn't chickpea and couscous, it was chickpeas and pasta. It was yummy but it wasn't what I wanted.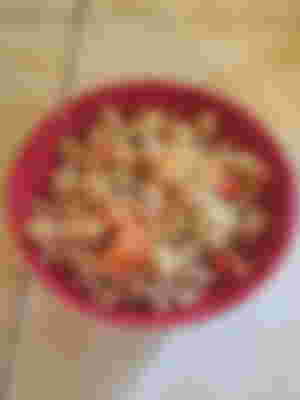 Later Gigi and I had a discussion with mom because her shoulder is bothering her badly again after eight days of improvement. Do you want to know what happened? We left her alone for thirty minutes and she took that time to do the heavy lifting and hurt herself. We had to scold her and she got sad, she said that she does that because she doesn't want to be a burden for us, she doesn't want to feel useless, which we totally understand, so we had to reassure her first, that she is not a burden at all, and second, that she can still do stuff, but just not like she did when she was younger. It's a life adjustment, a tough one, but one we all have to go through at one point in our lives, so, a new process it's beginning for her, and we do not intend to leave her to walk through it alone.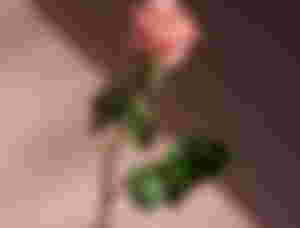 Check out my wonderful sponsors and their awesome content!
---
---
---
---
See you next time.
✨✨Blessings✨✨
February 28th, 2022.