April 21, 2022
Election is meant for people to have freedom to choose. Campaigns are good if you are just promoting and not talking about other. Debate is meant to stand your ground on your beliefs and platforms.
I always note this to myself whenever elections are coming may it be barangay, local, or national that election is for the people to freely vote whom they can think is fit for that position.
I mean I've been voting ever since I turned sixteen when I ran as an SK Councilor in our barangay and to think that I'm just as ignorant as my age was but my father told me that elections are meant for the people to choose freely who they wanted to guide them for such terms. I also take note than during campaign(this is way back my teenage life), that you shall be honest with your background and your plans if ever your elected. No money involve just pure talks and honesty. It's quite tiresome but seeing the results you'll think that people will believe those whom are honest and true to their words.
---
Though it changed as years gone and now politics are more on using money to bribe people to vote for them.
Have you heard about those people crawling and knocking on people's houses and would gave them envelopes with money and a sample ballot? Well, it's very rampant now. I guess I quite remembered that during Noynoy's presidential candidacy that I was offered a bunch of money with a sample ballot in it. I thought that it will not be bad to accept it since it's money were talking about and I'm not the only one who'll benefit from it lol!!! But Papz get in between and said firmly that we will not accept bribery and we will tell the officials that some candidate pone's are going to houses during midnight doing these things just to buy votes.
Mum was afraid that people or some armed people will come after Papz but he's not even a little scared since he was doing the right thing and he also believe that we have the freedom to vote for our candidates and he will not waver on that.
---
So back to the main topic, my co-workers and my Bosses have different bets on their Presidential candidates and even my community also discern for a certain candidates. So every time we get together for a meeting or just a plain talk after inspections, some of my co-workers often argue and defend their candidates saying this and that, but I opted to stay silent and just listen to them even made fun of them bickering as if they're both close relatives with their candidates.
Then they'll come ask me who's my bet to which I simply answer that I'm still observing them, and they'll endorse their candidates to me etc., etc. I just laugh at them but they get nothing from me. Undecided, it's what I always told them. Imagine being around with people doting for three diff candidates(White, Red,Pink) and they keep clashing and arguing.
My community is also doting for the Pink as they said that they prayed and that the Almighty leads them to support the pink for she's an upright person and so on and on and on. But I thought to myself, I thought the church and it's communities opted to support the people in choosing their candidates freely so what's the deal now and they even got the community I'm in to support a specific person.
Lady Boss is a solid Pink supporter and since we are close on/off work I can easily tell her that I am still undecided and I will not tell whom will my vote go. But she still insist on telling me to join the pink which is not that bad as for me to observe her candidate but not to the point on attending rallies.
Earlier when my co-worker whose a supporter of Red was in the office he told me that we will go to team red since a certain Nostradamus predicted that a person who was born in the year of the tiger will win in the year of the tiger. I only respond with "rawrrrr" lol!!
When he went on site, Lady Boss told me that she'll bring me to the rally with the pinks. I don't want to go and I thank the heavens that it abide my side for the messenger didn't come back to the office to fetch me since he has important matters. But that didn't stop her and even video called me to show me the crowd and the stage with the artists that will perform a little later, she is too cute and pure me hehe..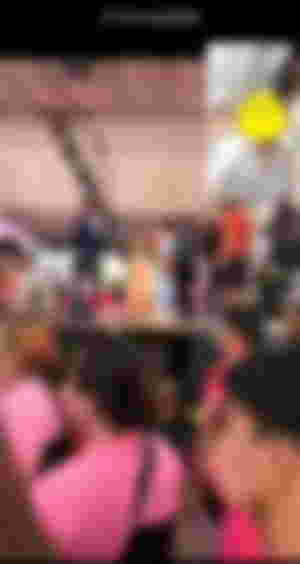 She keeps sending me pictures of the event on how there are a lot of people coming to support the Pink Candidate just to give me hints to vote for the Pink.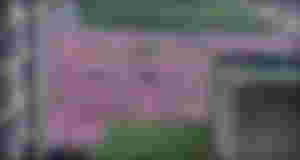 See how the crowd continuously increasing and the event haven't started but this crowd already gathered around. Just what in the world is this? I saw this also on some areas in the country.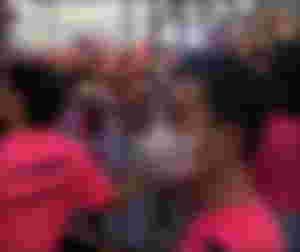 My Boss also said that most of the supporters are members of the LGBTQ community since it was said that the Pink candidate supports same sex marriage and the rights of them to have their say in the society. I am not an anti for I respect the community but only to the extent that I respect them for they are just same as us, human, wanting to be treated fair.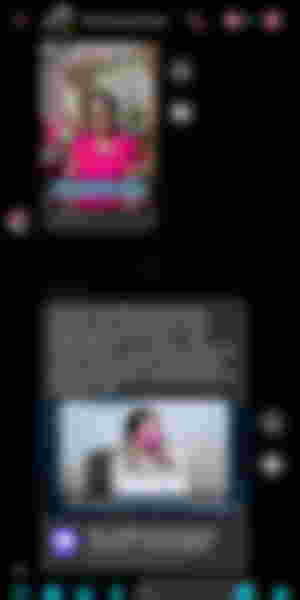 Even the group chat that is solely for the mission department of my community being flooded with these. The sad part is some of the active members who didn't support Pink left the group and they we're mostly the pillar of the organization I belonged to.
---
Do we have to go to such extent just for the others to vote your bet? Even if it creates havoc over other members and friends.
It's the main reason why I kept my silence over this matter.
I do believe that I have the freedom to choose my candidate and I will respect their choice too.
Yes they can encourage me but it will still be my decision that will be followed.
---
Before election day come I'm hoping that you did pray that the candidate is worthy for your vote and that he/she will stand on his/her promise during the campaign.
Thanks for reading!
Be blessed and be a blessing!
@mommykim