7:30 am
Good morning, everyone! It's already rainy season in our place but look at this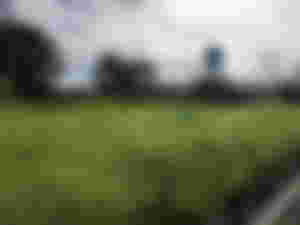 It's so fvcking hot 🥵. Would you believe me if I say it's just 7:30 in the morning when I captured this? The brightness and vibrancy of the place is already giving a noon vibes.
Regardless, it is lifting to know that we can already go outside after 2 weeks of being quarantined. 2 weeks of isolation, anxiousness, and uncertainty.
Last time, I posted on my noise.cash account that my father acquired COVID-19 from his workplace.

Flashback
June 28, 2020
8 pm
My father messaged and informed my mother that he is infected with COVID-19; it was confirmed by the test. We are alarmed by the result and we immediately disinfected our house and isolated the things my father touched and used.
A few days ago, my father's manager was tested positive for COVID-19. Although the manager was exhibiting symptoms of the said disease, she still comes into work exposing other individuals. It was late because, after that day, my father was already showing some indications that he is carrying the virus. At first, he is assuring us that it was nothing but a normal excretion/defecation but my mother and I have a gut feeling that it was something else.
2-3 days have passed and he exhibited another symptom: fever and slight coughing.
At this point, I am very sure that this is something to be scared of. I am talking privately with my mom telling her to persuade papa to have a covid test. My mother is hesitant at first because she knows that papa won't listen. So, to help her, I advise my father that maybe there's something wrong and grabbing some covid test will surely give us some peace of mind.
Later that day, my father said that his co-workers ask the Barangay/ local government unit for some help if they can get some free covid test kits. But they never got a response from them so they just decided to go to the nearest hospital. They paid 2,000 pesos or $40 each, yet their company did not even think to help or provide some financial assistance.
After getting the result, my father advises us to take precautionary measures. That includes wearing a face mask inside our home and distancing ourselves from each other. We also prepared the room where my father will be separated.
End of flashback
Since then, we often feel that we are having symptoms even there's none 😂. Maybe that's the effect of anxiety? Basta nakakabaliw hahaha
Almost whole day, every day, we are required to wear a face mask and sanitize the place we often touch.
Gladly, this platform and noise.cash exist. I can divert my attention to other things and convert my overthinking skills into money 🤑😂.  I also thank everyone for entertaining me with their articles. Kung wala siguro akong nababasa, baka baliw na ako dito. *Insert Sisa's voice* Crispin? Basilio?
Anyways, my papa finished his 14th-day quarantine yesterday, July 13. Today, we can be with him without any health restrictions. Though we still feel anxious around him, we are trying our best to get used to it.
As a celebration, he asks me to order meals from Jollibee. It will serve as our dinner later 🥳.

3:02 pm
It's already 3 pm but the server update of 'My Defi Pet' is not yet finished. I already followed their Twitter account to keep up with the updates and joined on their Telegram GCs to interact with other players.
Yesterday, due to my excessive curiosity triggered by the noisy cash post by Ms. Hanzell 😂, I decided to ask her some questions She gladly answered my inquiries and help me with how to set up my account.
After having a great grasp of the game, I decided to sell some of my Bitcoin Cash to buy some BNB. 1BCH goal no more, 1BCH who u? charot 😂. I still have 0.6+ on my wallet and I believe I will achieve it in no time 😊. No hurries!
I transferred my BNB to my trust wallet and bought DPET tokens thru pancakes swap. After that, I installed the Yandex browser and set up my metamask wallet. You can check this article by Kryptlook for an elaborate guide and explanation.
MyDeFiPet Tutorial: How To Buy DPET And Play It On Android.
You can also watch this YouTube video

5:33 pm
My father just got home from his online selling transaction. He brought us one bucket of chicken, a cake, and other Jollibee meals. We had talked and shared about our experiences during the quarantined days, and I can say that we missed each other 😆. I also tell them that I am planning to stop for a while in studying to focus on other things as I can't imagine myself entering a new journey with unstable mental health. Though my father is not that agree with my decision, I understand that he's just concern with me. At the end of our meal, we just laughed it off and continued our daily journey.
While writing this, I am thankful that we've passed that situation.

If you are reading this, thank you so much for reading the whole article! As a gift, click this link :) Comment down below if you're the one who claimed it! Until next time, wushuuu!
Thank you to my sponsors, upvoters, silent readers, commenters, and critics for keeping me motivated in writing 💯. I am just a speck of dust floating in the wind without you :)
---
You can read my recent articles...