A Post-Coronavirus, Digital-First, Emergent Mass Adoption Strategy for Bitcoin Cash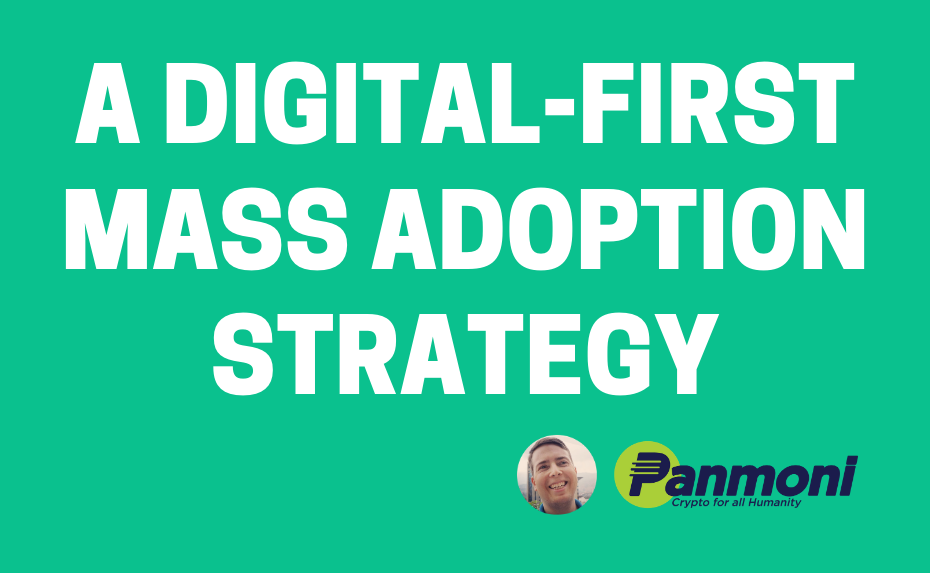 Bitcoin Cash needs more adoption, more transactions, more excitement, more users, more value being transmitted across the network, more investors and more buzz. We need to push forward, through the 15 Nov network upgrade, and we need to focus on building.
I believe the developing world is the best place for Bitcoin Cash to focus its adoption efforts. Everything is cheaper. Financial exclusion is systematic. Fiat currencies are subject to hyperinflation. And these countries tend to receive a lot of remittances (cross-border payments). There are many things we can rapidly prototype and test in the developing world that are prohibitively expensive and an uphill battle in the developed world.
By starting first with tools like read.cash and local.bitcoin.com, we can address the inflows challenge and eventually make merchant adoption self-sustaining. By leveraging tools we already have in production use, we can keep costs low and get results fast. There is no need to wait for the production of new software. And we can strengthen these existing services, validating the choices of their founders to invest into Bitcoin Cash in the first place.
Through my work with participants in the developing world Read.cash ecosystem, I have seen that they are enthusiastic and willing to learn new things. I have gotten very good reactions from them. I believe the Read.cash user ecosystem is a great place from whcih to launch further adoption.
We can start to address the Panmoni business plan's strategy of capturing inflows as a foundation to mass adoption on a shoestring budget with the below system, MVP-style (minimum viable product).
This strategy will also be of benefit to the entire Bitcoin Cash ecosystem in the lead up to the 15 Nov network upgrade. If there is a fork, the public relations content generated by this strategy could play a role in keeping holders from selling their Bitcoin Cash BCH, or maybe even incentivize them to dump any forked coins for more BCH.
I am considering seeking community funding of perhaps 90 to 100 BCH for a 3-month trial of this strategy and welcome your feedback.
Emergent: Things are taught, opportunities are offered and those who take up those opportunities are the owners of their results and gain a market advantage.

Networked: Actors are encouraged to connect across cities and regions, learn from each other, collaborate by mutual agreement and otherwise benefit from being part of a network, without becoming employees.

Decentralized: There is no CEO and no top-down hierarchy, only mentors, cheerleaders, educators, service providers, etc.

Minimalist: We use the resources we have now and don't depend or wait on big development projects that have yet to happen. No expensive marketing campaigns. Keep it simple.

Utility-Centric: No flash, no girls on helicopter rides, no moon or lambos — just the demonstrated utility of Bitcoin Cash solving real problems for real people in the real world right now.

Open-Source: Everything produced is freely reusable, remixable and copiable. MIT license recommended. 

Education-First: We invest in the humans we hope will build out Bitcoin Cash. We bring them up to speed on Bitcoin Cash and explain step-by-step everything they need to know to become expert users, to profit and to replicate the experience. We mentor and support them along their journey.

Metric-Focused: A digital strategy permits us to measure the effectiveness of different components of the strategy, as well as the overall strategy. Strategies without metrics are hype and wishful thinking.
To start, it is best to keep the workflow simple. Over time, we can develop content, campaigns and support around additional stages to get more use. Stages are ordered by priority. First we attack the low-hanging fruit. Then we attract builders to do more difficult tasks over time.
Read.cash: Onboard users to read.cash and help them earn some BCH.

P2P Liquidity: Onboard read.cash content creators to local.bitcoin.com and help them to create a P2P liquidity business serving their local area, national community and/or region.

Purse.io: Encourage read.cash and local.bitcoin.com earners to spend BCH profits at purse.io on products from Amazon.

Local Outreach: Guide the new BCH P2P liquidity business owners to create content that reaches out to bring new people who are currently unaware of BCH from their respective local areas into this funnel.

Remittances: Guide the business owners to market their liquidity services to new customers who send and receive remittances.

SLP Tokens: Work with business owners and content creators to create their own SLP tokens and to distribute them in any number of ways, including as a reward for customer loyalty.

BCH Aid: Work with business owners and content creators to onboard new non-profits in their respective local areas to BCH Aid. When these non-profits receive donations, it will stimulate organic demand for BCH merchants and for more P2P liquidity.

Merchants & Meetups: Work with participants to onboard local merchants to BCH and to hold meetups.
If you have a BCH business that you would like integrated into these stages, reach out and let's talk.
Each stage would probably take the form of a social media and content marketing campaign and could have the following components.
Attractive Content: Social media content that is easy to digest such as graphics and energetic sub-90-second videos. This would be the top of the funnel, or the hook, that brings in new people every day by promising them something they want and that we can legitimately deliver.

Landing Page & Permissioned Opt-In: A landing page linked to from the social media posts that provides valuable content, such as an e-book or video tutorial, in return for the user's verified email address.

Email Sequences: One or more sequences of 3-5 emails that include video tutorials and other educational material are sent to those who opted-in so they can level up their knowledge and prepare to execute on the goals of the stage.

Mentoring Forum: Participants are given access to a forum, discord or other tool that permits many-to-many conversations. This enables participants to help each other.

Events/Contests: Regular livestreams, online events, competitions, contests and more where those who produced the most results from the stage are awarded prizes and receive great encouragement from the community. Participants who have questions or need help can also participate and get what they need.

Public Relations: We can harvest all of this activity to produce photographs and videos that we can repackage as PR for Bitcoin Cash in order to gain more and better news coverage, investors, public reputation, alliances, to grow holder confidence and much more.
Each stage is a loop that takes a group of people through an experience that benefits them and Bitcoin Cash. Each loop feeds qualified builders into the next stage, over and over again indefinitely. The end result is many more BCH businesses, community leaders, merchants, PR, transactions and buzz for Bitcoin Cash.
read.cash

local.bitcoin.com

purse.io

SLP tokens
Additional tools that might come in handy include the following.
A marketplace where participants in the program can sell their skills to each other each other, such as translations, graphic design, copywriting and more. This would enable participants to form teams (firms) in order to serve their customers more effectively, if they so desire.
We can leverage a low-cost strategy right now that builds on existing Bitcoin Cash businesses to produce new ones, to increase chain transactions, to build buzz for BCH and to proactively build market value for BCH in preparation for the outcome of the 15 Nov network upgrade.
I am developing these ideas into an MVP proposal with 3 months of funding for a flipstarter or token sale. I could start work on this as early as 15 September if there is demand.
Please contribute your feedback, ideas and expressions of support so I can move forward with this strategy. 
Thanks for your consideration.
George Donnelly
Bitcoin Cash Business Development, Marketing & Adoption
WeChat: georgedonnelly
+573218423668 (cell, Signal, Whatsapp)
Sponsors of georgedonnelly