Extended Family? It's a No, No!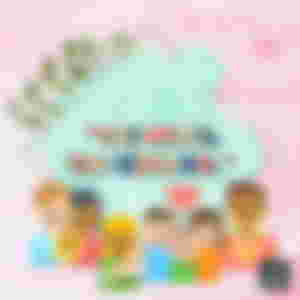 An old saying that is somehow true, but not certainly applicable to every situation. Outing or taking time off with friends, and doing school activities with complete attendance, are sure merrier. However, there's this certain situation that I hate, being raised and born in a typical Filipino family, though, not all, the elders always say that, it's better to be together under the same roof, because, they believe, that "the more, the merrier."
Sure, the more, the merrier, when it comes to family reunions or gatherings, I always agree with that, but living under the same roof or house, or simply called an extended family, that's a big "No" for me.
Why?
I was raised and grew up in the care of my father, but I am familiar with what extended family is. A family that lives in one house including other members that are out from the nuclear family or parents with their dependent children, such as uncles, nephews, grandparents, etc.
As you could visualize, living with a huge family is indeed fun, of course, you don't have to wait for Christmas, or New Year just to see your other relatives again. You don't need to contact them or send them messages to know how are they. But is it fun and happier if we all live together in the same house, under the same roof?
Maybe some of you might agree that it's better to live that way, but for me, it's not, and I don't recommend it.
As I already shared here in some of my blogs before we became an "extended family" last 2019. Yet, I thanked God, we survived it and now enjoying the peace that we yearned for so long. And on this blog today, let me share with you the experiences that made me hate being in an extended family.
We all need privacy, and so living in a joint family would affect this phase in your life so much. During those times when I got some important stuff to do, somebody or there will always be someone ruining my privacy by peeking or bothering me. Sometimes my sister would break into our room and open my closets which I don't like.
And if you have your own family and facing some personal issues with your partner, you can't discuss them peacefully and rightfully because there will always be someone who will engage or meddle between you two, which is a big no. All of those instances could lead to conflicts and misunderstandings that could worsen some relationships.
If you can think of it if you all live together and all members are working or have jobs the bills and the budgets are bigger so the family won't get in trouble with money and budgeting. However, that's not the case all the time, because mostly, here in the Philippines, especially in the province, some are still living all together despite some members being jobless. And the mere reason why they are doing this setup is to help those who are helpless and have the least.
But is it really helpful? It's a good deed and intention but, is it helpful? Or they are just making some situations get worst. Because not all people have the same mindset, some might take this opportunity to make their life easier, since their family can't resist just looking and seeing that their relative is going through a hardship.
Aside from this, the equality of sharing the financial burdens in the family could lead to conflicts too because the more the members are, the higher the budget needed for living.
Me, as a mother, I wanted to look after my kids in my parenting way. I wanted to teach them the things I wanted to instill in them, but that's not possible and done easily. Since I was with my mother during those years, what I wanted to teach my kids and how I discipline them was not accepted and done because my mom kept on meddling with me and my kids.
Even my husband experienced the same, and it resulted in a misunderstanding between him and his mother-in-law, who's my mother. I am just glad, they reconciled and now remain on good terms until presently.
In short, if you have your 'own' family, you have to expect that some of the elders in the family would dominate you in being parents.
More members, means more hands to do the chores, right? It would be a happy and peaceful home if all of the members are just sharing equally the responsibilities inside the house. Since it's too crowded, expect mess now and then, especially if there are kids in the family. However, not all members are blessed with industriousness or diligence especially in doing even just the simple chores or cleaning up some mess.
Because some are just lazy and when they saw someone doing the work, they would simply grab the opportunity to slack off even more.
I don't know if you would agree with this, but sometimes, you'll see the true color of your relative if you are living under the same roof. And it's a bit sad, yet, it's the reality, in my case, that the one who is earning bigger and putting more money in the house is the privileged one among the others. This was the sad reality I saw when my mother always gave my eldest brother special treatment.
She always makes sure that my brother would get more than we could get. However, I just didn't mind it, all I could tell myself was to just focus on my family. And of course, I was at first jealous, because we were raised by our father for long years, and when we were finally together with my mother, I didn't feel the motherly love that I expected to get. Well, enough drama to this one, I hate dramas now.
And the last on my list is…
Being in an extended family for 3 years gave me so much stress. I seldom had peace of mind during those days, sometimes we were united as one, yet most of the time, I could see that we were not being a family anymore. The burdens became deeper, some circumstances made my life miserable.
Maybe in some cases living in a joint family, they didn't experience this stress I had experienced, good for them. But in my case, I would never go back to such a situation that gave me and my little family a hard time.
We are now enjoying a peaceful life with joy and excitement to see our other relatives on special occasions. I love it even more because we could meet them occasionally, we are now having the chance to miss each other, lol!
Kidding aside, it is truly better, or shall I say, best to live in your 'own' home, with relatives just visiting, sending messages, and checking if they are fine. That's a better way to far than living altogether but full of stress and enduring hardships as well.
Now I could tell myself, that not all cheerful and smiling family pictures are truly happy deep inside, some pains and problems are just hidden by a smile so society won't judge.
That's all for today, I hope you had a great time while reading my rants, I mean, my experiences and thoughts about why I don't like this kind of family setup.
Have a nice day and God bless you all.
Written by: @eommaZel ✍🏻🥀
---