I am missing a lot
With the whole pandemic that has been happening in the whole world for almost 2 years now, there are a lot of people, activities and things that we really miss.

I for one have said before that I miss going to the mall. I am 50% outgoing and 50% home buddy. I miss the mall. I miss watching movie at a movie house with my mom. I also miss trying new foods in different restaurants. Speaking of thr mall, my godson also misses the mall that when he got the chance to go to 1 mall last December, he rode the elevator right away. We just saw my sister-in-law posted a video of him on Facebook going up and down the elevator with his nanny. We haven't ask her yet how long they stayed in the elevator because my godson was always mesmerized by how it goes up and down. I know that a lot of kids were also happy when they were able to go to the mall last month although now we are back to alert level 3 so it is a little stricter compared to last year.

What I also miss about the mall is shopping or should I say window shopping. LOL. We can add people watching to the activities that I miss. I know I should mind my own business but sometimes I enjoy watching them especially if I am alone.

With people, the first on my list that I miss are my friends. It would be 24 months that we have not seen each other as a group. I have met 2 of my high school friends last 2020 and 1 last year. It was just a quick meet up. 2 of them visited me here in our house and the other one was a quick lunch at my brother's place. I think I have mentioned before that my high school friend is my sister-in-law's sister so we were able to see each other during my sister-in-law's birthday. What do you think will happen if we would all see each other? In that span of 2 years, there are 2 addition to our group as 2 of my friends have gave birth last 2020 and 2021. Although 2 of them have also broken up with their boyfriend and girlfriend. I am not sure if they are in a relationship now but it would be nice if all of us will be in a relationship if we are to meet again and that includes me. LOL. Although how are we to get a boyfriend or girlfriend if we are stuck in our homes right?

Next people on my list are my relatives both on mother and father's side. Because of this pandemic, I haven't seen them for a long time now. We usually bond once or twice a year but I am ok if we don't as of this moment and I totally understand that it is for everyone's safety. I am still happy that even if I haven't seen my relatives, I got to let them feel my presence during special ocassions by surprising them with a cake delivered to their doorsteps. In the right time I know that we will all see our friends and relatives. Who knows maybe we can all see each other as well right? I cannot wait for that to happen.

Aside from the mall, I also miss going to the church. I know that no one is forbidding me to go to the church but because I think about the health and safety of myself and the people in our house, I opted to watch the daily mass via live streaming. I did dropped by the church twice last year when there was no scheduled mass and I got teary eyed when I was looking at the cross while praying. A few days ago just before the higher church announced that they are to close the it to the people because of the increase in positive cases, our parish priest was tested positive for Corona virus and because of that, they had decided to not hold any masses even via live streaming. I pray that our parish priest will recover from this virus even if he is undergoing dialysis. Even if there is no mass being streamed online from our parish, my mom and I still watch online evening masses. Their morning mass is being streamed at 6AM and it is a struggle to get up in bed because of the cold cuddle weather these days. I hope that the time will come that we can all gather in the church and hear God's word.

Lastly, the one that I miss is our dear friend Rusty. I am guessing that you do know who Rusty is. I know that I am not the only one who have noticed it because some of the users who have been here last year know how Rusty would visit our articles and would upvote our articles from 3 days ago up to the present. Our notifications will be filled by Rusty sometimes up to the third or fourth page that we would often miss other people's newly published article or their comments and replies. Recently, I just read @Ellehcim's Even Rusty rarely comes, keep writing article. It was published a few months ago and it is a good article especially for users who feel disheartened and demotivated with their journey here.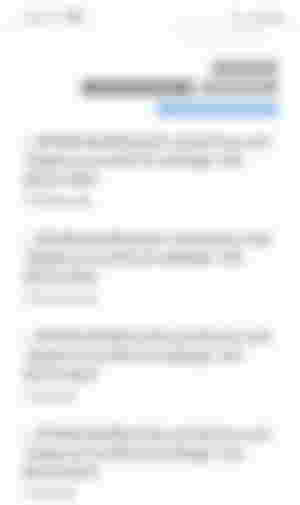 I remember before whenever I would publish at night, I would have a fabulous morning because he visited me while I was asleep. It rarely happens to me now but don't get me wrong as I am still thankful that he visits me and I will forever be grateful to him, the people behind this awesome platform and everyone who continues to read, like, upvote, comments on my article and sponsors me. I would not be where I am today if not for all of you.
Why am I like saying a speech for an awards night? LOL. But seriously, from the bottom of my fatty heart, thank you.

We cannot control whenever we miss someone or something. Sometimes out of the blue you will just feel it and because of that, it can partly affect your mood for a day, week or a month. There are many ways to cope up when you miss a person, animal, food, place, thing or activity. Whatever it is, I hope that you would let it out and then go back to reality as that is how life is suppose to be right? Do know that in time we can see that person that we are missing, go to the places that you have wanted to go, eat that food you have been craving for or do that activity that you have been doing before in the right time.
January 08, 2022
P.S. lead image is the photo of our church when I went there last month.