don't stop writing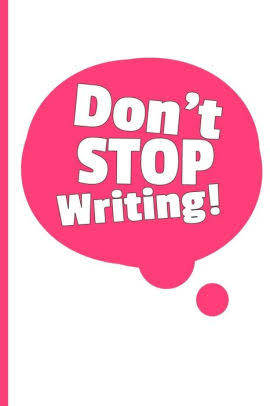 I see a lot of people complaining about how the point system works. I don't blame you because I was also like you.
I complained about it because I was barely earning points for my articles. I stopped writing for a few hours and asked myself if I should continue to use this platform or just go back to my blog. I thought about it for a few hours.
Then, it came up to me.
I asked myself, why am I really here? I could've just written and published my articles in my blog, but why am I here?
Yes, I wanted to earn money as much as you do. But I stayed because there's more to this platform than just earning and I found a lot of reasons to stay.
So, I looked at it in a different perspective. I stopped blaming the system for it and I tried a different approach. If the first approach doesn't work, then try a different one until you make it work. I realized that the problem is not the system. The problem was with me on how I wrote my articles. I was too focused on earning money that I wasn't passionate enough on writing my articles.
So, I wrote a few articles to my heart's content. I would read it a few times and try to see it in a different view. I would ask myself, if I am the reader, would I like this article? Would this article be interesting? Would it be worth my time?
It changed my views in writing and made me improve as an author.
Two days ago, I used to earn 100 points a day but now I earn almost 400 points daily which is a blessing.
My point is don't stop writing. Stop blaming the system. Try to write an article if it's not giving you the points you wanted, then write another one. Work hard for it. Learn to reflect on the things you did. Be honest with yourself.
Convince yourself, "If they were able to achieve it, then so am I".
Believe in yourself and write these articles with so much passion that you can bet your life on it. It is the attitude on how you face the situation that will help you improve.
If you are already reading this but it is still not helping you or not convincing you. You can practice freewriting by @wakeupkitty where you are given 10 minutes to write about one topic.
Write anything that you can think of in 10 minutes. No pressure! Don't even think about the first thing you wrote and just keep on writing until the timer stops. Once it stops, read everything. It is a mess but you can revise it to a better version. At least, you already have the ideas in front of you.
Make it clear and concise as possible. Be direct with your intentions. Use simple words that would make the readers relate and understand. Remove unnecessary and unimportant sentences. Good grammar is not a requirement but it is an advantage because it lets you relay the message you want to say.
That is how you start as a writer.
Practice, practice until you get it right.