A trial might convince you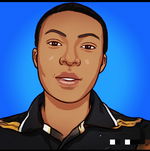 The issue and the headache about writing an article every day is that you have to come up with a topic to write about within 24 hours.
Since this site isn't official in the sense that you can write about virtually any topic of interest that pleases you. But the thing is that you wouldn't want to write about the same topic or in the same way or the same line of thought everyday. Doing so would make your writeup boring to your readers.
Therefore you have to constantly be on a look out and be observant for something exciting and informative to write about without plagiarizing.
The challenge here to me isn't writing an article itself; but looking for a topic to write about. That is the challenge and it is tough for people like me who spend most of my time indoor.
Why?
I have come to notice that writing about your experience is always the fastest way to write an article.
I remember the day I went to repair my phone at the Carlcare centre, and I decided to write an article about it. Within an hour I have written more than 600 words and it was almost reaching 800 words.
I definitely feel it is easier writing about what you did or experience. For example, let imagine you took a trip to Paris and you have to write an article about your trip. Such a write up I believe won't be difficult because you only need to recount how your journey went.
But writing a topic entirely from your mind is more difficult although not for some people. Some people are so imaginative that they can create a fictional scene or discuss a topic that comes out of the blue.
One thing that is certain about writing whether it is official or unofficial write-ups is that they improve with practice.
Initially when I started typing I wrote: "Today is the first Sunday of the month". I didn't have a clue of what I wanted to write and I just decided to let my mind and hands do their job.
I call it "freestyle writing", I think I got that idea from rappers who are challenged to rap to a particular beat that they haven't heard before or they are being given some certain words to rap about without knowing them beforehand.
It is difficult to rap like that because like all musicians most rappers write their raps before releasing their songs. So not all rappers can freestyle because it takes a lot of mental task and ability to form meaningful rhymes with words within less than 10 seconds.
But sometimes the best things that we do are the things we don't prepare for. I have seen clips of people jokingly trying to attempt something very hard and they achieve it. It is always a surprising moment.
There are some great songs that we listen to today that were gotten from freestyling and not that the artist was trying to do anything serious.
Just in football also; some of the best goals scored are also scored by players who decided to try their luck by kicking the ball.
I remember during 2018 FIFA World Cup, there was a spectacular goal that was scored by French player named "Pavard".
He was a defender, the ball was in the air and it was coming toward him and he decided to hit back the ball toward the opposition goalpost with a long stretched kick and it result into a wonderful goal. If he hadn't kick the ball he wouldn't score.
Sometimes in life we just need to try different things and just freestyle them. If you didn't give read cash a trial I bet you wouldn't be reading my article today. Sometimes the best things are found by giving them a trial.
Like they usually say in commercial advert; "a trial will convince you". But I feel the reality of that sentence is that; "a trial might convince you", because in the end you might not be convinced after the trial.
Remember this article was also a trail. And I wrote it within 30 minutes.