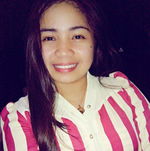 October 26, 2021
Hello, Good Day everyone. How's your day? How's your life? Your lovelife? Your family? Is everything doing well? Then, I pray that all of those I mentioned are fine and happy. 😊 Always remember that you are loved by our perfect God.☝
---
This time, I am interested in writing my own version of being a mother as I read the version of @Yzza0625 and @Janz .They shared their experiences from their pregnancy journey to their latest update of their child. It looks so amazing and wonderful to know that they are happy with what they are right now. Thanks to God. Thank you for this friendship.😀
Thank you my beautiful sponsors.💕
---
This photo makes me believe even greater in God upon seeing my tummy gradually bigger every month. It is really an amazing experience that God made this tummy round and bigger with a little angel inside that makes us thankful. 

I was 7 months pregnant this time. I kinda love to capture my tummy every month to witness how it has become different from the past few months. I was desperate to take a photo that also makes me feel happy seeing my tummy knowing the fact that my little one is there inside fighting. 

This collage that I made, made me fall in tears. I cannot thank God enough for letting me experience this kind of journey. For giving me such a wonderful baby inside unexpectedly. I was beyond blessed when I knew that I was already 8weeks pregnant in the midst of the pandemic. It didn't affect me because I know that God will never leave nor forsake me. I know that He will supply and provide everything we need for the coming of our baby. I know that this baby inside my tummy is a great blessing and I know for sure that God will keep it safe and protected. 

This journey of mine makes me stronger and braver to face any challenges because I know that being pregnant is not an easy ride, we have to be extra careful so that the baby is well fine and safe at the same time. In fact, I enjoyed this moment. I am happy and less stressed because my husband and my family are always there to guide me. Always there to keep me well. Thanks to God Almighty.☝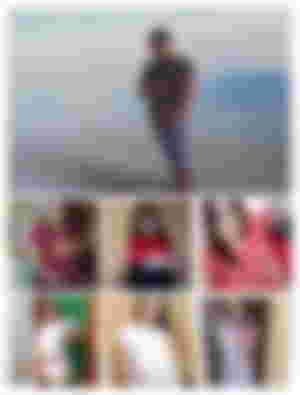 01- 05-2021 at 12:04 AM, Tuesday, when my baby came out. It was my toughest experience in my whole life so far. It wasn't easy. The excruciating pain I felt was unexplainable. The fear was there also because my OB said at that time that I am a candidate for cesarean section due to acute chuchcuchuc. I forgot what it was called. What I knew was that my baby couldn't take her entrance because of this acute chcuchcuchcu. But before I headed to the operating room, I was in the labor room at that time. Suffering from the pain due to induced labor. I was almost crying. Shouting because of the pain. I was very noisy inside the room. Lol.  Good thing I was there alone. I was the only one who gave birth during that time. When it was 9cm already, they brought me inside the delivery room. A room where I need to push harder so that the baby will come out. I took several pushes. I really did my part and my best but it turned out useless.😢 My OB decided to bring me to the operating room to start the operation because all my efforts were not valid. Were not enough. Even though I didn't like it, I had no choice but to accept it. 😥I don't like for the reason that the bill will be costly or expensive. And I know inside me that we did not have enough money to pay for it, especially since I was in a private hospital. But how God is really good is because He provides everything. He makes a way. He makes all things possible. 🙏

This adorable little face smiling with a cute dimple makes me who I am today. My life changer to be called. My everything, my happy pill, and my stress reliever. From an easy-go-lucky lady to a busy, responsible and loving mom. Such a fulfilling experience. It really paid off. Thanks to God Almighty. ☝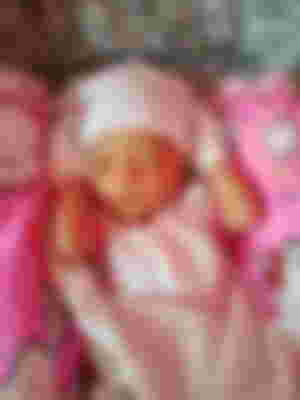 Look at her now, she's growing up too fast. This photo was taken during the first birthday of her cousin last October 11. I just love how she behaves here. Her cute headband makes her adorable too. Such a lovely face. I just can't explain my happiness seeing her grow each day. The physical changes I witnessed that her height and weight developed. Her brain as well is now adapting new skills, new knowledge wherein she can now imitate actions and sounds from you. Also, she can now understand she is being scolded. She really changes a lot yet improves as well. 
And now, I can't just imagine that my little one will turn 1year old a few months from now. 3months to be exact. She is 9month old now. I can't just believe that she is no longer my tiny tot little girl where I used to hold her in my arms watching her breathing while sleeping. Now she is very active. She doesn't want to behave. She  wants to keep on walking even if she is just practicing. Hays. Time flies really fast. I love my daughter so much. 💕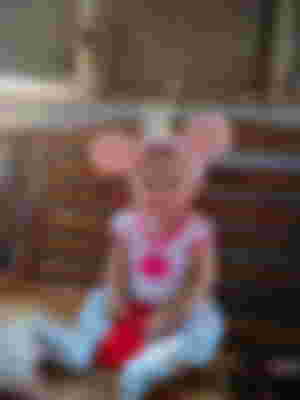 ---
Motherhood is the greatest thing and the hardest thing. – Ricki Lake.