Date: October 27,2021
Author: Sequoia
A rainy and cozy evening my ever generous and dynamic read.cash family. I miss you all guys. Thank you for your continuous support despite of my lapses in this amazing platform. I am happy to announce that after few days of idleness, your tree is finally back! A whole lot motivated than before. I've experience several downfalls but I chose to fight back and never give up.
________________________
I already reached my reading quota for today and it's already time for me to write my article. Hooraay! Well, thanks to the movie entitled The Lorax that I have watched this morning. If you wish to watch it, it is available in netflix. Anyways, as what I have said, because of that animated movie, I finally got an idea about what topic I should create for you guys to read. I wanted to write a movie review but I ain't that good in writing reviews. As a result, I have decided to just share some of the movie lines that really gave an impact to my being.
So, let's stop beating around the bush and go directly to the main subject of this piece. Please allow your lil tree to lead the way.
________________________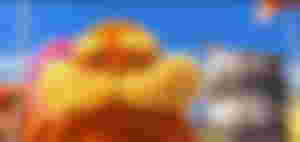 The movie emphasizes the importance of taking care of the nature especially the trees. It depicts the possible life that we might experience in the future. A future where people needs to buy a fresh air. A timeline where natural trees and plants are not existing any longer. And that is mainly because of our greediness of money and carelessness. Watching it makes my heart beat slowy because of guiltiness. We have been abusing the nature and several living organisms are suffering because of our selfishness. Let us do somethinh before it's too late. Starting doesn't need to be so big. We just need to take some initiative.
I am the Lorax. I speak for the trees. I speak for the trees for the trees have no tongues.
Indeed, trees have no tounges and they can't speak for themselves. That is why, God created mankind to care for His creation. Unfortunately, we are doing the opposite things. We keep on destroying the nature that haven't done anything but to give us the things that we need and want. All of us are Lorax. We should be the nature's voice and not the destroyer. When will we ever stop this cruelty? Until we chop down the last one tree in the whole world? Let us always bear in mind that the destruction of environment is the doomsday of humanity.
 Unless someone like you cares a whole awful lot, Nothing is going to get better. It's not.
The world will continue to get worst day by day unless someone will do something about it. And that someone can be you, your neighbor, friends or all of us. Each one of us can make a difference. We all have parts to play. We just need to do it rightly. Change will never happen unless we start within ourselves.
It's not about what it is, it's about what it can become.
Just like the one last Truffulla seed, we can never judge something immediately just because of it's current size. We never know what the future holds and a lot of things can happen over the time. The seed may be small but it is destined to grow and become a very big and aesthetic tree. Tree that can give life and hope. Peace and assurance to the people around it.
________________________
I actually watched this movie back then when I was younger. Nevertheless, I wasn't able to understand its points because I was too naive and innocent during those times. That is why, I am so grateful that I have encountered this movie again. So many lessons and realizations it have brought to me.
Lead image source: https://i.gifer.com/J6hP.gif