Half Day "Gala" and the Bad News
We had a tiring day today, it is actually my Mama and Mommy F's birthday today, March 19. Due to pain in her knee, Mommy F wasn't able to come with us in Bongabong which is the next town after Bansud where we live. Today is also Fiesta in Bongabong. I didn't ask about the Fiesta in Bongabong, all I know is just I want to go there and visit the Palanyag or Tiangge-an where we can "waldas" some money, ahahaha.
It is just me and Mama today and seriously walking in the middle of the road in a super hot weather is really tiring and every sweat in every corner of the body will be squeezed hard, lol. Good thing I am not of a sweaty person. But that doesn't mean I don't feel the heat at all. It's really hot that I even thought of buying an egg and cook it sunny side up, lol. I didn't wear a jacket this morning which I regret when we get there.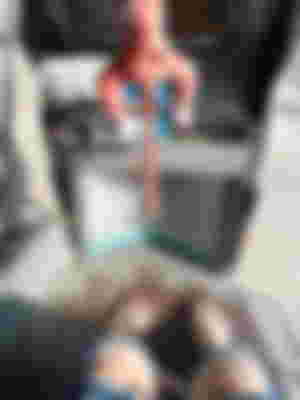 We couldn't find a forland or Bahaghari which is like an upgraded version of a Multicab so we just went there using a tricycle.it's kinda pricey traveling with this but were able to ask the driver to give us a discount. Actually we know him naman that's why he accepted our offer. 40 each and that give him 80php for the two of us. That's around $1.46 in USD.
And I am actually happy with this little escapade of us because I find a lot of good t-shirt for pambahay. Imagine 3 shirt for only 100php or $1.83, it is seriously a good find here in Bongabong. I am also regretting that I didn't buy a lot. I shouldn't bought a lot of kakanin ee huhu. But that's okay, I enjoyed naman the Empanada I bought, hihi.
Anyways, enough with that tiring day, I just heard a news today. Staring tomorrow or March 20 we will have a power interruption that'll last for 4 days! Imagine 4 days, tsk. I am not sure the reason why, all I know is that I am so annoyed with the news.
I look it up on their facebook page but I cant find any more information that will further explain about it. I just want to know if that is actually everyday, I mean is it a total blackout all day and all night? Shoot, that's kind of sheesh!
It's not like anyone can afford a generator for the electricity, kawawa naman yong may mga business na need ng kuryente, tsk tsk.
---
March 19, 2023
--