Have you been to church lately?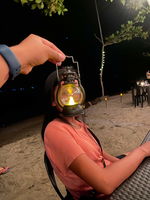 March 20, 2022
What do you do on a Sunday? Is your schedule already fixed? Go to church, have lunch with the entire family members, take an afternoon nap and later share an afternoon tea? Are you spontaneous? Do you just want to go with the flow and see what the day will bring?
Seven days in a week. At all times, we complain that the days pass by so fast that we need two more days to process the weekend and program ourselves to get ready for a brand new week. Monday may be the less- loved day of the week. It signals another cycle of spending time at work and being with bunch of people you work with that sometimes you love and oftentimes you hate.
Let's go back to Sunday. Charlie grow up in a democratic family. His mom and dad together with his siblings would always go to church on Sundays. Two to three hours sitting on the pew listening to the priest's sermon is part of their sunday routine. Charlie, on the other hand is given the freedom to do his thing. He never goes to church for the reason that he thinks that all church-goers are hypocrites. He added that going to church very often would only useless if people will only keep on nurturing the attitude that is not good. He says that he might be closer to God as he speaks to Him everyday than the people who only seek Him on Sundays. For him, their efforts of going to church would be in vain if their character won't change for the better.
Listening to his reasons, I find myself nodding. This human being has a point but he missed learning that going to church is not for us to be changed or be cleansed. Going to church is our means of glorifying the Lord and letting Him know that we surrender to His sovereign power. For me, it isn't about letting all your neighbors know that you are one, religious person. Going to church is not for me, it is not for my own glory. It is for me to glorify Him. Now, I feel like preaching and I'm not qualified to do that. I just want to stress my point that if we are sidetracked of the churchgoers' character and attitudes, we won't be able to glorify Him fully. The faith and focus must be set on Him alone. You, go to church because you want to worship him there with people who has same purpose as you.
Have you been to church lately?
I missed church today and this article is partly for my own consumption. A faith and principle-check article for me.
Thanks for reading friends! Until the next read!
*Lead Image is from Unsplash.com