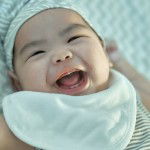 Here's another travel blog article for my Batad-Sagada travel series. You may check the first few blogs here:
---
In Sagada, there are several cafes to try out. They all deserve attention and if you are a foodie, it is best to indeed visit them one by one. But as for us, since we only have two days in the area, we looked for those which we believe could give us the true Sagada feels.
I did mention that Sagada's tourism boomed when it was featured in the movie "That Thing Called Tadhana", if you are a Filipino, I am quite certain you know what had commenced in that movie. One of the scenes in that movie was in a rustic-themed cafe, they were having a cup of local coffee together. I asked James if we could come there and he nodded!
Related blog: Getting Lost Finding Lake Danum
If you read the previous travel blog, you'd know that we were soaked in rain finding this Lake Danum. We stayed there for some time and then decided to go back to the main town for dinner.
So after getting soaked by the rain, eating cold Yoghurt in Lake Danum, and getting soaked again with a matching muddy motorcycle, we went ahead to GAIA Cafe to just check it but actually, I already have plans of buying my second blank book journal from Alunsina since they are also selling those.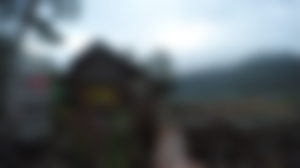 With the help of Google Maps, we finally made it to GAIA Cafe, it was in a secluded area though where the roads were not yet cemented and so much more mud on our way! It was really cold and James was in dire need of any hot drinks. There were a few people inside upon arriving so it was just perfect timing!
It was a small cafe, really small with just a few tables available. They do have a good view of some mini rice terraces outside. We opted to sit at the corner where we can get a 180-degree view of the cafe. I like rustic-themed cafes like this. They look vintage but there are artworks too displayed in their counter room. They sell books, camera straps, native items, bags, and a lot more. I was already eyeing the Alunsina Journal Books but couldn't find it at that time.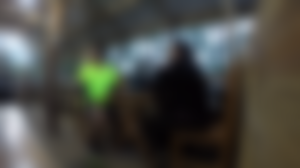 We first ordered our cupcakes and tea, mine was a Citronella Tea and James had his Turmeric tea. Chocolate and banana muffins were ordered too. We planned on having dinner but then, we realized we were not yet in the mood for that when we looked at the menu.
I started the time-lapse and we watched the fog slowly drifting towards the mountain. That was the mountain we went to for Lake Danum, it was already foggy actually when we were on our way back to the main town, which made our ride way colder. And we laugh at ourselves for that experience, still, it was one that we could keep in our travel books. The story behind it was something that we can relay to our children for sure.
As the time passed by, more and more people started coming, I had to stop the time-lapse video and started eating our very late snack. The muffin was not good! I was totally disappointed, we have to ask for a container to take it out. The turmeric tea satisfied James and I was glad he was not feeling cold anymore. I didn't like the Citronella Tea either and I was just thinking this cafe was just a hype and what made it famous was just the movie! Or maybe I was just in a bad mood that time as I was not anymore liking the place.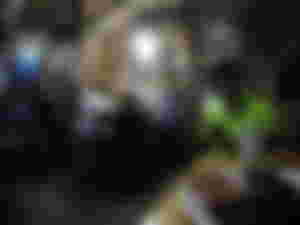 There was only one crew working on asking for the orders, delivering the orders to each table, and accommodating the guests. She was also the cashier! She was undermanned! The cafe was not yet ready to accept more people seriously. There were more coming and we thought we should go now so the others who were standing can get their order and sit.
However, before leaving as we were at the cashier counter, I finally found what I was looking for! The Alunsina Journal! It costs more here but since we found it, I decided to buy one. I bought my first Alunsina Journal online for 800 PHP, it costs Php 1500 in GAIA Cafe but I didn't mind it. I still bought it though.
I was not totally sad leaving the cafe now, I was happy with my Alunsina Journal!
---
This blog was originally published on this site, all contents and images are owned by yours truly. I made some revisions to this blog and added few more details.
Check out other related travel topics:
---
xoxo,
mommy jean of momentswithmatti
Love harder than any pain you've ever felt.
Sponsors of Momentswithmatti