Picnic at Some Random Places, Just the Three of Us!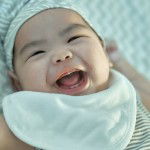 One weekend, my husband and I thought of going out somewhere random just to chill and enjoy time with just the three of us. Living under the same roof where my parents are and some of my siblings, it is just hard to find the right timing when to go out of the house with just the three of us alone, I always get this guilt feeling that I need to bring them with us.
Thankfully, after our Saturday church activities, my husband and I went out to some random places and just have a simple picnic. It's not even an actual picnic with blankets on and such, it's just us eating on random plain grounds. Let me share with you how we ended up here.
After the church practice, my husband and I drove some of our young people to the market where they usually would be riding a bus going home. After dropping them off, my husband suggested we get some snacks. I was up for the craving, I was also asking if we could get a cup of milk tea and he nodded!
While I was waiting for my milk tea, I also bought some chips and biscuits. Then, the husband suggested we should just go around the town and check for a place where we could eat our snacks. I have nothing to do so I was fine with the idea. I miss having road trips with my husband, it's always nice driving because we get to talk about anything and everything under the sun.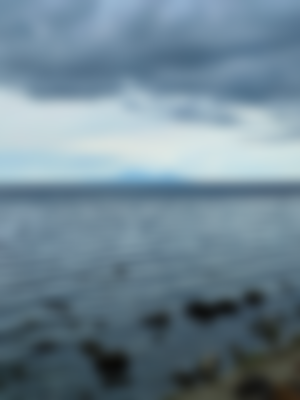 Then we passed by this area along the shore and stopped to marvel on the island visible from here. That's Camiguin, sometimes, we don't get to see that but today, it shows a dark face, like a shadow! It could have been our picnic spot but then there were cars and buses passing around and it wasn't safe for Matti so we went back inside the car and drove again.
I was actually ready to eat my snack as you can see here in the image. I ordered the brown sugar milk tea with extra pearls from KN Cafe.
Also, Matti wants to go down and this area is just right next to the road. There's a seawall too with gaps between that are enough for Matti to pass and so it felt like we can't relax in this place instead.
Babyproofing is such a hard thing so we ended up back on our seats and just drove a few kilometers away again. We thought it would be better to go somewhere where we can get Matti to run around. Yes, that's a better idea. My husband also wants to shoot some vertical videos for his social media page.
I suggested we check out some random grounds in Cabantian. And that's where we headed.
Seeing a large plain grounds, we pulled over, and brought our snacks and the camera bag out. My husband immediately went taking videos, Matti went running around, while I was content with my own company while eating the chips that I bought and the milk tea.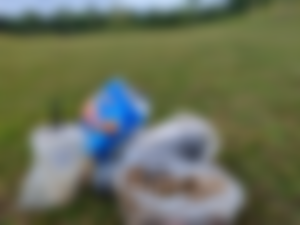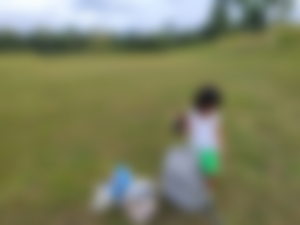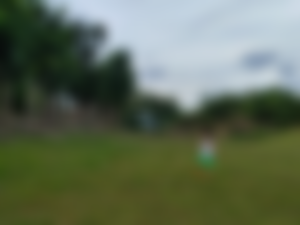 Matti didn't even bother sitting at all! He was happy to see a huge area with nothing but us. There were no locals around too! It's a mystery that this place isn't too far from the high way yet there were no people around!
And there's one thing that attracted us too, a big and tall tree! This tree is very sturdy and Typhoon Odette wasn't able to pull it down.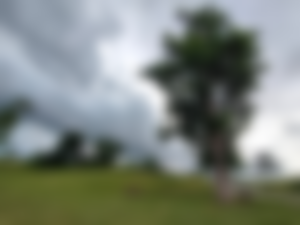 My husband was asking Matti to walk around while he takes videos of him. It's nice to just watch them from afar. I just sat there observing them. I remember, we actually have a company, a sole cow munching on the green grass at a distance.
I realized why the grasses are trimmer, the cow did it!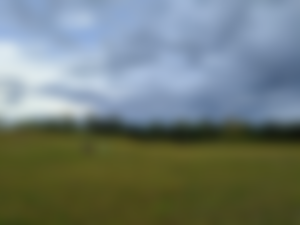 I guess we just stayed there for an hour. When it was time to go home because it was getting darker. The skies showed thick cumulus clouds too which means, rain might be pouring down soon!
So, the husband and baby joined me as we finished our snack, and then we call it a day. My husband put everything back in his bag and we went on our way, leaving nothing but good memories. It is important for us not to leave any traces of plastic or whatever rubbish, this is a no-no!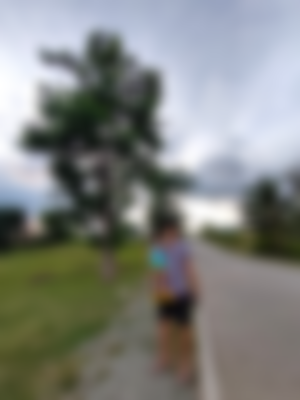 Before getting across to the car, I asked the husband to carry Matti so I can take photos of them in this area. There are crosses here too used for pilgrims during Holy Week.
It was nice to have some time together just the three of us. Our next goal is to go to Tagbilaran City the three of us again and just go in the city without any agenda. It would be nice to do that soon, I hope we can spare some hours for that in the future!
Thanks for reading, here are some of my previous articles:
xoxo,
momentswithmatti Mother | Boholana | Cebu | Philippines | Travel | Photography Enthusiast | Calligraphy | Art | Crypto Noob
Sponsors of Momentswithmatti