Our Dean of Students reminded us that our Midterm Exams are scheduled next week. I was like, NEXT WEEK? I can still remember this trimester's enrollment as if it was yesterday and then Midterm Exams is just around the corner. The announcement is both good and bad for me. Good because graduation is approaching fast, and bad news because need to catch up with my readings and review my lessons.
Just so you know, I'm taking up two subjects this trimester - my last two before I finally graduate from my Bachelor of Theology course. Taking online classes is an amazing experience. It is what I've been dreaming for years ago, pre-pandemic.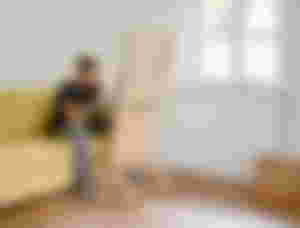 I don't know with you but I was thinking of a day when people no longer have to go to schools to learn, they can just have their learning online, at their own pace, and in their comfortable place. It was just an idea before because at a certain point I became tired of rushing from the office and brace through the traffic to make it to class. If everything will be done online, I can take my class at home, at the office, or even at a coffee shop. 
But come pandemic, what was once just an idea became a reality. For the whole academic year, I am attending classes online. It was fun and exciting, at first. I get acquainted with Zoom and Google Meet. Before these, all I know is Skype and Facebook Messenger. My idea became a New Normal reality. I no longer have to brace the traffic and I can attend classes while wearing shorts. Too bad it is not advisable to spend time at coffee shops. 
I am not into video calls and teleconferences but this New Normal pushed me, and many others to the edge of our seats and out of our comfort zones. I know I have to adapt, otherwise, I'll get left behind. But what else did this New Normal setup brought us?
It took away our socialization. The best thing in any classroom aside from learning is the socialization among students. The chit-chats and waves of laughter were replaced by private messages, group chats, and emojis. Everything became virtual and self-paced. Group studies and peer reviews are now limited.

It poses a challenge to our learning capacity.  I have a neighbor, a second-grader, who is taking up online classes daily. I can feel the child's frustrations, and boredom as she listens on the screen with tiles of pictures of equally bored students. I am not sure whether she understands her lessons well or is just going with the motions. Good thing she is assisted by her tutor. I must say in my case, I find it hard to understand some of my lessons because of the lack of organic interactions between me, my teachers, and my classmates. It is a daily struggle. I wonder how it goes with other students. 

 It takes a toll on our health and wellness. Not a few times I complained about how my eyes get too tired and irritated because of radiation and computer glare. Also, my physical movements are limited. My daily walks have been reduced. I am just sitting in front of my laptop screen, trying not to look awkward in the camera. Thus every time I have the chance I do some physical activities just to shrug off the sedentary lifestyle caused by this new setup. 
Some people, especially students, may even add up to my list. The bottom line is, because of this pandemic, everything became a challenge. But here's my consolation. We are not without hope. This is just a phase.
When our plight with the virus is over, we will soon get back to normal. Our students will get back to their regular routines. Our medical front liners will be able to rest and be relieved. Our economy will soon recuperate. The world will soon heal. 
But this phase also taught us new things. So far what I have discussed are my negative ruminations on the new normal setup. Here are some of the things I find beneficial:
Modular learnings and online classes are perfect for Graduate studies, as well as for working students. Instead of bracing the traffic, our working students and professionals seeking further education may attend classes at the comfort of their homes or offices, which will give them full control of their precious and often limited time.

A combination of online and physical classes for high school and senior high school students. With this and with proper scheduling and management, the lack of classrooms will be addressed in some areas. More teachers will be given teaching loads and the ratio for teacher-students will be lessened, hopefully.

A strong and beneficial partnership between the school and parents. Because of the online class situation, responsible parents stood up for the sake of their children. They became hands-on and involved in their learning and are now concerned with how their children are performing. This paved the way for an opportunity to establish a strong partnership between the academe and the parents. Why not involve them in the curriculum as well? Just a thought. 
This New Normal setup has pushed us to our limits. But we will not be overcome. We will soar higher and be stronger. As I've said, this is just a phase. And while no one wanted this to happen, and no one is prepared for this, it is also wise to learn from it. Take the good things, leave the bad. 
Read my other blogs:
---
Hi, I am Marts! I am a writer, and aside from my stint here in read.cash, I also have my own blog - martsvalenzuela.com. I appreciate it if you pay me a visit! I plan on growing my readership as I learn to improve my craft and journey towards my passion to write and publish books that add value to people.
Let's rock!