Gladys and I wanted to visit Binondo for a food crawl, but the prolonged lockdown and COVID-19 scare prevented us. But this Chinese New Year, since it is declared as a national non-working holiday in the Philippines, we had our chance.
After taking our breakfast at Marikina River Park, we traveled to Binondo via LRT. After more than a year since I last boarded the train, it kinda felt different. There was a significant change in the volume of the passengers, and social distancing is strictly implemented. No one is even allowed to talk or take phone calls.
As soon as we reached Recto station, we walked to Binondo. Our first stop is the famed Eng Bee Tin to buy tikoy, or Chinese sticky rice cakes. From Recto station, we walked for about 10-12 minutes. Good thing, the buildings gave us ample shade against direct sunlight.
But Eng Bee Tin, as expected, was packed with too many patrons, including media who cover the CNY celebration, and vloggers as well. Photographers are everywhere, taking snapshots of the New Normal Chinese holiday celebration.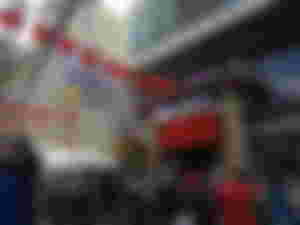 We can only take pictures from a distance. We do not want to spend most of our time queuing for tikoy, so we moved on.
We then visited Lucky Chinatown Mall for a quick rest. We shared milk tea from Happy Lemon, Gladys' happy pill. There, we talked about a lot of things – dreams, promises, families, etc. It is nice to have someone who knows how to listen, and who is interested in things you got to say.
After a few hours and as we regained our energies, we went to the highlight of our trip – a visit to recommended Lan Zhou La Mian. Google Maps directed us first in their Benavidez St. location, but after almost a kilometer walk, we were surprised that the store was closed! However, there is a small note that says Masangkay St, among other Chinese characters we were not capable of reading. So we took the risk of heading towards the address indicated – another 1km walk under the heat of the sun.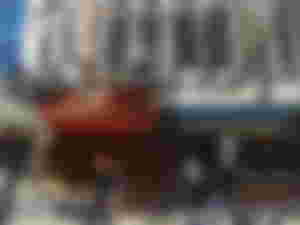 But thank God, our efforts were paid off. We were not even able to take picture of the store's façade, but should you decide to give it a try, it is just across Metropolitan Medical Center in Masangkay St, Manila, beside Mercury Drug.
We asked for their bestsellers and they offered Chicken La Mien. We also asked for a combination of fried and steamed dumplings. It was my first time to dine in an authentic Chinese restaurant, so I was thrilled to be offered hot tea as a welcome drink. I do not know if it is the custom for Chinese restaurants, and I think it is nice!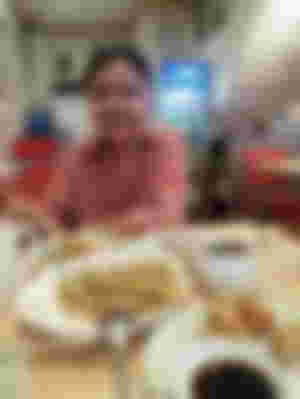 The dish, the crew said, is good for 2 persons, but I guess another person will benefit from their generous serving. We opted to take out our leftovers and decided to pay the restaurant a second visit some other time to try their other La Mian menu.
After spending a few hours in the restaurant, we pushed our luck for Eng Bee Tin. But it was packed even more! We went to other stores instead. We headed to Ho Land Hopia where we purchased our tikoy.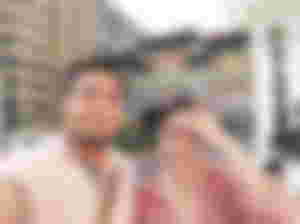 A few meters walk towards Escolta brought us to the New Chinatown Arch and Jones Bridge. Indeed, the place had a drastic makeover as mentioned in the news. It imbibes a fresh ambiance and a picturesque view. We spent a couple of minutes picture-taking there before we head towards the MMDA ferry terminal just below the bridge.
I have read blogs about this ferry ride for a couple of years now but never have I ever imagined that I will be experiencing that during this pandemic. After enlisting ourselves, we were scheduled for a 5:30 ride, I supposed their last trip for the day. I asked to be dropped at their Pinagbuhatan station, but it was no longer part of their route, so we opted for San Joaquin station instead.
Important note: THE FERRY RIDE IS FREE!
As soon as we boarded the ferry, we took pictures right away! What an experience, and what a view – though not all sights are picturesque, of course. I love the combination of the setting sun and the bridges and buildings.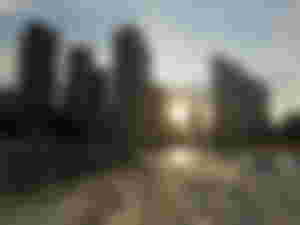 When we came near the Malacanan Palace, the seat of power and Whitehouse equivalent of the Philippine government, the ferry turned slower. I readied myself to take a picture of Malacanan, same with the view from the old 20-peso bill, but I was stopped by the ferry crew. It was prohibited, as they say, for national security's sake. Sorry, first-timer here. After we passed the Malacanan, the ferry returned to its original pace and we were again allowed to take pictures.
When we arrived at the Guadalupe station, all passengers disembarked, leaving Gladys and me remaining. We were joking that we hired the whole ferry for our date. What a concept! *wink*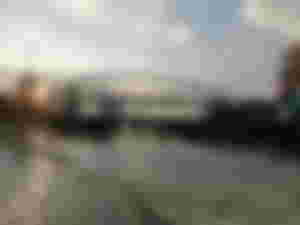 It is amazing to witness through GPS how the ferry traversed through the winding Pasig river. It felt refreshing. Perhaps because we have been confined to our homes for such a long time that experiences such as this felt next to surreal.
When we reached San Joaquin station, we took a jeepney so I can accompany her to her dorm before I went home.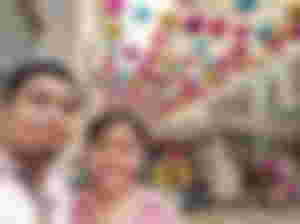 What a memorable CNY.
---
Hi, I am Marts! I am a writer, and aside from my stint here in read.cash, I also have my own blog - martsvalenzuela.com. I appreciate it if you pay me a visit! I plan on growing my readership as I learn to improve my craft and journey towards my passion to write and publish books that add value to people.
Let's rock!