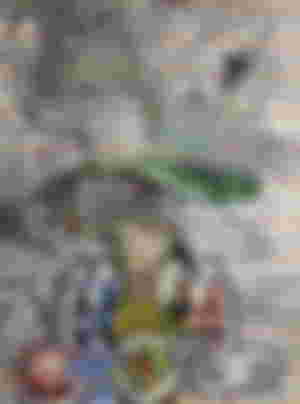 This painting was produced as an activity in my ARTS 1100 subject. Without the instructions of my professor, the painting wouldn't be possible. Actually, it was the one I have been waiting for since before I go to college. I used to do murals and painting in senior high school which is why it influenced me to continue further in college. The dream will not fade as I learned how techniques I can execute accordingly with my brand. What you will see is one of the strengths I have, the strength that I discovered a few years ago in the Visual Arts Curriculum. Thankfully, even though this activity arrived longer than I expect, the eagerness is still in me and I want to execute what ideas I have and talents to share.
The idea of the painting has a personal meaning to me. It's about the moments I missed to happen again but unfortunately, I can't undo the time or travel over time. Therefore, I used the idea to create art that could represent my thoughts and be a masterpiece and serve as an inspiration that implies the importance of childhood memories. I called it 'Things That Shaped my Childhood' because it is basically about not only my childhood but also the childhood of many people who can relate to this. I used acrylic on this one and I made the artwork on Fabriano watercolor paper that was from my best friend. Anyways, I am not just 'Maestro' in this article but I am also 'Jerome' because this has personal contact with me and with my mother who was always by my side in my childhood days.
All of us have something want to remember.  Some want to remember the good memories they have with their late loved ones. Some are happy to remember the ones they forgot. However, in this masterpiece, my childhood memories are the things I want to remember. I want to remember the good old days when life is easier than what life is now. I want to go back to the time when I was only looking for my missing crayons under the table because I really love playing with colors. I missed the time when I was playing DIY bubbles with my cousins. I missed the time when I was only playing Super Mario at the portable DVD player that my dad bought from his friend. Who could forget the times when we were fighting with our classmates just to get a star and show it to our parents to make them proud? Some say that kids are only playing without gaining anything from it. I want to prove to those who are saying using this painting that everything they experience while they play is something that they will and can treasure for the rest of their lives. Let the kids play and discover the things they could do. Remember, we can only remember some moments we missed to experience but we can't go back in time. 
I utilized the concept of symbolism in this painting. The elements the audience notices in this painting not only represent the objects themselves but also the memories I carry behind those objects. Every object that can be seen in the painting symbolizes different memory cores that the audience can also relate to. On the other hand, the painting possesses a split complementary color scheme. I managed to utilize the color scheme with the aligned imagined idea I composed. You can observe that there are parts in the painting that contrast with the other colors. One of them is orange parts that contrast against the greens and blue. 
Now that I redeemed myself in painting again, I am looking forward for more opportunities in painting and I will make more paintings shortly. Painting is my first love and it will never be overshadowed by other art forms. I am learning charcoal painting now but I am still relating the elements and techniques in that art form so that is a sign for me to not let myself be far away in the painting. Another statement has been stated and many statements will come soon. Always grateful for all the appreciation in the painting. 
Thank you for reading this article.
You can read my previous articles here:
The Other Side of Life That I Need.
I'm Now a Second-Year College Student.
How Do You Remember Your Teachers?
Reflecting on Some Lessons That Life Might Want me to Learn.
Most Beautiful Creature on Earth, Charlaine