Yay! 100 BCH Unlocked
Hello! Hello! What a lovely day! A beautiful 1st of April to one and all!
I arrived weary and tired this Friday night. I would love to chill with friends for a while, but I just can't, I would prefer the comfort of my bed, with some music and just chill with my own thoughts. 
So, I put off my work bag, freshened up, grabbed my Shawarma take-away, enjoying my dinner while listening to this song repeatedly. Then, off to my bed, turned the volume up and freely took me for a lovelier day. 
But, nothing is lovelier than checking my wallet, and vehemently surprised to see that I just got 100 BCH all in all in my cryptowallet!!!
It has been a roller coaster ride in the crypto world, specifically with Bitcoin Cash. Moreover, the tokens in SmartBCH kinda got affected too when BCH plummeted down almost to $250 mark a few weeks back, and so, our only chance is to hodl. Just hold and keep on writing, earning in read.cash is the only consistent trend we see everyday, and the passive income too on smartBCH dexes.
The other week, I won a giveaway on Twitter worth .5 Ethereum, thus, I believe that this was actually the biggest reason why I hit 100 BCH today.
Goodness! I can't believe my eyes after a minute of tapping this calculator, seriously?! This can't be real!!!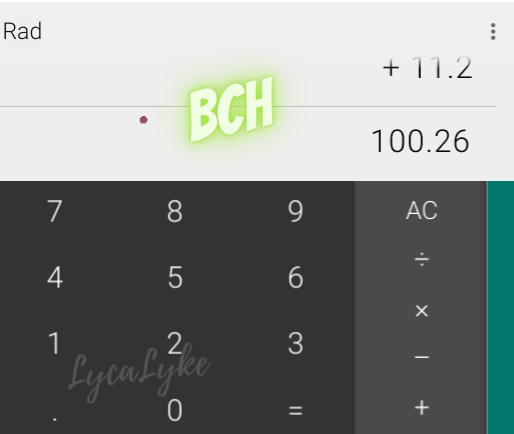 100 x 377 = 37,700 USD   x 50 = 1,885,000 in Philippine Peso! Unbelievable! I'm a millionaire!
Okay, I can be really very good at math at the moment, with the calculator, of course. LOL! 
In my bed right now, a lovely day just gets so real on a Friday. My thoughts play the rich kid already, I can buy things and help my loved ones too. But, I need to hold this BCH till it reaches $1,500 just like the summer of 2021, or perhaps till it reaches hopefully another ATH of $3,717 like four years ago. That would be awesomest, right?! I can already imagine my virtual friends here jumping and moving its happy dance. 
Wow! I'm still euphoric, guess I need a sleep now and dream about this? Haha! Yah, it's April Fools Day everyone! You can blame April 1st! Lol!
Still a lovely day listening to this song while writing another wishful thinking, haha! Truth is I'm not even close, or even a quarter of this amount, neither won an Eth giveaway. No shawarma takeaway for dinner either, haha! Cruel! Yah, but I love my thoughts, though… it's projecting something… something BIG… like 100BCH!
---
Happy April First or Fools day! Cheers for another month of loving, living, blogging, and earning!
---
Video from YouTube
Lead Image and photo by me edited via Canva
All Original Content (unless specified otherwise)
04/01/2022
©️ LykeLyca
---
Write articles and join us! Click read.cash
Make some noise by writing short posts. Click noise.cash
Follow me on Twitter and Telegram @LycaLyke
Start mining, trading/ copy trading in Bityard
---