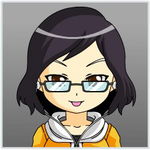 So I am finally here in a faraway land (charot 😂) near the sea for the first time... I had imagined frolicking in the sand, swimming in the ocean and taking sunset pictures but alas, none of that happened today.
Let me tell you what transpired instead.
As mentioned in yesterday's article, I had to have some government documents processed today. First thing I needed to do was go to the Department of Foreign Affairs (DFA) La Union province office for passport renewal.
Why do it here and not in the National Capital Region (NCR) where the city I live in is located? Well there were no available slots anywhere in Metro Manila. Probably because some people make a business out of it and get all the available schedules.
Maybe those who offer passport processing services are the culprit. Instead of individuals being able to book an appointment, they are the ones who get all the slots. Not sure how they do it when they should book under the person's name. But hey this is just me assuming the worst, not sure if it's so. Perhaps there are really just too many people in the metro that all the schedules get booked real fast.
And so I chose to renew my passport here in La Union back in May. Yeah, I booked today's schedule several months ago. Getting an appointment is that bad. 😆 Okay, it's not terrible but just inconvenient.
My schedule was actually at 2 pm but my 72-hour valid swab test result would have expired by then. Last night I decided to go to DFA in the morning instead. At least if they were strict with the swab result time then I could still be allowed to enter. 😁
In the morning I ate the complimentary breakfast of champions. (Charrr. Haha.)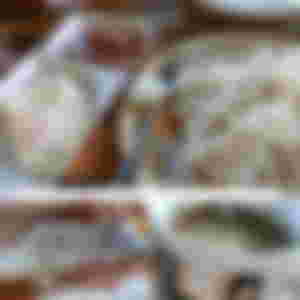 Such a breakfast fueled me well that I didn't even eat lunch anymore. 😂(Probably. 😆 You'll know why later below.)
The government office opens at 9 am. When I finished eating it was already quarter to 10. My swab result would expire ny 10:28 am. No worries because I was staying quite near the place. Just rode a tricycle and voila I was at CSI Mall!
For those who are unaware, DFA La Union transferred from the better known location in Manna Mall. Previously it was there but they already moved since June 14 of this year.
I read in a social media group about the new location but never confirmed it until I got here. The hosts of where I stayed are very accommodating and friendly. They guessed right on why I'm here without me even telling them. 😂
(Of course why else would people rent here if it wasn't near DFA and the famed surf areas too. Hehe.)
The elderly female host was the one who informed me where to go and how to get there. Also told me how much the fare costs. Oh boy, P25 minimum for a solo ride. 😆
I found out the most common mode of transportation here in La Union province are tricycles. Everywhere you wanna go you should ride one of those. More affordable than taxis and it will take you where you need to go. Actually I was pleasantly surprised to see taxis here in San Fernando City. I don't know if Vigan City already has any too but this city of La Union surely does. Cool.
I saw some jeepneys but if where you're going is not along the highway I think you better stick with the trikes. (Feel free to correct me if I'm wrong. 😅)
So yeah, I rode a white tricycle to get to where I needed to go. At the mall entrance, I didn't use the QR code. I filled up a health checklist instead to indicate I didn't have any COVID-19 symptoms. Got my temperature checked and then gave the paper to the guard.
DFA is at the 2nd floor so up I went as the mall personnel I asked instructed. When I got there, wow there was no line at all. I love it. ❤
I presented the documents and requirements plus my printed RT-PCR negative result to the front desk guard. They asked me to sit at the waiting area while they verified my documents. About two or three people were there.
Here's a pic of the entrance just for you. 😊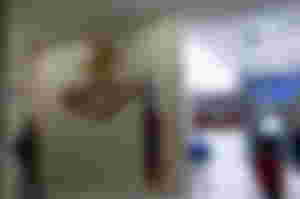 While waiting some of the people who came after me were either turned away due to lack of requirements or was allowed to wait too. Those who didn't have the needed documents weren't allowed inside at all. One or two at a time they were told what they needed to do.
Eventually I was allowed to go in even if my schedule was in the afternoon. Well there was only me and another person waiting so I'm glad they let me in. 😁
No picture taking allowed inside though. Was about to take a selfie but the guard told me not to take pictures. Mkay. 😅
Forgot to wear make up for the picture taking part of the process though. Passport renewal means a new one will be issued, duh dear self. 😂 Hopefully I remember next time, like 10 yrs from now. 😆 The lady in charge of the photo capture also lent me a hairpin because she said the face should be clearly seen. Mkay. 😅 So unprepared huh. 😆
Once done I went out and looked around the mall. Didn't bother taking much pictures except this one showing the entrance / interior of CSI Mall.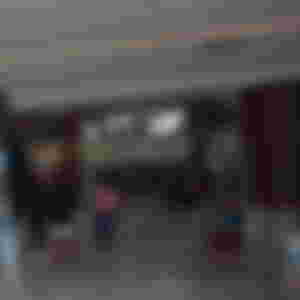 Once outside the mall I didn't know what was the best way to get to a different government office next. Yes there's also a different set of documents I needed to be processed here. I booked another appointment the other day because there's an open schedule available in this place too.
In NCR the slots for this other office was fully booked for two weeks so I thought I'd just get my certificates certified here in La Union instead. Why not when I'm already here. Might as well hit two birds with one stone, right?
The schedule I booked was around 1 pm but I wanted to finish all the things I needed to do ASAP. So I asked the policemen I saw who were stationed in front of the mall. They told me to ride a tricycle to that other office. (I will tell you what the office is in the future. Hehe.) When I got to that place there was also no long line! Happiness! 😄
There was one guy ahead of me being assisted by the guard. I was next in line so he told me to use the QR code to fill up an online health check document. Once done I wrote my name in the guest book and he gave me a stub number.
Voila! Upon getting inside only two people were ahead of me! Well if this isn't one of the best parts of having a pandemic then I don't know, maybe I'll just assume it's my lucky day. 😂
After all the needed documentation was done, I was outta there! Hey look I also found something. Haven't checked on what this is yet though.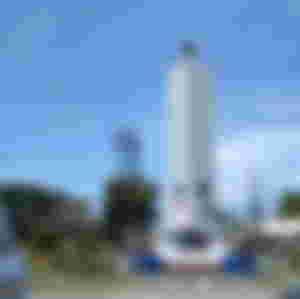 Since my official business was done, finally I could buy some health products to bring to my mom. These health products I'm drinking and selling are really effective in boosting the immune system that's why I wanted to personally bring some to her.
Yep that's the reason why I planned to go to Ilocos as well. I could just send it via courier but since I'm already here why not visit and bring some to her?
Good thing there are a lot of mega business centers all over the country now unlike a year or so ago. 😁 I didn't need to bring any of my stocks. Bought some from here and I was ready to go!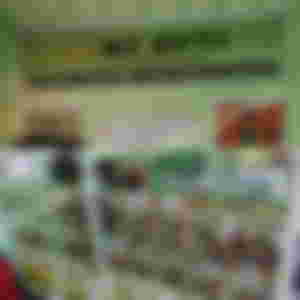 Hey I'm just a few hours away from our provincial house so I thought I'd just drop by.
You know sometimes I think Ilocanos love this American band. 😂 An older cousin used to play their songs a lot. Used to hear their album being played in the radio stations or by other people back then too. And then when I ride buses going to Ilocos I also hear this band playing on the bus TV.
Just like today, I heard several of their songs in the bus I rode. 😂 Why don't I share this song with you while you continue reading my article huh?
So as I was saying, I decided to ask around if there was any bus going to Ilocos. Went to the main highway first though. Look what I found!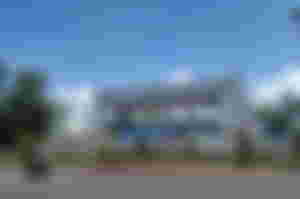 Had to look at the map to see which direction was going to Ilocos. Guess who I asked to know where the buses are? Well hey another police outpost was somewhere near the many overpasses here in San Fernando, La Union.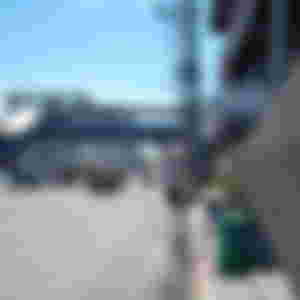 Had to use the overpass to ask the policeman. Fortunately he said there's a bus station I could go to. So far so good. He helped me get a tricycle ride to the bus station. When I got there I learned the bus would only be up to Sudipen, Tagudin, Ilocos Sur. 🤔 From there I was told I could ride another bus to Vigan or something. 🤔 Hmmm okay let's see. So I paid for the bus ride going to Sudipen.
Woohoo long time no road trip! 😂 Look, here's two kinda similar churches along the main road.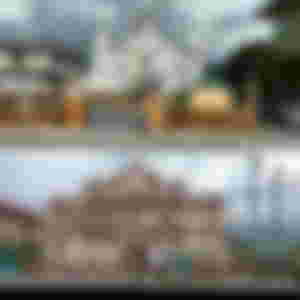 And of course we passed by a river, a bridge and such. Didn't take much pics though because I was saving my phone's battery. Left the power bank at where I was staying.
Eventually I reached Sudipen after an hour and half I think. Then I was told to ride a tricycle to the Ilocos-La Union border. (Some suspense music please. Dun dunu nuuuun.)
This was it, the moment of truth! Would I be able to get in or not? That's the question. 😂 Didn't take any pics of the tent and such but I was using my phone a lot after I talked to one of the soldier/officers there.
To cut the long story short, no I wasn't allowed to go through. Didn't have the proper documentation so... okay. Apparently Ilocos towns and probably the whole province is in major lockdown, no thanks to the Delta variant. They did allow me to go to the nearest available branch of a major Philippine courier service and have that company deliver the health pack for me. Easy peasy.
So much for trying but I'm a law abiding citizen who just wanted to try my luck. 😂 I could have talked and asked around on how to get inside but nah. I didn't want to spend too much energy. It was back to San Fernando for me after dropping off the package. Didn't want to get back too late so #ktnxbye.
Just called my mom on the ordinary bus back to La Union instead. Oh hey look at the mountainous view. 😍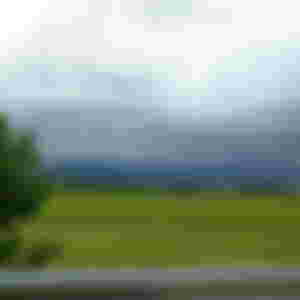 Uh oh looks like rain clouds... 👀 Nevermind those clouds were too far for me to bother with. 😆
Oh hey I remember I didn't eat lunch so I just ate the chocolate crunchy bar in my bag. At this point my battery got drained to 1% so no more pics. 😂
I got back to the lodging house past 3 pm. Rested for a bit and posted stuff online. Eventually I asked the hosts about the nearby beach. The elderly guy host accompanied me and showed me where to go. Of course I went to check what it looks like first. Again no pictures as my phone was still charging.
After a few minutes of walking, we got to the public beach. The sand was a light grayish color. The sun was still bright and hot so I decided to come back when it was almost sunset. Of course the setting sun is always worth taking pictures of.
In the end it started raining past 5 pm. And then it really poured. There goes my swimming plans. 💔
The rain lasted until 9 pm or so I think? I dunno I was busy eating dinner, editing pics and writing this so don't know when the rain stopped. Published this past 11 pm now and it's already quiet outside.
You might think I wasted money and time but hey life is an adventure. 😂 I mean, I'm just happy to be outside of NCR so it doesn't really matter where I go. 😆
Anyway do you think I will be able to swim tomorrow morning before I leave around lunch time? 😆
XOXO,
* * *
Images are all mine.
Not a member of read.cash yet? Come join us!
Sponsors of LucyStephanie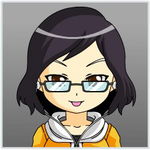 Enjoyed this article?
Earn Bitcoin Cash by sharing it!
Explain
...and you will also help the author collect more tips.