Yay, so there is another trends. The "THIS or THAT" questions... Lemme try to answer it too. Kaya kaya?! 🙈🤔I've got 20QUESTIONS to choose which one... Hehhe
Hahaha let's be practical. Of course your LOVE and MONEY. How can you feed my hunger without it. How can i sip some sweets with you without it. How can we travel the place we want to without it? Hehehhe....I am not materialistic my love, i will be happy anything you have.We can both make those emptiness into fullest. I want to do it with you. Till hunger do us part... 🙈🙈🙈😂😂😂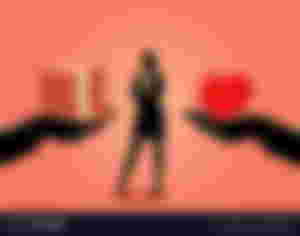 I love both of this, but i can't do it by myself. As i am not into this talent. I can only draw a stickman, which is easy to do so. Hehehe
I haven't tried tea even once. I will not replace the hotness of coffee like the way i love you.You were unreplaceable.You know it! Hehe. Oh yeah, i am a coffee lover, my life is not complete without it My day is not complete without it's hotness.Coffee makes my day so alive. Like my love for you, you are like my coffee.. That's why i am so addicted to you... 😂🙈
Yay, i prefer on choosing black hair of course. Same as my long hair. The beauty looks of the original one. I used on doing crazy looks with my hair. Any colors i tried. But i'm done of it. So back to the reality, the reality that i love. Like you,,, yay.. Always on your back with love... Hahahaha
Can i have you both? Hmmmmm,, coz i really need a superhero. A hero that can make my dark world into light one. SUPERMAN,,,, i can be your SUPERWOMAN. I will do anything for you to make you SUPERHAPPY.. And to you BATMAN,,, I can be your BATWOMAN. But please let's don't eat a BATSOUP,,... hahahaah.. I don't want to taste on what's our taste.... YAY,, what's this?
I want to feel those sweets melting and dripping on my mouth. Hahaha. Ever since i love ice cream. I love those sweets that it gaves me everytime my life turns to bitterness.... Hahaahha.
Hmmmmmm, a GOLD RING on wedding day and it's ok SILVER ring on proposal day... Hehehe Joke lang yarn! Honestly, GOLD is good for investments. That's why i keep some of this. And oh, it's very helpful in time of emergencies. Easy to pawn anytime you need it.
I want both! I need to make you hot when the time of coldness relationship showed up. Hahahah. So don't be COLD on me, i am always prepared to burn you down.Hala,takot na yarn! Hahahhahahahaha
Blue is my favourite color. It makes me so amazed everytime i see those color. With your blue eyes? The way you look at me,my world pause one day and the time goes slow down. Like there's nobody surround us. It's just only you and me. Hahahahaha,kilig na et! Where to find you Mr. BLUE EYES?
I love tattoos, it's an art. Astig looks for those who have it on their bodies. My friends had few marks. Hahaha they want me to put some inks on my body too but i won't. I hate to feel the pain. Much hurt on break ups. Hahahahah. So i only have a pair of holes on my ears. That's all!
Where my LOVE? I want us to feel comfortable. You with me and i am with you. Yay! Any where as long us we both happy and contented. So don't walk away from me, if you don't want to be locked up inside the house and burn you... Hahahaahah,,, harsh! I am sweet my Love, no worries... Hehehe
Fruits makes my tummy full.Fun eating if i give you the half slice of apple. I share some but i don't want to share you to others. Hahahah,, you are mine! Hehehe selfish me if we talks about on having someone you love. Want you all ok.,!
Hmmmmmmmmmm,,, both?!? Yes, hahaah. I can make you crazy if you do such weird things on me. Baliw-baliwan ganun!And oh, i am crazy inlove with you. You were so weirdo that makes me so crazy on you. Heheh.We are patients who escaped from Mental Hospital. 😂🙈
Salty mixture of foods makes my appetite on eating more and more until my tummy say's nomore... Hehehe. But if we talk about sweet, I want to eat those sweets with you. Yay!
Oh i love this! I feel so relax everytime i soak all my body in the water. Either by the pool or sea. Makes me so chill of this outdoors activities.. Hahaha. I honestly can't swim. I get nervous on a deep area. Scared on drowning. Hehe, i just remembered that i fall down from the yacht. It wasn't that deep, i can feel those sands beneath the ocean. But it made me so frightened. I was a bit drunk at that time.It was happened long time ago. 🙈
Hope to be with you in real life. I want more on doing things together with you. I want to feel your existent. I want to embrace you so tight.I want to discern the whole you. Not just by virtual thingy. But for real... Hopefully! 😔🙈😂The WHO?
I need to relax sometimes. To freshen up my whole body in TUB with full of bubbles. While listening love songs. Have a short nap. Hehehe.. But i want it to be with you. Hahahahaah,, Ano na naman to?
Soon i go to this place. I want to travel somewhere. But my wallet and accounts doesn't want me to.. Hehehe. Maybe with the Afam, and oh, where to find you??? Yay, of course if this things will be happen in the right time, i want to go anywhere of this two with my one and only you, yeah,,, WITH YOU, yes YOU... SO who is YOU? 😂😂😂🙈
Both will do. I can stand all along with crazy friends while having chi-chat "sabay sapak". So mean bah? Nah, i used to it. Coz i can hit them back too, to be fair enough. And laugh....... Hahahah. By sitting? Here we go.. I really want to sit beside you, just sit only ha. Don't hold my hands. Yay, shy me,! Hehhe
Here we go to the last but not the least. I will add this questions too. I want to answer this.@dziefem done this too... Hehehe
Hmmmmm, we all knew that ex is part of our past. That need to forget and learn a lesson from it.I am full enough with those fools, lies and hurts. Which made my life almost ended up to death. All of those past things happened was just my yesterdays bad dreams. So i don't want to feel and have those nightmares again. I am done! So i need YOU, i want you more. I WANT only YOU this time. I want you to ease the pain from my past. I NEED YOU SO BAD! hehehehehe... YES MY LOVE,,, only YOU and YOU and YOU!!! So can i be with YOU??? hehehhehe
Yay,,,,so fun on answering this ah... Made me laugh alone, like crazy. Hahahahaha.
I know you guys want to try it too... So here's the link,, grab some THIS and THAT questions too.. 👇👇👇
https://lifehacks.io/this-or-that-questions/
Thank you for your time. Hope to see write more soon... 🙈😉😘
MY PREVIOUS ARTICLES: