The wind was so strong, I feel terrified.
The rain was hefty, and made me feel sad.
Fear runs through my veins, and so I prayed hard.
Then there is power interruption. Phone's battery is almost empty -so bad.
Bagyong Maring really surprised the people in the bad way. It's impact has affected many people, properties, animals, and many more and it is so heartbreaking to see news from telvisions and posts from social media sites showcasing several individuals, properties, and animals that were devastated.
According to the news, Bagyong Maring has maximum sustained winds of one hundred kilometers per hour near the center, gustiness of up to one hundred twenty-five kilometer per hour, and central pressure of nine hundred seventy-five hPa. It was seen to move West northwestward at 30 kilometers per hour. Lastly, the strong winds or higher extend outwards up to eight hundred from the center.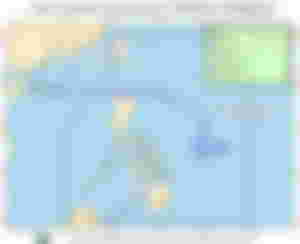 The good thing is that we, Filipinos, are resilient. We heal as one and rise up together. Regardless of how bad the others are, there are still some people with kind heart who share their blessing and extend their hands to help those in need.
I am smiling as I read posts from photos offering some help such as free load, rescue operations and the like. Sharing those photos is already a help so that those who badly needed it will be helped.
In our locality, specifically in our compound, no trees have fallen. But almost all of the leaves of the trees here especially the malunggay trees, have fallen. In tagalog, mukhang naging kalansay na ang mga puno. You will see branches with a few to no leaves.
To those who were affected with massive damage, I pray that you'll be able to recover soon. We are all mentally affected so let us first take care of ourselves, especially our mental health, and keep our sanity.
God is our strength when we are weak. He makes us stronger and never let us sink in the depth. He will help us rise up and together, we will be okay. Because you, me, and each Filipino are resilient and still get to smile since we have the heart of true happiness. Keep safe, guys.
---
Maraming salamat sa iyo, kaibigan!
If you also like to read some of my posted articles, here are the links: