Hi!🖐️
We know how groovy the weekend would be from Thursday. How are you seeing your weekend already? It is occupied with work or you have arranged time to have the best of it? Whichever way, make sure you have fun.
Thank you sponsors ✌️🥰
My brain has been fighting writer's block since I woke up today, and I can't let it to win like that so I'm going to share my surprising experience yesterday, instead of living my space blank today.
It was last Sunday when I heard a knock on my door, I went to check and it was the daughter of one of my customers, her dad gave her a pair of clothe to drop with me for laundry and she said I should SOAK IT. I collected the bag and kept it a corner because I wasn't ready to wash and besides it's just one pair(up & down). I didn't bothered to check the bag to know the nature of the clothe or to check the nature of the stain because she said I should soak it, I needed to have my rest that Sunday.
Yesterday
Monday and Tuesday passed I till didn't washed clothes because I was not having anything to wash aside the pair of clothe the girl dropped. So it was yesterday (Wednesday) when I decided to skip the procastination and wash incase electricity come it'll be advantageous for for me to iron in order to avoid running helterskelter looking for means to iron because I don't have a generator yet.
I felt disappointed.
After bringing out the buckets, arranging water, I picked the bag and when I brought out the clothe, guess what I saw 😭. The white clothe has been soaked with thick black mucors. It was so thick and dark that the white clothes turned to all black.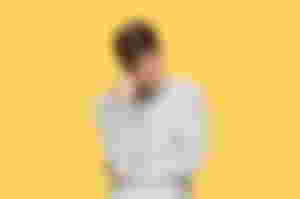 I didn't know that the day that the girl brought the clothe, it was used for a party with food stains and rain beat. So he sent his daughter that day so I could wash it off that day to avoid the stains having their permanent settlement. But I didn't know.
I wanted to snap but it's not professional even though it's good for adverts. But the clothe was looking like this;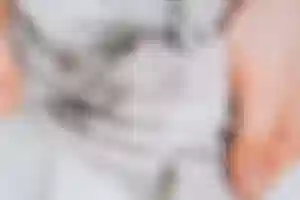 Seeing the permanent stain gave me goosebumps, I couldn't just believe my eyes, all I was thinking was that I've spoilt a customer's clothe and it's not a good thing for business and customer relationship.
Isn't there detergents that remove stain?
With the way the stains were on the clothe, they've settled as permanent because I have a clothe such thing happened and till today the stains are still there.
Well, I thought of using detergent but the truth is that, it won't clear the stains to 30%(so I believed) and also, the clothe has spots they used black material to design, if I use harsh detergent to soak it, it will end up bleaching the black part of the clothe.
But I still Went for the harsh detergent.
I went out to buy my favourite harsh detergent I use as stain removal. I poured it on bucket and added large quantity of water to make it unharmed to the black spot. I placed the clothe inside and I left it for 2hours. Coming back to check it, it was still the way I placed it. At that moment I just gave up on the clothe and planned to call the customer to tell him what happened to his clothes.
It was during the moment I was scrubbing the clothes my younger brother retuned from exams, he met me scrubbing the clothes and his eyes Glanced on the deep stains, he said there's nothing I could do to rescue it because it happened to his clothes and the stains never disappeared😭😭.
I was crazy at myself for not washing the clothe on the day it was brought or not checking it.
Another idea came
Towards evening, a thought came to mind, it said I should soak the clothe in a more harsh quantity of the detergent. I blocked the thought because something like that could damage the clothe finally but I decided to give it a try.
I brought two sachet of hypo(detergent), poured it inside the bucket containing a very little quantity of what. When I put my hand inside the bucket to stir, I felt the harshness of the water in my fingers. I placed the clothe inside and left it for the night.
Miracle happened in the night!
Mehn! I was surprised when I brought out the clothes from the water this morning to see that all the stubborn stains have disappeared like they never existed. It was like a dream. Surprisingly, the black parts I was thinking would get bleached were still intact.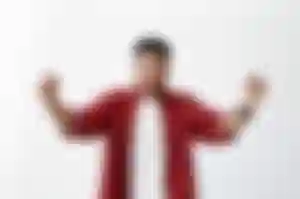 I didn't faced any stress of scrubbing because it has washed itself during the night. I just used soap to soak it in order to remove the smell of the harsh detergent, rinsed and sun them.
I was so happy this morning because I was saved from the embarrassment.
Thanks for reading.
18th August 2022