What say you?
1st of may 2022.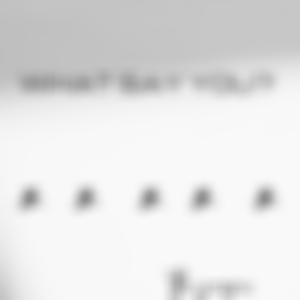 By now all my readers already know that I love to answer questions, simple ones, complex ones, funny ones bring it on. So I found this set of question on Articlee's article the other day and I thought I should answer a few for myself. Well here goes nothing. Happy new month by the way to all my friends on here.
Why do you lie ?
Well to be honest it's not something I do a lot but…
why does anyone lie( I mean the normal average liars not the ambiguous chronic ones—you know those that lie just for the fun of it). I only tell a lie sometimes when I don't want the parties involved getting hurt or when I want to probably prank a person to be honest I don't lie to most people because I don't care what they think about me. I have to at least care or respect you to want to lie because if I don't care I would just be truthful, it's not like you can kill or something.
Do you get ?
Did you cheat ?
Once, of course I f*uked up who never f**k up hands in the air. No hands ? I still can't believe. You know what I mean I was young what you expect from me ? It is was it is still.
Hehehe😂 that was actually a song lyrics but real talk yeah? I was young and I didn't know what being in a relationship meant at the time you know so yeah that was the only time.
To whom did you cry ?
I am not sure about you all but I can only cry to God. I am not a big fan of crying in fact I hardly do. I don't know why though I just don't cry even in pains or hard situations. I could get emotional sometimes but I rarely cry except on very very rare occasions.
What are your thoughts about your existence?
I know there is a God who created all these I mean, I believe because I have experienced him. I know there is heaven not so sure about hell because I am not sure God would want us to go through that much pain for eternity.
Also I believe everything happens for a reason, I believe in fate and I believe the universe is designed in a certain way might not make sense to man but does to God. So if you ask me about my existence I believe I am put on the earth for one purpose other things are by the way I just have to find it and run with it.
How often do you eat street food ?
Probably too often. One time I ate street food for a month. You know being a student and all I hardly have enough time to cook so I prefer to buy me some really tasty street food and just enjoy myself.
Are you in a good relationship?
If this question was directed to my relationship with my friends and family then yes I would say I am in a good relationship in fact a great one I must say but if this relationship we are talking about is directed the towards romantic type.. then I don't know what to say. I am pretty sure you have to have a relationship first because you can know for sure if it is good or not. Well I don't have one of those so 😂. (Please no one should ask me any relationship questions any more I am tired of being reminded that I am single).
Have you been scolded by someone ?
Yes of course I am African what do you expect 😀. My parents have scold me, my elders have scold me you know maybe once in secondary school my teachers but that is just about it.
*in English accent* —you can't be outchea scolding man, mans don't take that innnit?.😂😂
Do you eat breakfast or not ?
Not as much as I would like to or as much as I should. You see when I wake up every morning I am always about other stuffs like praying first, chores, business plans, the crypto market or chats with friends. By the time I realize I haven't had anything for the day it is probably already around lunch time.
Can you accept changes?
Of course what kind of question is that anyways 😂. Who wouldn't? Change is inevitable like it or not you must have to accept it but it is better when we accept it early so that we can start working toward blending with it.
Although if it is a change I can avoid or I am in control of then—nah I ain't accepting nothing you get me!
Are you financially viable?
I won't say I am currently. I mean I can hold my own but when it comes to big financial situations I might just need to ask for help from family or trusted friends.
What causes/d you to take risk ?
My early life I guess. Actually a bunch of things causes me to take risk but I guess I am a firm Believer of the old saying..
"no risk no reward" and I very much like rewards.
_____________________________
If you answered these questions would you answer them differently let me know. Write your own version if you must and let's see how you would do with these questions. Have fun.
Happy Sunday and thanks for reading.
with love, jumper✍️
©jumper2022