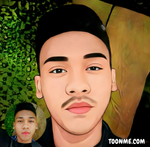 My heart was jumping in joy, beating furiously like it's about to go out from it's cage. I heard a pleasant sound that turns out as a music to my ears. Finally my prayers has been answered after long days and nights. The wait was over, a heavy rain poured down throughout the vast plane of purok kuwatro. A good sound coming at the rooftop created from every raindrops made me enjoy the moment.
Tell me I'm not the only one who enjoys the pleasant sound coming from the rain when it hits the roof of our house. For me it's giving me a different vibes. It's like that it's filling me in with an overflowing positivity. It made me forget the problems I had in my mind even just for a moment in my life. When it rains, the hot temperature all day cooled down, it helped my overheating body and mind. My stressed soul has been relaxed and my mind traveled in a different dimension that I'm not familiar with at first.
As the night goes deeper and deeper I've got to explore the dimension I'm in while the rain was falling so hard. I heared familiar sounds, it's like that a party was going on and everybody was happy singing songs that has only one tone, kokak kokak kokak they sang.(Trivia: Kokak means that's mine in Ilokano) Everybody was in the middle of the pool enjoying every raindrops of the heavy rain. But I found out something strange, I saw long tongues sticking out everytime a flying creatures are in the airspace or on the land crawling. Having a contest over those small creatures while singing kokak. Poor small creatures turning into foods for the hungry frogs.
My mind traveled in other dimension again and this time it was very dark. I can't see my surroundings except for the small light coming from far away.
I walked and walked followed the light and as I go nearer it I saw someone that I'm very familiar with. That someone was alone , sitting at the corner of his room and he was writing something, a letter. I saw the receiver of the letter and what's written was "Dear brother". As I watched that someone wrote it's letter, the atmosphere inside his room was very gloomy. I saw the face of that someone, it's very sad. I can saw from his eye's that he's longing for someone. In his letter he wants someone to be by his side in times of sadness and when he was in great pain.
The letter goes like this. Hello there brother I hope you're okay there, wherever you are. I missed you so much bro and I wanted to be with you but it seems that I have more ways to go before I can be with you. For the mean time let me write this letter for you to know that I still wanted to be with you even if life didn't granted it. It feels so unfair that I didn't have you even if you where in my arms back then. It feels so unfair that you had to go away so young, leaving no happy memories with me and us. It feels so unfair that I didn't get the chance to spend a brother talk with you while drinking some glass of magic water. Just kidding bro, I don't want you to drink that kind of water. It can destroy your life and I don't want your life to be destroyed by it so for now you can only drink milk.
That's what I wanted to say if your we're still here by my side but you're gone and I didn't had the chance to see you grow. I hope you're drinking some milk there brother. If there's a magic water there, don't drink too much.
I wish that I had the chance to teach you all the stuff in school. On how to add numbers and all the stuffs about science. I love science bro and if you were alive I bet that you'll like it too. I wish I had the chance to stand for you just in case you're classmate will bully you. I wish I had the chance to advice you when you get into trouble. I wish I had the chance to say and do all these stuffs to you. When I die and get the chance to be reincarnated I would like to be with you brother. Damn bro I can't stop my tears in falling down.
My heart feels so heavy bro and I just want to ease it by writing this letter. If you're watching me now bro please give me a warm hug. I want to be with someone who can comfort me now. It's getting dramatic lol. Forgive your kuya for such a cry baby even after now that I'm near to adulthood.
It seems that this is the end of my letter now. I really miss you bro. I hope you're doing really good there. I'll find time to visit you bro. Look after me and our family bro. Kuya always loves you.
That ends the letter and he already fall asleep in his table after writing it. I can now see happiness in his face. It seems that his brother is with him in his dreams.
The rain had stopped already and I found myself lying in my bed. The heavy rain made my mind traveled two dimensions and made me tired. I got emotional too when I read the letter of that young guy. He really loves his brother. The rain last for almost 3 hours and it's like I had a ride in bullet train while traveling in those two dimensions. Well rain has that kind of magic and I bet I'm not the only one who travel in another dimensions when the rain is pouring down heavily.
As I write this article I found something interesting in our table and here it is. I bet you know this especially it you don't have refrigirator. We don't have one yet so my lola is doing this whenever we have some sweets or breads. The purpose of this one is to prevent the ants in invading the container and robbing the foods haha. So simple yet very effective.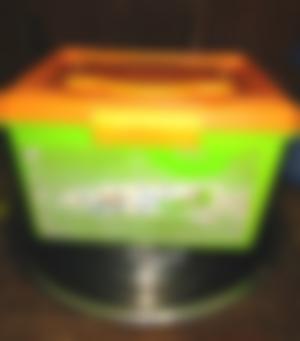 That ends my article for today. This was supposed to be published yesterday at 4pm but I got tired and not able to finish it because we went to the rice field again and transport the uprooted rice seedlings to be planted today. The veterans in rice planting will rock the field again then when they finish, they have a drinking session haha then I get to hear again their stories about their life back then and I had fun listening to them since I got to know what is life back then.
>>>>>>>>>>>>>>><<<<<<<<<<<<<<<
......Like....... Comment.....Subscribe........
Thank you for reading this far my friends and See ya in my next article. Will try to publish one later after I'll finish distributing the seedling to every portion of the field.
Lead image: Credits to Unsplash.com
Plagiarism test: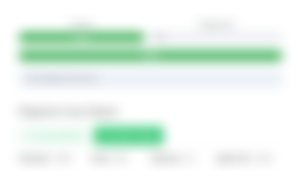 Thank you to my generous sponsors out there and if you have time friends feel free to visit their articles also. Arigatou💚