Semi-kalbo: Its summer so I made my hair style semi-bald
Inhale and exhale, that's how to start the prebattle. Yeah, that's how I start my time trying to write and fulfill my list to be active like before, but somehow my mind is again blank. The only thing and best to do is to prompt things and move along what thoughts just jump in my head. That's the survival ratio of myself at the moment, that's how life must go on as an excuse might be.
Let me tell you my story again, a boy who changed his hair because it was summer lol. 
I don't know why hair is something that grows endlessly. I mentioned in a past article that I am a bit jealous of some guys whose hair is so slow to grow like one of my friends inherited the real kind of hair of pure Filipino, a short hair that is intact. I was shocked when he said that he only had a haircut twice a year when he wanted and even could last for a year, yet I could see that size still in a decent mood.
When I was a teenager, I was also kind of a liberated guy like any other else, that's how others say, especially elders because of our new hairstyle that some part on the middle could stand like glue with the help of wax. Well, it wasn't yet normalized so still acceptable I guessed.
But now it is kind of acceptable and normal. For 6 years now I am much more comfortable in a normal hairstyle than I had from when I was a teenager. But because of my hair fragment characteristic where it was straight it grows easily, I need to go to the barber every end of the month to cut my hair, this is cost me so much pain and irritation because it makes my hair so much feeling heavy and itchy.
Well in terms of hair, honestly that makes me more attracted to some girls. All my crush has a long strand of hair with a shiny coat and some strange smell of conditioner they used. I don't know but I thought it was the conditioner I admired so I also tried it out in my hair sometimes haha but Nah, it feels weird. Is the guy putting some conditioner is gayish? Not that judgmental but somehow strange of curiosity.
On the contrary, it feels weird sometimes that some will ask me for a comb. I felt that it was kind of degrading, I don't know but that's what I feel when someone asks for a comb. But I never showed of course that I was pissed off, why did they ask me if I had one?. Well, I never used a comb in my hair. Just the towel that will dry out my hair and then my hands that could serve as a comb.
Also, I grew up with that comb being a private and solo use thing. Imagine you use another comb and put it in your hair. I had experience and heard some rumors that lives and pest eggs could be transferred to other people by the use of a comb. Well honestly hair is also one of the dirtiest parts of the body because we sweat and somehow dirt could cause some fungal infections, others because of too much exposure to sun they said it causes some lice in the hair, I don't know but I just ran whatever it takes lol.
Hair also carries a lot of things, one fragment could have the strand of your DNA. I still remember my scene where I was much more attentive and curious back then. I also grew up with my mother watching a telenovela. That's how the plot goes, they get some hair and bring it out for the DNA testing.
One that I was a bit scared of when I was younger is that some clips show that hair could be a valid thing that could curse you, watching some untold horror where they could bring things that unusual in a doll with a strand of hair lol, just childhood memories of course that somehow haunt me to nightmares hehe.
The little bit I know that writing about hair could make an article, that's the power I used for being bored. Just like talking to you, that's might be the same thing I will do for now. 
Hair is something that will be cut yet it grows back.
Somehow hair could also be pictured as something in our life. We always go back. The rich days won't be as long as the hair goes, because the longer hair we had it caused so much maintenance. Also in terms of a challenge when someone cuts our dreams and hopes, time by the time it will come back naturally. What is meant for us will remain within us?
Well it's summer here in the Philippines and it's also thread and normal that men's hair of men could be cut too short one, I thought I could have semi bald yet when I was on the barber it feels weird so I just made not too much haha.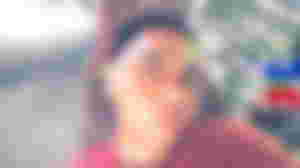 Judge my hair, if it fits or not lol. Thanks for reading…