My crazy little adventure night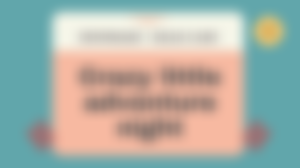 I lived in the countryside for several years. It was the most exciting and genuine experiences I ever had. I had fun playing various recreational activities in farm. I often played with my pet named Polaris. I named him Polaris because of my love for astronomy. Polaris and I usually walked around the woods for our morning routine exercises. He eagerly ran back and forth then wait for me because he's quite fast.
"Polaris, wait for me! I don't want to run. You see I'm jogging!".
He stopped and bark at me three times. "woof, woof, woof!".
He stayed in his position for several seconds. I stopped for a second and paused the music in Spotify. I heard something talking to me that's why I paused the music. I thought someone is behind me to ask something. However, there is no one around. Maybe, it's just my mind is cloudy of words.
We continued to jog until we reached the big Acacia tree in the northern part of the Paranaque. Paranaque is not what you are thinking in the city in NCR. It is not. It is a place here in our area wherein you can found so many old trees. Sometimes my father used to bring me with him to picked up some fruits like mango, star apple, Chico and duhat. Although these are seasonal to bear fruits, but without a doubt when they are starting to becoming fruitful. There are plenty to harvest.
I sat down to one of the big roots of the Acacia tree because I felt so tired. I drank the water from the bottle I held. It is very refreshing to do this in the early morning because you will just sweat a lot and you will feel like so connected to environment. I looked up and notice something is wrong. There is a moving object between the two branches. As I thought, there is a snake. I didn't noticed it at first because it camouflage in the color of the tree.
"I should get out of here!". I moved back, but my whole focus is in the snake. It's going down gradually. I am afraid that it suddenly jumped and bite me. "Polaris come!", I said to my dog. Polaris got up and licked my hand. "Alright, good boy!".
All I thought the snake would get down from the tree, but the snake went into a hole. Yes, the snake was probably done hunting a bird's nest above and decided to sleep in its house. I went back to our home. Actually, snakes, wild birds like owl, native pig is what you can usually around the area.
If you encountered them, just don't mind them as what my father says. They believed that they are pets of dwarfs and other elemental beings below. Of course, there's nothing wrong if you follow that belief. It will not take a toll to me anyways. It was just sometimes their superstition and beliefs are too far from reality. What I can say, we're Filipinos.
One time, my friend Justin invited us to have a dinner in their home. He was celebrating his 12th birthday which I know I will be going home late. I text my mother that I will go to Justin's house. I am not afraid because they will yell at me when I didn't informed them. I am afraid because of the huge mango tree in our street before you turn towards our home.
As much as possible, I don't want to get home late because there is no light there. You all know that we don't have electricity back then. So, absolute darkness or sometimes the moon is our source of light aside from our flashlights. I was full eating too many dishes like spaghetti, lumpiang shanghai, puto, maja and cake. It's 7pm when the whole class decided to go home.
Walking in the farm field is fun when it is daylight. However, when the darkness swallowed and covered the whole field. It gave me chills. I turn on my flashlight in my phone. Although it was enough for me to see the path I was walking too. Then, when I reached the huge mango tree. It stand alone there. The whole horror story my father and grandfather used to tell before flashback in my memories.
"Why in all times, I will remember those creepy stories they told me?", I murmured in the wind. One thing occupied my mind. It was to reach our home in an instant. My body automatically ran without a second thought. I didn't want to see something I shouldn't see.
In the middle of running, there's a cow laying down in my path. You know the farm field was newly cultivated meaning its muddy. "Glorious heaven why is there a cow in the path tonight?". It was the cow my grandpa is raising. I turned back and find the nearest available path which is the side of farm field. I didn't ran because I might trip or slip my foot.
I reached home safely. I was catching my breath because I ran and my nervousness. I really regretted to accept Justin's invitation. I should have said that my mother didn't permitted me so that I will not went through I had that night. I changed my clothes and rest. This crazy adventure of mine was just the beginning.