It's been a decade since I enter on this company, this company aims to vulgar all the malicious things about politicians and everything happen on surroundings, we are company of newspaper publication. I am currently busy doing nothing on my desk. It's been a decade but still I'm a failure, I didn't publish nor find a good source to add on my articles. I'm such a useless employee, all my co-workers already contributed lots of things on the company. They already made names on industry and they have no fears to dig into danger just to seek for the truth. There's one employee that I feel jealous because of his achievements, he always become employee of the month due to his so many success while me, I have no place on this company, lots of them keep asking when I make myself worthy on this company.
I know they say it on humorous way but it's still struck me in heart. I've tried to publish lots of articles but they are all useless, no one reads it on internet and even I got criticism that my article is pointless. They say it's better that I quit on my job together with my nonsense articles. I already feel it, there are lots of new journalists that wanna enter the company and I think my boss is planning to replace me and there he is, he approach me and told me a sad news, they decide that they gonna fire me if I can't publish a good article that will catch the attention of readers. It's an ultimatum given to me but I think it's already my end. I didn't show my sadness to them, I give them a promise that I'll make a good one but who the hell I'm fooling. I can't publish a good article,I think I need to accept my destiny.
It's time to go home now, all my co-workers already went out and I'm the only one remains on office thinking a good article to be publish but I can't do it without a source, I need to find a source that will get the attention of people. I didn't notice the time, it's already 9 in evening and it's time to go home. I walk on the busy street while my mind is floating, then suddenly I saw an unfamiliar shop. This place never been here before, maybe they are newly open and I didn't notice it. It catch my attention, my curiosity hits and my feet moves in their own. I entered inside the shop and calling the owner but I think there's no attendee inside. I look around that I saw lots of old stuffs but genuine. Looks like they are well preserved and the owner seems like a fan of horror theme.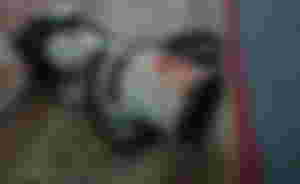 I continue roaming inside the shop when my eyes caught a object that I love the most. It's a camera that placed on a table. It's a brand new digital camera that had beautiful design. I want to hold it but suddenly there's someone hold my shoulder. It's the owner of the shop and immediately recognized that I love the camera. He told me the features of that camera and I was amazed on it. I asked how much does it cost but he told me that it's priceless but he can gave it for free. At first I was doubt this man cause what on earth does a shop owner gives a free camera to the customer.
Seems like he's serious but he gave the conditions, I need to sign the contract and I need to take care the camera or else it will be paid by me seems like the conditions are easy that's why I immediately ask for contract. I signed on it but suddenly my palm got sliced by unknown object that makes my blood drop into the contract. I asked the man if I can have a new contract but he said its okay. I went out from the shop with happiness on my face I got a camera for free. I went directly to my house to test the camera and I was amazed due to it's clear shots and beautiful angles. Suddenly the camera clicks on its own and the image pops up, I was scared because it capture different image and location.
I saw that there's a woman inside the car and seems like she's dead. I knew this place that's why I immediately change my clothes and went to the scene. I'm surprised cause it's true. I saw a woman inside the car lifeless and she had lots of stabs in her body. I feel nervous and I want to run but there's a idea in my mind to capture that woman and write an article about it. When I went back home I immediately made an article about it then publish it. When I woke up next morning, I was surprised due to lots of messages on me. It's not a message because I'm fired but my boss and co-workers congratulating me for the article that I made. They said that I hooked a big source cause the woman that I captured was the daughter of the city mayor.
When I visited my published article, I'm shocked cause millions of people read it. I decide to go to work to check what will happen to me and guess what, they made a surprise on me cause I become famous and also the company became well-known due to my published article. I received lots of compliments and honor. My boss says that he won't fire me and give me lots of perks, I just need to continue what I'm doing. That's the start of my golden times, I'm grateful that I have this camera cause it gives me hints what article next to be publish. It gives me images of those crime scenes and I capture those before the police knew. I became famous and famous until I became boastful and I start mocking my co-workers I became toxic and used all the money for all my desires.
Until one day I realized something, what on earth the camera knows who will become dead. I tried to look what's inside th camera but it's preventing me from opening it. I remember what the owner said that I should not move nor destroy the camera. As I try to know what the capabilities of this camera, it gives me chill on the spine when it shows another image. It's the image of my friend. I was frighten on what the camera shows, I immediately went to my friends house but she's not there. I remember that my friends body can be found in parking lot. I immediately went to parking lot then I saw my friend there. She's inside the car then suddenly I lose consciousness, now I know.
The reason behind those killing is non other than me. The devil possessed my body then killing those people then I'll be back on my consciousness to capture them and make myself famous. I am a monster, I need to stop this, the devil inside of me slowly approaching at my friend and planning to kill her. I need to fight it, my will is fighting and I can slightly control my body. When the devil is nearly killed my friend, I used all my force to take control of my body and point the knife on my chest. This is the end, I need to finished this cruelty I deserved to die because I'm a monster. I feel that the knife is already at my chest then the blood starts to ooze. As my consciousness fades, I said sorry to my friend and told him my last word, "Everything must be done with process, if there's a shortcut offered to you, don't accept it, the devil may use our weakness as their strength to control us and spread evilness in this world". After I say those words, my eyes closed and everything becomes black.
Sponsors of Codename_Chikakiku