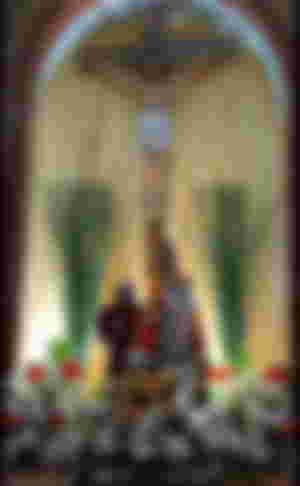 Yesterday is the Fiesta of my hometown brgy. Sinogbuhan, the place is located at San Joaquin, Iloilo City, a few kilometers away from Iloilo city and can reach the place with in 1 to 2 hours from Iloilo. The place is full of wonderful things like resort, marine sanctuaries and other tourist spots. Today they celebrate the Fiesta which also the day of our patron Saint Jose Martin de Torres. Since I was a child I don't know who he is and why we are celebrating Fiesta I think it's understandable since I'm just a mere child that time. When we relocate here at Manila i didn't experience any Fiesta even though we have also patron Saint here at our place, Manila didn't celebrate Fiestas at all. This year in Sinogbuhan, restrictions are slightly lose maybe due to decreasing numbers of infected people. People from other barangay can freely visit different houses but some people doesn't celebrate and prefer to save money due to impact of this pandemic. It's understandable since life in province is not easy and people need to become practical. Still there are people who still celebrate and launch a feast for everyone specially those riches one. We have video call in our relatives and province and I'm glad to see the faces of my Lolo and Lola also my cousins. We greet them happy Fiesta and ask them what they cook. My Lolo joked that my Lola prepared the coconut leaves as preparation in making "ibos", it's a delicacy in different province in which it's a rice inside the diamond shaped that made with coconut leaves, I know you eat this already.
Here on Manila they are calling it as "puso". They talk lots of things since the children of my Lolo joined the video call and they talk about land matters and we just listening on it. I feel pity on their situation cause my Lolo is working on a land that they own, there's a condition before that my Lolo is the one who will manage the land however the condition changes every year due to greediness of woman which grand daughter of the late owner of land. She keeps insisting that she will manage the land and the house that my Lolo living right now must be given to her. Hopefully there's a good grandson which fights the right of my Lolo and confront his sibling that the house is owned by all of them and not her own. I pity my Lolo since he's too old to engage on those problems. Maybe someday I'll buy that whole land for him and for his children so that they won't get problematic anymore. Anyway let's go back to the topic, I remember before that during Fiesta in Sinogbuhan lots of people are busy preparing foods and some of then start singing though it's 9 AM. The most exciting part during Fiesta is Bisperas which there are lots of activities prepared by barangay hall like Disco, Perya, Sabong, Activities in Plaza and many more. 5 days before Fiesta, the sound system is already placed at plaza and ready to tear the eardrums of everyone. The last time I attend disco in Sinogbuhan is during my 5th grade we are so excited that time to dance with everyone.
I am at middle of the crowd then I saw my crush sitting at the bench alone, I'm so nervous to approach him but my sister encourage me to do so, when I try to approach her suddenly a boy already comes first and I didn't continue my plan, ouch it hurts. The next thing is Perya, I'm so lucky since the owner of perya is my Ninong that's why everytime I visit him, he always gives me money and also he gave me perks to play on perya for free. My favorite game in Perya is Color game in which I always stake my 2 peso coin then it depends on my luck if I win or lose but mostly I lose. Then activities in plaza in which we gonna watch lots of performances from different people. When its Fiesta time that's the time we gonna roam around the vicinity then look around different things to buy. I love to buy things during Fiesta cause it's very cheap there are also small games for children like me before with prizes of candies and money. How I miss celebrating Fiesta again, it's been seven years since the last time I experienced Fiesta, maybe someday when this pandemic ends, we can save money to visit my hometown again. I miss everything on there, before I thought that Manila life is good however I found it worst, that's why when I got old I prefer to live on my province then die there.
Sponsors of Codename_Chikakiku