These Are What Happens in May
Blog #263
June 01, 2022
I started my Month of may being inspired and happy because the goal that I desired for a long time was finally achieved in the last week of April. With that, I was too eager to grind more so I could reach the second goal which is to earn two BCH in my wallet. But life is truly unpredictable. It surprised me with so many things that I didn't think would happen in my life.
From 1 BCH to zero balance because I converted it to PHP on the first week of May. The PHP that I have in my wallet was used for our unexpected travel to Cebu. I just can't sit here at home without knowing what is the real situation of my grandmother. It may be hard to let go of my hard earn money but I have no choice.
But that unexpected travel had also given a good memory to me. One of them is to be able to see again my family and to witness again the beauty of Cebu. I had shared here the photos that I have in my gallery. Those are the views that I was able to capture when I was there. The second is traveling with kids is full of enjoyment. I enjoyed my time being with my kids.
---
Since I have zero balance when I came back home, I have decided to look for some ways that could help me earn again. To earn not only to save again but also to pay for our debts. I may want to write two articles per day to help me cover those days when I was absent but as a busy mother, I wasn't able to do it. So this month, I was only able to publish 29 articles in total. So that's still a productive month for me both in my personal life and here in the online world.
On the first day of the month, I also share that I wanted to have 400 subscribers by the end of the month. Looking at the numbers that I had today, I'm grateful for the 39 subscribers that are added. I'm truly grateful that despite my inactiveness, they still choose to follow my journey here in read.cash. Whoever my subscribers are, know that I appreciated you a lot. Thanks for being here with me and supporting me each day.
---
In May, I only set two goals. Those are to achieve 400 subscribers and to write an article each day. With the number of subscribers, I achieve that while the other one which is writing articles was not achieved. But still, I'm grateful that there were three days that I can write two articles. Instead of 5 days absent, I just considered two days since I already wrote a total of 29 articles for May.
---
Happy New Month read.cash family. Hope you all have a better start to this month. Anyways, let me congratulate those who can achieve their goals last month and to those that didn't, don't lose hope. A new month is here which means we still have another month to make it better and achieve those goals that we set for ourselves.
Have a blessed day everyone!
Thank you my dearest sponsors for the continuous support. I really appreciate it and I hope and pray that your wallets will be filled with more blessings. God bless you all.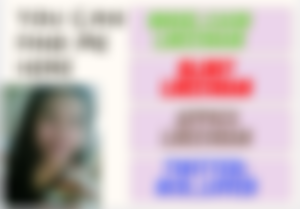 This is me @BCH_LOVER once again. Thank you for spending time reading my article today. Have a good day and a blessed evening read.cash family.
Thank you. Keep safe y'all!