April: Goals and Happenings On The First and Second Day of This Month
Blog #205
April 02, 2022
Hello, what's up read.cash fam! How was your day yesterday? Are you being productive on the first day of this month or have you set any goals already?
My first and second day of the month was blessed one.
Yesterday morning, I got two sponsorship from other writers here in read.cash and I am grateful to have another sponsorship. It makes me motivated to continue striving to reach my goals here in read.cash.

Next, I also got a renewal of sponsorship yesterday from the ever generous and supportive user sis @Bloghound. Then today, I got another renewal of sponsorship from one of my close friends dae @Chelle18. Thank you so much to these kind-hearted souls for staying in my block and having their support up to this time.

Last night, I received lots of rain during the Special Rain Party in the Telegram Group that I joined last January. The moderators and the official robot of the group are so much grateful for the support that they received from everyone that's why they held a surprise rain party last night. The party started at exactly 11:30 PM and ended at midnight but other generous users had continued raining consecutively that it ended at almost 1 AM. I sleep late but I am happy to receive those free rains from the group.

This afternoon, though it's raining, I am still happy because as I watched the balance in my CCTip wallet, I can hold 0.01 BCH already. After almost a month of retweeting on Twitter, I gained lots of tokens. That may be small to the eyes of others but for me, that's a huge blessing already and I'm too much grateful to God for that opportunity He had given me.
Those are the beautiful things that happened on the first and second day of the month.
---
Now, let's proceed to the goals that I would set for myself. I am a little bit hesitant earlier about whether to set it or not but I realize that I have some things that I want to achieve this month so I decided to set another goal to motivate and challenge myself.
Publish an article every day
This is still one of my goals this month because I am determined to reach the 1 BCH that I desired since I started my journey here in read. cash.

This goal isn't easy at all. Finding topics to write and then drafting them is a lot of struggle already. Why? Because there are times that in the middle of writing a topic, sometimes it's hard to continue especially when I'm distracted. Sometimes I wanted to have a peaceful environment to write my articles but I can't have that since I have kids who are kept on talking, laughing, and sometimes they would fight and that would cause me to stop to know what was happening to them.

Sometimes my youngest Adam will become clingy that I need to set aside my phone first because he needs me to cuddle him. There were times that he was selfish, he wants that my attention would be on him alone and he would touch my face so I would only look at him. As a mother, I can't say no because I like this sweet side of him.
Achieve 1 BCH or more than that
I'm almost there and I hope holding it will be continuous since I badly need to have savings because we plan to go home to Cebu after my kids finish studying this school year. We have small savings from my partner's salary but it isn't enough since we still have to build our future house there. Though we planned to have a simple home, we still need to buy some materials needed for it. That would cost a lot already. So I need to grind more to achieve this goal.
Write more than 4 minutes to read the article
This is a challenging one but it's my way of getting myself better at writing. Since I am still a trying hard writer on this platform, every month I encourage and challenge myself to improve a little in this. I'm inspired by those users who can write longer articles that are so interesting. Hope one day, I can be a better one because if that happens, that would be one of my greatest accomplishments.
Post 3 content in noise.cash
These past few months, I am not so active in posting in noise.cash. I have been distracted with so many things and I sometimes set aside posting there because I rather spend my time watching CDrama or KDrama. Sometimes I also spend time watching YouTube and Tiktok videos. Lots of distractions but sometimes I consider it as my way of unwinding myself from being tired of my everyday work.
In other earning apps, I won't be setting any goals. I just have to let things be. And for myself, I don't have any personal goals this month.
Thanks for reading guys. Happy weekend.
Happy Ramadan Mubarak to all fellow Muslims around the world.
Thank you so much to my dear sponsors who stay with me up to this moment. Thanks for your support and trust. I prayed and hope that God will bless you more.
To those who take time to read my articles, leave an upvote, comments, and likes on my published articles, a million thanks to all of you.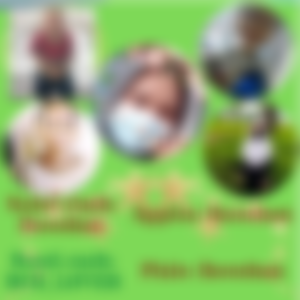 This is me, 🧕BCH_LOVER 🧕once again. Thank you for your time today.
God bless and Keep safe you all!
Before leaving, please hit the 👍button. Thank you so much!