Good Morning fellow Writers! How are you everyone? I hope we are all okay despite of the busyness that we did in all day. Why I greated Good Morning? In this article you will find out why.
I had intended not to write an article today due to exhaustion, but my mind and heart compelled me to do so. I went to two Christmas parties yesterday, and it was exhausting but enjoyable. After all, the joy and happiness I had yesterday will live on in my heart.
After our Sunday Service, I got some rest for me to have a strength because I know that this day will be tired. 1'Oclock in the afternoon I arrived at Church from home. The Children are arriving also carrying their gifts.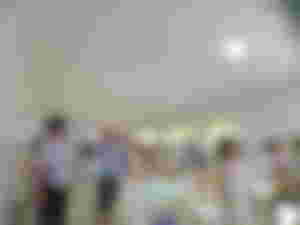 As you can see there are many of them arrived. Pardon Me if I haven't captured the pictures of their gifts because I am busy that moment operating the laptop for the program.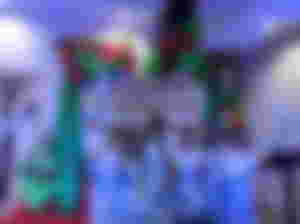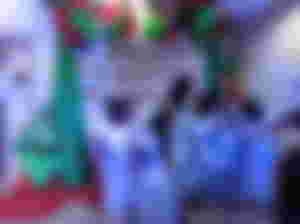 We take some pictures as a documentary before we start. These cute little angels, they will be the Kids Tambourine Dancers. They are trained by our Youth Tambourine Dancers. They are so kind and they obey what they teach to them. At that young age I am that they used there talent to glorify God.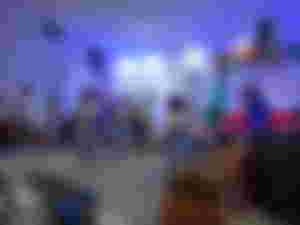 After 1 hour compiling all of their gifts, we started the Sunday Service for Kids. This Church service is intended only for Children. The Praise and Worship Leader, Tambourine Dancers and Back-up Singers will be performed by Children also, but the drummer and Keyboardist played by the youth of our Church.
After the Praise and Worship we heard a short Word of God, then Offerings. After that they had some bible games, then they proceed the exchange gifts. I am happy that the Children of God are happy also from the Start to the End of the event. I haven't take some pictures Because I ran out of battery that time. It was 3:30pm, we ended the Kids Christmas Party.
After Childrens Christmas Party, I attended the youth Christmas Party. We aren't celebrating our Christmas Party inside the Church. The venue of our Christmas Party is on the Resort. We arrived at the resort exactly 4 O'clock in the afternoon, we stayed overnight in the resort together with the guidance of our Pastors. I celebrated the Party together with @JustMaryel,@Athaliah and @Vincent21 .
We started the Party with Playing some fun games initiated by JustMaryel. Then after that we ate our dinner.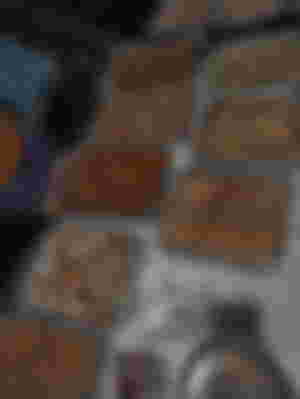 As you can see therr are so many foods in the table. Let me share a short testimony.
JustMaryel and I were in charge of the meals. For our food, each of the Youth contributes 100 pesos, or $2. We intend to purchase a food bundle for 4500 pesos. As the party's host, I have an issue because the money hasn't arrived yet, and the Christmas party is tomorrow. However, thanks to God's goodness and favor, the food we had planned for the party will be more than enough. Because one of our church's visitors gave a food package and actually joined us. From what we expected, our dinner last night was more than adequate. It was, without a doubt, God's favor and blessings.
We decided to swim in the pool after we finished our dinner, and it was already 9:30 p.m. when we finished. After that, some of us start singing and jamming together, while others talk about life and everyone enjoys the moment. Some of the young people are awake from midnight to sunrise. What a brave folks they are. It's because we value the occasion and the bonding because it only occurs once a year.
These are the photos of the resort and I captured this recently.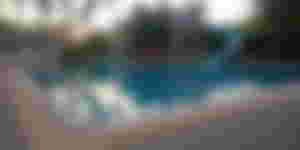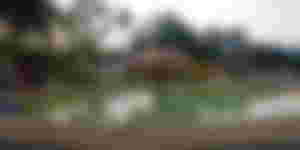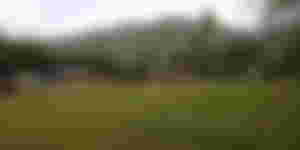 It was 6:30 a.m. when we decided to return home. And when I came home, I passed out in bed. Because I'm fatigued and my body needs to relax, I haven't watched Miss Universe 2021. Today I slept from 7:30 a.m. to 3 p.m., and thanks to God, my strength has been restored. I'll stay up all night today because I need to finish all of my school paper work; the most important deadline is on Friday, and I haven't even completed half of my projects.
It was really a great experienced and I feel so blessed of my Co-youth. Thanks God for the Good relationship.
I thanked God since the event the day before was a success, and He also gave me the strength to pull it off. Thank you, Lord, for all the joy and blessings you have bestowed upon me.
I know that was the start of a joyous Christmas, and I know that there will be many events this month. I wish for all of us to have a more joyous Christmas season.
 Merry Christmas my dear Sponsors
Thank You For Taking Time to read!
Lead Image taken from Me
All Photos Posted taken from Me