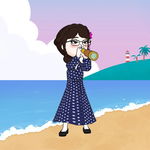 "Hey, you've gotten close to Saito's group lately. We thought you liked being a loner." This girl just pokes me. A short-haired girl with glasses. She's cute unlike me, though. Wait, who is she again?
"Hey, stop staring at me! Is there something on my face?" She sounds irritated now.
"Ah, no. I'm just surprised. I'm sorry about that. Well, yeah. I like being alone. I'm not trying to be close with them or something. They're just seemed to be super friendly towards me all of a sudden and I don't know why.  Honestly, it's giving me a shock every time. But, don't worry, I'll keep my distance from now on. Sorry, hehe." I blurted out those words all of a sudden. But what if she attacks me all of a sudden like Chou did? I need to put my guards up. They seem to be obsessed with Saito's group and they don't want me to be mixed with them.
"Oh, wow. This the longest talk I have ever heard from you. I bet you don't know me, too." She chuckles.
"I'm sorry. I'm too focused on my own space that I can't care less about our classmates. I'm sorry, once again." I lowered my head and stare at the desk. What are her intentions? Is she one of Chou's allies?
"Hahahaha!" She is laughing out loud now that our classmates started looking at us and, even Saito, Mei, and Sora are looking at us. I'm feeling embarrassed and awkward here. Please go away now.
"I never knew that you are that blunt. By the way, I'm Kako and I'm not one of Chou's friends, so don't be that anxious to me. I'm just a seatmate that you couldn't even care to glance at. Hehe!" She is still chuckling. She is in a good mood, I guess. Heh?
"Wait--, what? How did you know about Chou?" I have no idea what's going on now.
"Huh? Everybody knows! She got a suspension for a week so don't worry about it. No one going to attack you now." She's assuring me with a great smile while patting my head. Wow, I feel like a kid.
"I'm Shizune. Thanks for talking with me." I offer my right hand for a shake when she stops patting my head and she instantly grabs it with her two hands, then shakes it with pleasure. She sure is in a good mood. I just chuckled with the thought.
[School Cafeteria]
"Are you sure? You don't want to have lunch with 'em, eh?" Kako asked whispering.
"No." I firmly replied.
Somehow, I joined Kako at the cafeteria today since I forgot my lunch box. I just bought two sandwiches and an apple juice. I can get by with this until the afternoon.
"Saito can't stop looking this way, though." Kako is smiling dreamingly.
What's up with her?
I sit with my back on them because I feel awkward. I somehow felt a little pity with Chou being suspended. Who knows, there is going to be a next one if stick my nose in their business. I have been having a peaceful life lately before he bugged me. I'm thankful that Kako is accompanying me now, I managed to avoid them somehow without being harsh.
"Ugh. Just don't mind him and don't be too obvious that you noticed." I whispered back.
"Are you sure you two aren't dating?" She's glaring at me now. Eh, scary...
"What? Of course, not. Why the hell he will date me?" She is persistent and full of energy. I can hardly keep up with her.
"You two look like a couple fighting. Communication is the key, you know. You two just have a talk and makeup." She said raising an eyebrow at me while sipping her apple juice.
"Told yah we are not a couple." I hurriedly finish my sandwich and apple juice. Then, clean up the table and return the tray. She is still eating, though.
"Hey, I will return ahead. I'm going to do a quick review on Chemistry. See ya!" I picked up my wallet and wave. She waved back while sipping her juice. I walk as fast as I can without noticing any signs of people around.
"Hey!"
I suddenly stop when someone grabs my wrist.
"What--- Eh?"
Oh, crap. What the hell? It's him again – Saito.
"Are you alright? You don't look well. Are you having a fever? Your face is beet red," he said putting his palm on my forehead. Of all people, why you? You persistent idiot!
"I-I'm fine!" I replied but flustered then take back my wrist and run.
"Hey, wait!" I still hear him so I run faster.
"No running in the corridors!" Someone shouts at me when I take a turn to the right.
Oh, crap. It's a teacher.
"I'm sorry," I halted then bowed. What a shame, I have been scolded by a teacher for the first time. I walk slowly until I reach our classroom. I let out a sigh when I finally seated but my heart is still racing, though.
Probably because I ran, right? I take out my Chemistry Notes and flip some pages to read. Though my heart is still racing at the moment, I can't absorb what I'm reading. It is bothersome, so I start doing simple breathing exercises to cool down. I inhaled deeply and exhaled through my mouth. I did the process all over for the 5th time but it's no use.
Why is it? I don't recall that I drink coffee this morning to have palpitations. I don't even drink coffee this week at all!
Is it possible that I'm having an...
... Arrhythmia?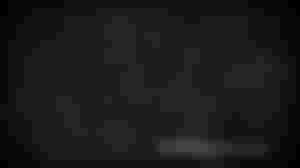 See ya in the next chapter!
By: Ayane-chan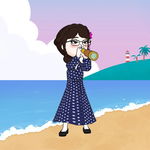 Enjoyed this article?
Earn Bitcoin Cash by sharing it!
Explain
...and you will also help the author collect more tips.