We Rise By Lifting Others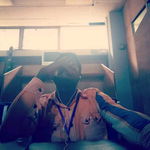 It is already past 8pm when I started writing this article, so I'll say a good evening to you beautiful people. I had made a short post Two days ago saying I'll be away from read until further notice. As fate would have it, I am back here in less that two days. Two reasons have led to me making the short post on Saturday, both of which seemed to have been resolved yesterday. Special thanks to @Ellawrites for her words of encouragement as I explained the situation to her on Sunday morning.
It had started raining when I was having the conversation with her on WhatsApp and the weather remained cool afterwards. I like cool weather like the one we had yesterday. I had spent most of the day sleeping and catching up with a series I have been postponing for almost 3 months now. Then I remembered a conversation that had happened weeks ago and what I had wanted to write about it.
The Igbos are one of the major ethnic groups in my country Nigeria. Known for their love for money and keen sense for business, they have been described by a man as 'Progress spreaders'. He had said this simply because of the way they conduct themselves in business. Typically, an Igbo business man will take a young boy or teenager from his hometown and groom him over a period of time (usually years) so he learns the art of the trade he's into. After he's learnt the trade, the businessman settles his apprentice for all his years of service by setting up a business of his own for him.
Until the man said it, I never knew the man was responsible for setting up his apprentice. Although, I have always seen that the apprentice usually start up an exact trade too. My thought was that, perhaps, family members of the apprentice had come together to raise money for him to start up his own business. That has led me to always see this setup as flawed.
Somewhat like the child had been taken away from his family and all he has known since he was old enough to know anything without having a say in the matter. Surely this decisions I strongly believe are not his; at least not entirely. But one can see the whole point. What if he wanted to go to school and become a medical doctor, an engineer or something he felt was his passion? Anything but that trade he has been forced into.
Surely there is some positive to this arrangement long as every agreement and promise is fulfilled. It would also be unreasonable of me to not admit that there are those who want said arrangement for themselves maybe because they want to be a successful businessman too or just want to do something meaningful with their time.
There is a popular saying that 'WE RISE BY LIFTING OTHERS'. Whether these so called businessmen take someone under their tutelage so they can be more successful or so they can brag about those they've changed their lives is not what I am interested in. Truth is they have done what they have done and all things being equal, we can say that they have changed someone's life for better. Not just that someone, but many others too that will benefit from the act. Because the cycle of apprenticeship continues.
I have said in my article Making an Impact that I feel wealth should be used to impact lives, but as I said, I cannot tell a man how to spend money he has earned. I believe important questions are: what difference you made? What is your legacy? What will you be remembered for? I have said that should I become a wealthy man, I will try as much as I can to make a difference and change people's life. The government of a country is primarily supposed to do this for people in the country. Unfortunately, I have lost all hope in the government of my country.
I want to thank those who showed concern on my last post about me going MIA. I am happy to say that I am here now, hopefully, to stay.
Special thanks to @Mictorrani for the sponsorship renewal, I really appreciate your unending support and would like to apologise it is coming late.
Thank You For Reading 🖤🖤