My Name is?
February 24, 2022 14:18pm
A pleasant day everyone! Hoping all of us are in good hands and in good health today despite of the weather that was so unpredictable.
I read some articles here that they was tackling whats behind thier name and why they choose that name or user names, like madam pachuchay, my first instinct about pachuchay was her nickname which is wrong pala if you read her article hihi. Ako kasi mostly I used my nicknames which is derived also from my name. So now am gonna share about my name too which no more history naman, but since I dont have topic today so why not share something about my name.
My real name is Annie Marie, it was derived from my late father whose name was Antonio(Annie) and Marie from my Mom whose name is Marilyn, oh diba they never think something unique. I was supposed to be ANNE MARIE without I in Annie but the registrar type it with I so my mother was the who did the adjustments.
My family calls me Bhaby, thats my nickname from our family, but when I start studying my classmates calls me Annie, or Annie Marie and when I start working, one of my co-worker calls me ANYMARIE para may arte daw, and when I worked in taiwan my friends calls me TWEET as in tweety bird., Daming nicknames ano hehe, and am gonna share with you some history or short story about my nicknames.
Short story about Annie and Bhaby:
I remember one time, when I had my vacation here in Lucena(they are my friends before I belong to thier family)I brought my nephew with me, he was 4years old that time. Then someone asked him,

Man: ka-anu ano ka ni Annie

Ton2(my nephew): sino pong Annie

Man: yun oh(pointing on me)

Ton2: ndi naman po Annie ang pangalan nyan eh, si Tita Bhaby yan eh.

Man: Annie man ang pangalan nyan😀

Ton2: Tita Bhaby nga po ang pangalan nyan ndi Annie(sabay talikod).

Man:(lumapit sa akin)ndi ka pala kilala nyan, Annie

Me: Bhaby po kasi ang pangalan ko sa amin ndi Annie.

Then they all laugh hearing what I say.

The man said ay kaya naman pala nakadalawang tanong na ako ndi ako sinasagot.
Why they call me Tweet:
When I was working in laguna I have many Ates there, since I was the youngest that time, Ate Jho one of my co-worker saw me very sleepy then, and since we are wearing bunnysuits and facemask, so I can't hide those tantalizing eyes of mine and I did know that she was looking at me very long time until I bow my head accidentally and got awake after and look around coz the auditors might caught me and its a violation, but no auditors that time but Ate Jho was laughing and tease me that she caught me sleeping.

Then after she told me, your eyes are like tweety bird if you are very sleepy, then she laugh.

When I worked in taiwan, I shared this to one of my co-worker, then she let me do the closing of eyes slowly and she said ay oo nga hawig nga kayo. Then after that, she told me I will not call you Annie any longer, I will call you tweet, and she informed our circle of friends to call me Tweet, not Annie anymore.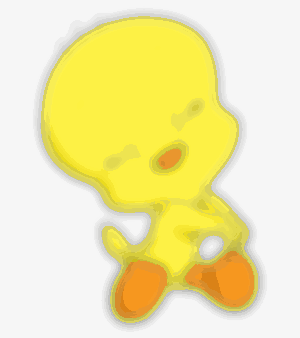 Thats all for my name history hihi. My name is somewhat common na din naman, pero ndi pa naman laman sa usapan ng mga Maritess and belong to the Maritessis.
But now I dont usually used my names kapag sa mga user name, I prefer using my Baby name medyo ndi pa kasi gamit unlike Annie na laging gamit na daw.
==
This will be for today! Thank you for reading and leaving some comments. I really appreciate it.
To all my sponsors thank you so much for support especially @DocLayla for renewing your sponsorship with me. More BCH to all of us.❤️💚💚