Nocebo
>A nocebo effect is said to occur when negative expectations of the patient regarding a treatment cause the treatment to have a more negative effect than it otherwise would have. -Wikipedia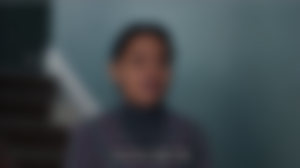 This is a screenshot of Chai Fonacier from the movie Nocebo starring alongside Eva Green (Casino Royale) and Mark Strong (The Kingsman).
I don't want to spoil you but suffice it to say that Diana (Chai Fonacier) came to work as a nanny for the family of Christine (Eva Green) and Felix (Mark Strong) and their daughter. There were traditions and rituals that were introduced in the movie especially for Christine to free her from whatever ails her.
The rituals that Diana did in the movie I have never encountered so I'm not sure if they were true or not or it's just for the sake of the movie. It's a thriller but the real message there is the cheap labor happening in especially in third-world countries just like the Philippines. The movie highlights how some industries like textile/clothing/fashion industry use this kind of means for their own benefit.
This raises awareness about the huge gap between the rich and the poor. In desperation, because of our desire to provide for our family, we work for blood, sweat and tears for just a miniscule slice of the pie.
I read the post of Kacy01 about a certain tradition. You can read that here. When I read that, I was reminded about that movie, Nocebo.
As per the definition given by Wikipedia above, nocebo is the opposite of placebo. The mind is a powerful tool as we all know. What we tell ourselves, the thoughts in our head, they do manifest. If we think negatively, then that is the result we will get. If we do the opposite, then we get positive outcome. If we think we will fail, then that is where we will be heading. So choose your words and thoughts wisely.
Even though we say that we live in a modern world, there are beliefs, traditions, rituals that we dismiss as untrue. However, there is still that question in us that what if they do. They are effective. They are real even if we can't explain them.
New and scientific breakthroughs are discovered, yet, they still don't work. When all else fails, we go back to our traditions and they surprisingly work.
Nature and humans are connected in so many ways but because humans want to severe that bond, we are suffering more and more.
Go natural and don't just rely on synthetic drugs.
In the movie, Nocebo, they used this music for the end credits
It's a Filipino song that tells about the plight of cheap laborers where their job served as their prison and eventually their tomb.
Are you doing what you love or you are doing it for the sake of survival?