Cigarette and memory shared
Cold and wet night.
The last light of the day is quickly fading in the horizon. Artificial lights have already been light minutes, hours ago.
Just one more puff.
I have been sitting on the rooftop of our unit for how many hours smoking cigarette after cigarette. As soon as the afternoon rain stopped, I decided to go for a smoke. I was hoping I could get a glimpse of a lovely sunset. I was able to catch this rainbow as it was fading.
I believe that is a double rainbow. That is the first rainbow I have witnessed in a long time. See the color of the sun reflected on the houses? As soon as I turned, no colors can be seen in.
Soon it was dark and the twinkling lights of the city can be seen.
Another puff.
I was deep in my thought - of nothingness - that I didn't realize someone was standing next to me.
I knew exactly who this person is. It is known in this apartment that this person suffers from dementia. I can't remember how many times have I introduced myself to this person already but I don't mind. I understand.
This person then asked me for a light to which I willingly offered.
I sat there in silence and this person just kept standing there, smoking our cigarettes.
It's not an awkward silence though.
"Do you come up here often?" this person suddenly asked.
"Yup," said I. "Me and my partner would spend our afternoons here watching the sunset and sunrise. Well, sunsets especially for my partner is not so keen about waking up too early."
"I don't like waking up early, too," the other person quipped.
"Sometimes we would spend some coffee time here too," I said.
Silence. Puff. Puff.
"That would be nice, coffee, I mean."
Another puff.
"I could go make coffee right now if you want," I said.
"I would love that!" the person delightfully replied.
I wasted no time and quickly went down to our unit to make some coffee. I prepared the last of the Kalinga coffee that we have.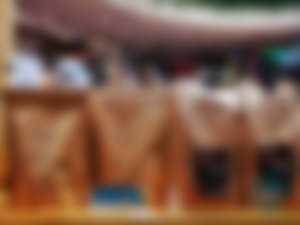 I bought this from the trade fair that concluded last week.
Good thing we were able to visit the fair before it ended and bought our stock of coffee.
I made a mental note to go get the coffee at our parents' house that my brother sent there.
My brother was kind enough to send some Kalinga coffee.
Once the coffee is ready, I poured it in two cups and brought it on the rooftop.
The person is now sitting across the seat where I was seated earlier. I placed the coffee on the table between us.
"Here you go, partner," I said. "Kalinga coffee just like how you love it."

This is another work of fiction. The photos are real though.
This was another idea from a different site.
I chose this topic for this blog "Start your story with a couple sharing a cigarette in a parking lot."
Visit blog.reedsy for more prompts. I don't know how legit the site is but there is a $250 prize at stake if you join their writing prompts.
Try it if you want to. Good luck!